It may as well be official at this point: the future of entertainment (streaming) is here. And with the release of Matter you can theoretically say the same thing about the smart home. Both concepts seem to be on an evolutionary course towards coexistence, and I mean that in a symbiotic sense, if recent studies are anything to go by. The rise of streaming and in turn the rise in smart TVs have created an environment where the savvy integrator will be able to unite two once siloed concepts with the smart TV and home theater as the defacto smart home hub.
First, I want to clear some things up, however. When I say streaming is here I mean it as in, for the first time since its inception, streaming has overtaken cable in consumption. Back in June, 34.8% of total television consumption was streaming versus cable's 34.4%. It's a sliver of a lead, but it's still noteworthy. Additionally, 87% of US internet households now have at least one streaming service.
Next, we must talk about the medium through which most homeowners stream content: the TV. Just coming in off CES 2023, Parks Associates released a fresh batch of research showcasing just how prominent smart TVs and streaming services have become in the home. The research also investigates consumer buying patterns and how manufacturers have responded to these changes.
Simply put, the home theater and smart home ecosystems are beginning to have the lines between them blurred considerably.
What a Consumer Looks for in a Television has Changed Drastically
According to the research, 63% of homeowners now own a Smart TV. Back in 2015, that number was 38%. That's a 25% increase in smart TV ownership over the course of eight years.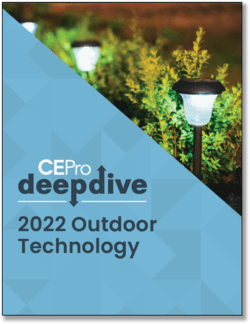 The 2023 CE Pro Outdoor Technology Deep Dive reveals unique set of impediments, including explaining pricing and interacting with outdoor-centric trades.
Get your copy now to take a "deep dive" into the trends and challenges of outdoor technology.
Download the report now!
You can thank companies like Roku, the rise of multiple streaming services outside of Netflix and Hulu, and even the popularity of apps like YouTube for this demand in greater connectivity in TVs.  That first one specifically, though, has gotten consumers to reconsider what a TV is capable of by marrying entertainment and smart home functions into one single hub.
Parks Associates even names Roku as being one of the big names responsible for getting consumers to reimagine what a TV can do by marrying entertainment and connected home functions.
Nowadays when consumers are considering the purchase of a smart TV, more are looking at interoperability, compatibility and ease of use within an ecosystem over single-point functionality. And considering we just said that's about 63% of homeowners, that is a lot of people looking well past simple entertainment functions for their TVs.
You could even see the shift occurring at CES 2023. Roku announced their own branded smart TVs, and nearly every smart TV manufacturer put considerable emphasis on using the operating system (OS) of the television as much as the hardware itself. The days of a TV having a simple display interface are heading toward the past as smart TVs become more like prebuilt computers.
This is where many experts and manufacturers have begun to speculate on the role the smart TV will play in the home moving forward.
The Smart Home Theater as the Ultimate Smart Home Hub
Following the release of the firm's research, Elizabeth Parks, President of Parks Associates, stated, "Smart TVs are part of the modern home; this device will be a key element of an integrated whole-home entertainment vision going forward. New applications and integration are bringing together the smart home and entertainment ecosystems to further monetize its user base and have more control of the data in the home."
Rather than being a siloed aspect controllable by the home, many view the smart TV as a controller for the connected home at large. TV manufacturers and tech giants, such as Amazon, Apple, Google, and Samsung, are already building smart home controls into the TV, transforming the device into a potential smart home platform. At the very least, it's being used as a major hub for smart home functions.
For integrators, this brings together two massive channels of business into a single product. Home theaters already represent a solid chunk of the channel's installations, even though those have been on the decline. Smart home installations, meanwhile, have only continued to rise. In that same report, Parks Associate found that on average, the connected home now has up to 16 devices present.
Research done by Samsung has also shown that 71% of homeowners prefer streaming over going out for entertainment. What all these numbers translate into is the formation of smart TV becoming a hub of congregation and relaxation in the home thanks, in part, to streaming. And so, true to the adage of "Go where the people are," it makes sense to make this central fixture of the home into a more universal control hub for the home.
Smart TVs Offer New Possibilities for Personalization and Revenue
Imagine being able to execute scene changes to the entire home the moment you sit down to relax. Imagine the homeowner is in the middle of a darkened room watching a movie and instead of getting up to turn on the lights, they can adjust them from the TV. What about, upon hearing something outside, homeowners switch to security camera feeds on the TV, and should they find something suspicious, they're able to immediately notify authorities.
In essence, smart TVs can function like larger home control pads or hubs. Except, in this case, it's going likely to be present in the home regardless, and people will likely use it far more often than a control pad. This leads to all sorts of customizable, personalized scenes and interactions professionals can develop surrounding this common fixture in the home.
Beyond that, the inclusion of a smart TV can open larger conversations, perhaps transitioning from a smart home installation into a home theater or vice versa. It offers a non-intrusive control pad when wall space or options for cutting into the wall are limited for a standard pad. It can even help to consolidate a lot the of the other peripherals like smart home remotes, etc.
The entertainment space and the smart home controller should no longer be viewed as two separate things. Smart TVs have made it possible to bridge the gap between two major fixtures in the smart home and it's time for professionals to start thinking about how they can unite these once disparate ecosystems into a high value solution. If you're already thinking about how streaming fits into your business plan, this one's worth considering as well.