Washington-based Stealth Acoustics helps integrators deliver unique audio solutions to customers. Vice president Brian Azzano provided CE Pro with insights into options and trends in this Q&A.
What is Stealth Acoustics seeing from dealers in multiroom/distributed audio trends?
We're seeing a stronger trend toward the desire for consistent, high-quality audio through the home. Recently, we have heard from integrators who had clients demo our LRX83 speakers for their theater rooms and then request to upgrade the remainder of the whole-home project to the LRX83s rather than use LR8g and LR6g speakers to keep sound profile consistent.
It used to be that homeowners and integrators focused on the theater room for the "big speakers" and the rest of the house would get specified for "background music."
And, we've all had the experience of six months after finishing an installation when the client hosts a party and turns up the music in the kitchen (because parties always end up in the kitchen) discovering to their dismay they only have speakers meant for "background music."
As homeowner expectations rise, having the conversation about quality multiroom audio at the planning stage eliminates that potential for disappointment. And being able to show the client a no-compromise, performance audio solution that happens to also be invisible — that is the icing on the cake that Stealth can help provide.
How are Stealth Acoustics dealers addressing requests for immersive audio surround sound?
As a speaker manufacturer we love these trends, more advanced surround-sound systems equals more speakers, which equals more speaker sales. But traditionally, more speakers meant more speaker grilles and this put the integrator at odds with the interior designer.
Our LRX series, based on our invisible speaker platform and designed to hit performance benchmarks, makes them a win-win for integrators and designers. We recently had an order for an 11.2 surround system using LRX83 speakers — just imagine what 13 speaker grilles peppered all over the walls would look like.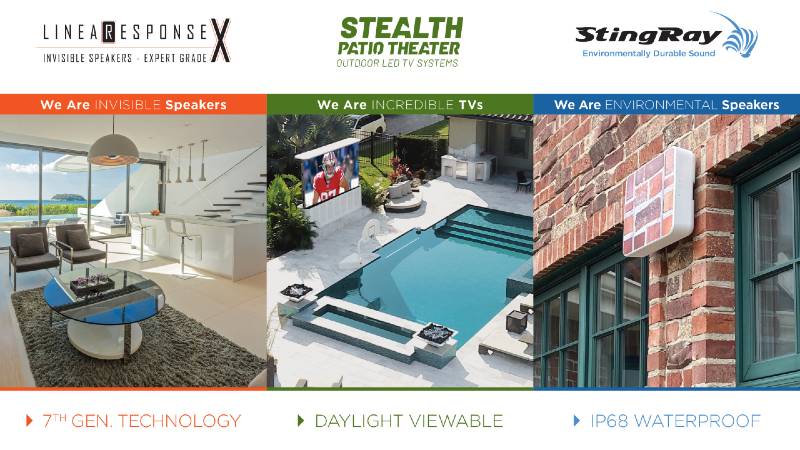 Additionally, with Stealth speakers the theater experience doesn't have to be limited to dedicated home theater spaces. The ability to add multichannel speakers to a modern living room TV system invisibly without interruption to the design and décor of the space is a game-changer for integrators.
How can integrators tap into Stealth's support team?
For the LineaResponse invisible speakers, the first line of support is our installation documentation and videos. Stealth speakers are simple to install, but a wall finisher unfamiliar with the product may not use the appropriate techniques. Investing the 5 minutes on YouTube goes a long way to making a project go smoothly, making the customer happy, and making the integrator look good.
If that doesn't cover it, our tech support team is well versed in all of our products and can offer top quality guidance, technical support and troubleshooting. And we're always willing to talk with our dealers and integrators at the project level. Because Stealth's parent company is a commercial integration firm (of nearly 50 years!) we have pro-grade engineers, installers, and admin staff that know how to treat dealers.
What are some best practices for selling and installing Stealth Patio Theaters (SPT)?
Planning ahead is the number one best practice. Most SPT systems are installed as part of a larger outdoor living/landscaping project and the sooner the TV can be incorporated into the planning the more seamless the integration.
SPT TVs are designed to be complete systems and include the LED screen, enclosure, lifts and AV components configured and ready to integrate with home automation systems almost like any standard TV. But they are really an industrial piece of hardware. Site preparation requires dedicated electrical circuits, installation requires heavy lifting equipment, and integrators need to plan for annual inspection/maintenance as part of the experience.
Keeping with the outdoor theme, how are Stealth dealers creatively using StingRay loudspeakers?
The wide dispersion and clean look with no grille means StingRay speakers are nearly invisible and can be installed in out-of-the-way places. One recent installation is a gorgeous teak deck surrounded by mangroves.
The speakers were wrapped with photographs of mangrove leaves and installed just off the edge of the deck in the bushes, blending in.
StingRay speakers can also be used to stand out. By adding branding graphics to the speakers they become a functional piece of marketing on a cafe patio. An amusement park that purchased quite a few StingRay 6 and StingRay 8 speakers — after custom graphics were applied, the speakers became part of the themed landscaping.
StingRay speakers are available with optional 70-volt transformers ready for constant voltage commercial systems. This year, we expanded the Soffit Kit lineup adding the SRX83-SK as a higher performance option for under eaves speakers.
post