Harman's JBL has been bringing back a retro look with its Classic Series, and the company says that with outstanding lineage and supporting acoustic performance, the new L52 Classic bookshelf loudspeaker fits the billing.
JBL introduced the L52 Classic to dealers at the ProSource Summer Conference taking place this week in San Antonio. Additionally, the company showed attendees its new complementary L75ms Music System.
Harman JBL L52 Classic Follows L100, L82 Models
Coming on the heels of introducing the larger L100 Classic and L82 Classic models, JBL's compact L52 Classic allows integrators to install it in applications from stand-mount, to bookshelf, to tabletop, to wall-mount. The appearance of the L52 Classic echoes that of its larger siblings with a walnut wood veneer enclosure and a Quadrex foam grille available in a choice of black, blue, or orange.
Designed as a scaled-down version of the award-winning L82 Classic, the L52 Classic is a two-way design utilizing a 0.75-inch titanium dome tweeter mated to an acoustic lens waveguide and a 5.25-inch white cone, cast-frame woofer. A premium crossover network design ensures optimum system performance while a front panel HF level attenuator allows the sound to be tailored to its environment.
Enclosure tuning is bass-reflex via a front-firing tuned port and a set of binding post speaker terminals provide a secure connection to speaker cables, according to JBL. The enclosure is finished in walnut wood veneer and includes a pair of threaded inserts on the rear panel for use with third-party wall mount brackets.

Total Tech Summit is where the integration industry elite gather. It's your chance to build rock solid industry connections to grow your firm and advance your career. We invite you to apply today for a free trip to join us in Orlando October 26-28, 2022.
Apply now!
Bass is powerful, sound is dynamic, and the soundstage presentation is exceptionally large allowing the loudspeakers to disappear into the room, the company says of the L52's engineering, aided by the company's Harman Center of Acoustics Excellence in Northridge, Calif.
"The L52 Classic is such a compelling proposition with its big sound, small size, and attractive pricing," says Jim Garrett, senior director of product strategy & planning for Harman's Luxury Audio business unit. "The ProSource Summer Conference is the perfect place to introduce this new model to our customers."
Adds David Workman, president and CEO of ProSource, "ProSource members have enjoyed great success with selling the Classic Series to their customers since its inception. We are proud to have the opportunity to introduce the newest member of the family with the first industry live demonstration of the product at our Summer Conference."
The JBL L52 Classic is packed and sold in mirror-imaged pairs and will be available for the holidays beginning in Q4 of 2021 with a retail price of $1,000/pair, JBL says.
L75ms Music System Merges 'Modern Hi-Fi' & Classic Aesthetic
Meanwhile, Harman JBL calls the new L75ms a "modern re-imagining of the traditional Hi-Fi system" and its design inspiration draws from the JBL Classic Series with which it shares its walnut wood veneer cabinet finish and black Quadrex foam grille.
For most modern listeners, streaming audio provides easy and convenient access to an entire world of music and for them the L75ms is the perfect solution to widen the potential customer pool, JBL says. The integrated streaming engine provides both wired and wireless network audio capabilities via Ethernet, Google Chromecast Built-in, Apple AirPlay 2, and Bluetooth audio. A 32-bit/192kHz high-resolution DAC ensures your favorite music comes across with the highest fidelity.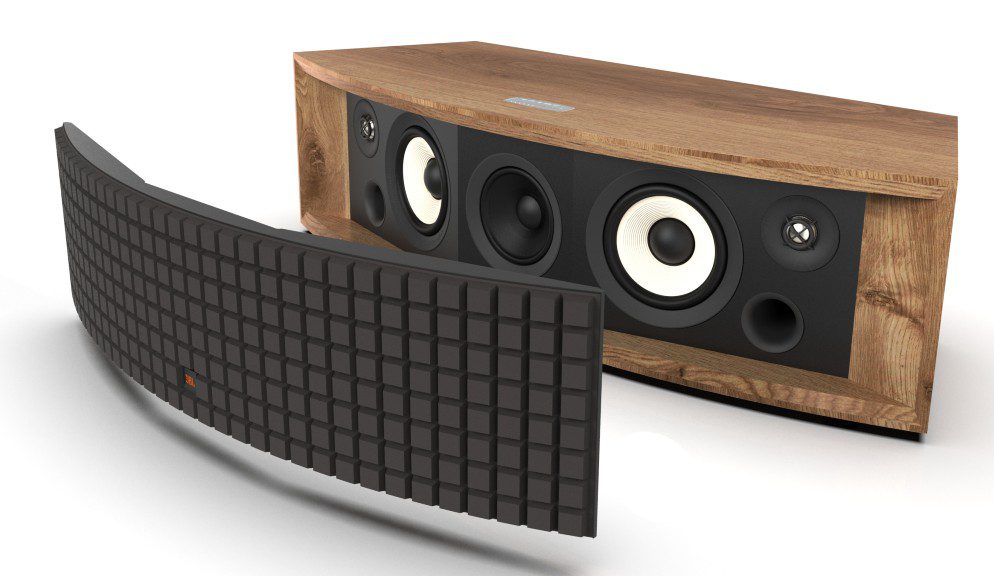 In addition to premium wireless audio, the L75ms offers connections for physical sources including a 3.5mm analog input. For vinyl fans, there is a moving magnet (MM) phono stage for connecting a turntable, and an HDMI ARC input for great movie and gaming sound when connected to a display.
JBL also includes dedicated signal sensing subwoofer output for connecting to an external powered subwoofer.
To highlight the performance capabilities of the L75ms Music System, JBL has partnered with streaming audio service Qobuz to offer a free trial subscription for customers to provide them the experience of listening to high-resolution music. JBL is working with Qobuz to curate a playlist of songs used by the engineering and product team during the development of the L75ms.