"You look pretty good for 75 years old," quipped country legend Keith Urban during his exclusive performance during the Harman ExPLORE digital unveiling event. Urban was referring to the 75th anniversary of JBL, Harman's iconic audio brand.
To commemorate the anniversary, Harman unveiled several new products prior to Urban's set, including a few products with a sleek retro design but loaded with 21st Century technology. The new products include:
JBL L100 Classic speakers for $5,500/pair
JBL SA750 integrated amplifier at $3,000
JBL Synthesis SCL-5 and SCL-8 in-ceiling loudspeakers and JBL Synthesis SCL-6 and SCL-7 in-wall loudspeakers at $1,000 to $2,000 each
JBL Synthesis SCL-1 loudspeaker at $15,000 apiece, and SSW-1 subwoofer at $7,500
The digital Harman ExPLORE event was hosted by travel host Kellee Edwards. Michael Mauser, president and CEO of Harman, noted that the pandemic forced the company to reinvent its normal CES presence, which typically includes a large display at the Hard Rock Hotel and an exclusive concert. Mauser touted the company's latest line of products "as exciting as they are beautiful," noting that JBL has helped "shape our memories and experiences" over the past 75 years.
Meanwhile, four-time Grammy winner Urban told virtual attendees that he was imagining them singing and dancing the aisles for his live performance that would have been in Las Vegas. Urban performed several hits, including "Long Hot Summer" and "Blue Ain't Your Color."
Here is a rundown of the product debuts: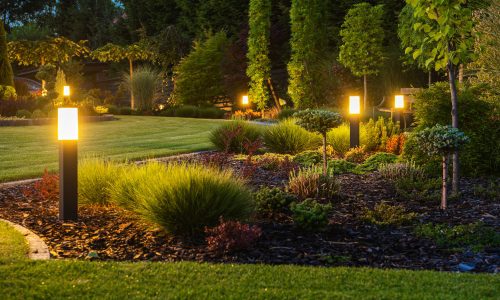 We are thrilled to present a lecture topic that delves into the connection between light and our surroundings, exploring how landscape lighting can transform a space from ordinary to extraordinary. Our keynote speaker, Janet Lennox Moyer, will share her extensive knowledge on the complexities of landscape lighting in design, commissioning, and maintenance and provide participants with the tools to identify good versus bad practices and techniques. Join us for an enlightening session that will unlock the secrets to success in landscape lighting design with one of the industry's most respected experts, Janet Lennox Moyer.
Register Now! 
JBL L100 Classic
The JBL L100 Classic 75 speaker is a reintroduction of the company's iconic L100 loudspeakers that debuted 51 years ago. Harman is releasing a limited-edition that features the same 1970's-style retro design as the JBL L100 Classic with the vintage black Quadrex foam grille and teak wood veneer cabinets. With only 750 pairs of the product available, the exclusive loudspeaker features a signed rear-badge and Certificate of Authenticity that includes the signature of the principal system engineer Chris Hagen, as well as the individual pair number from the production run.
"We have seen tremendous success with the latest L100 Classic model that we introduced in the fall of 2018," says Jim Garrett, senior director, Product Strategy and Planning, Luxury Audio, Harman. "We thought there was no better way to honor the 75th anniversary of the JBL brand than with a limited-edition version of what is perhaps our most iconic loudspeaker of all time. This one-of-a-kind loudspeaker is destined to become a highly sought-after model by music lovers around the world."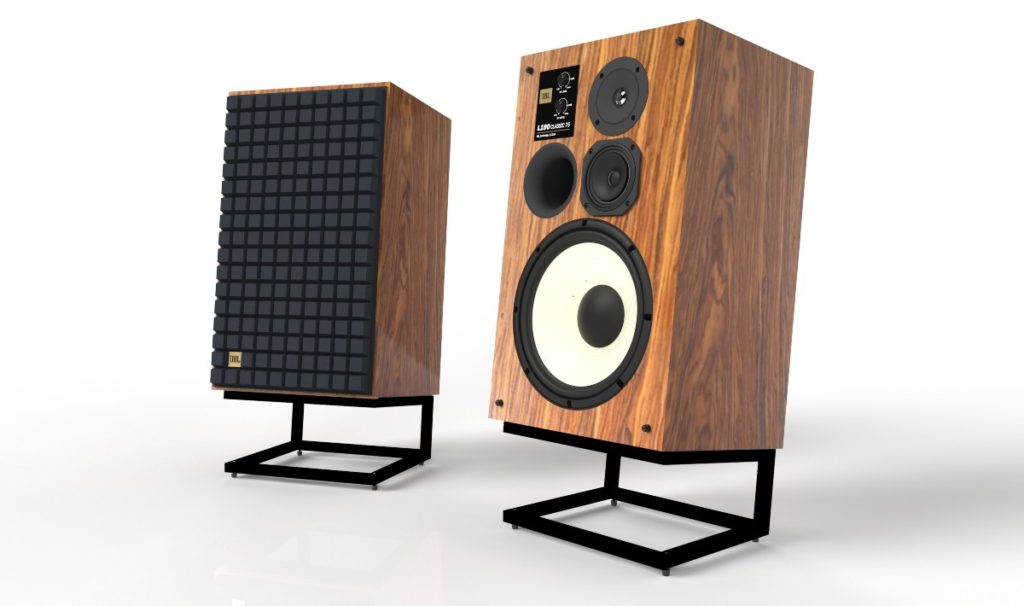 Acoustically, the L100 Classic 75 features an improved woofer suspension design and a revised network to include bi-wire capabilities via a premium input cup with dual sets of gold-plated binding posts. The L100 Classic 75 is sold as a matched pair system and includes a set of JS-120 floor stands. The entire system ships inside a specially-crafted wooden crate with limited edition artwork on the side panels.
The L100 Classic 75 features the JT025Ti2-4 1-inch (25mm) Titanium dome tweeter mated to a waveguide with an acoustic lens to integrate with the JM125PC-8 5-inch (125mm) cast-frame, pure-pulp cone midrange driver located directly below. The vertical HF and MF transducer arrangement is slightly offset to the right of the woofer below, with HF and MF attenuators located on the upper left of the front baffle. Low frequencies are delivered by the JW300SW-8 12-inch (300mm) cast-frame, white pure-pulp cone woofer operating in a bass-reflex enclosure system that is tuned via a single, front-firing port tube with flared exit.
The JBL L100 Classic 75 will be available beginning in April 2021 and retails at $5,500 a pair.
JBL SA750 Integrated Amp
The JBL SA750 Integrated Amplifier features a retro-inspired milled aluminum face panel with volume, balance and input dials and hefty switches for power, mute, direct, MC/MM phono, and Dirac Live room calibration. The face panel includes a 3.5mm aux input and 3.5mm headphones output, plus a 2-line orange display screen. The look is completed by classic teak-wood veneer side panels to match the new anniversary edition JBL L100 Classic 75 loudspeakers.
The retro-chic of the JBL SA750 design is contrasted by state-of-the-art high-output Class G amplification technology and streaming protocols including Google Chromecast and Apple Airplay 2. The SA750 also includes a high-resolution DAC, a switchable MM/MC phono input, support for UPnP wireless, full MQA file decoding, and is Roon Ready, plus a host of additional premium audio features including Dirac Live room calibration.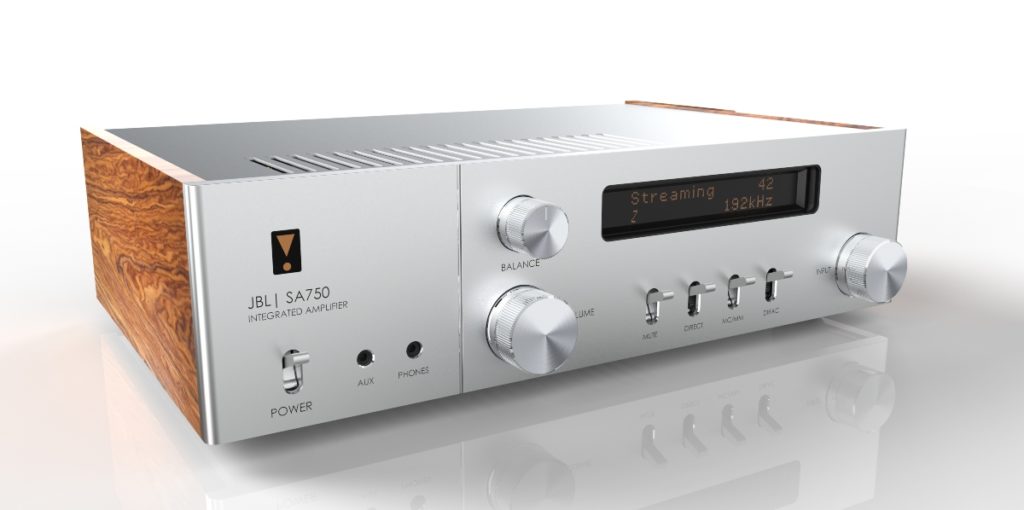 The Class G amplifier delivers 120W of power per channel into 8Ω and 220W per channel into 4Ω. Connectivity includes Ethernet and Wi-Fi with UPnP for connecting to a home network; USB for playing files from removable memory drives; Ethernet and RS-232 serial control for third-party control systems; two optical and two coaxial digital inputs, and six pairs of analog RCA inputs. The JBL SA750 features two pairs of binding-post speaker connectors, a front-panel 3.5mm auxiliary input, a 3.5mm headphone output, and one stereo RCA preamp output.
"The SA750 combines the appeal of retro design with the most current room optimization and streaming technologies in the market," says Garrett. "It's the best of both worlds — past and present — and is already generating considerable excitement among audiophiles and enthusiasts to whom we've previewed it."
The JBL SA750 is priced at $3,000 with availability beginning in April 2021.
JBL Synthesis SCL Series Architectural Loudspeakers
JBL Synthesis introduced four new architectural loudspeakers at HARMAN ExPLORE: the SCL-5 and SCL-8 in-ceiling loudspeakers and the SCL-6 and SCL-7 in-wall loudspeakers.
"Immersive audio is transforming how entertainment is created and reproduced and also how spaces are conceived, created and used," says Jim Garrett. "As a brand that has pioneered audio engineering for music and movies over the past 75 years, it is fitting that we are expanding our range of Synthesis Custom Loudspeakers with industry-leading performance and technologies to accompany our Synthesis electronics for the next generation of multichannel sound."
All four of the new SCL expansion models utilize patented JBL technologies including annular ring diaphragm compression drivers, High-Definition Imaging horn geometries, advanced woofer designs, zero-bezel magnetically attached grilles, and a new patented "Cat Claw" mounting mechanism that saves time and makes installation far easier than traditional "dog leg" type designs.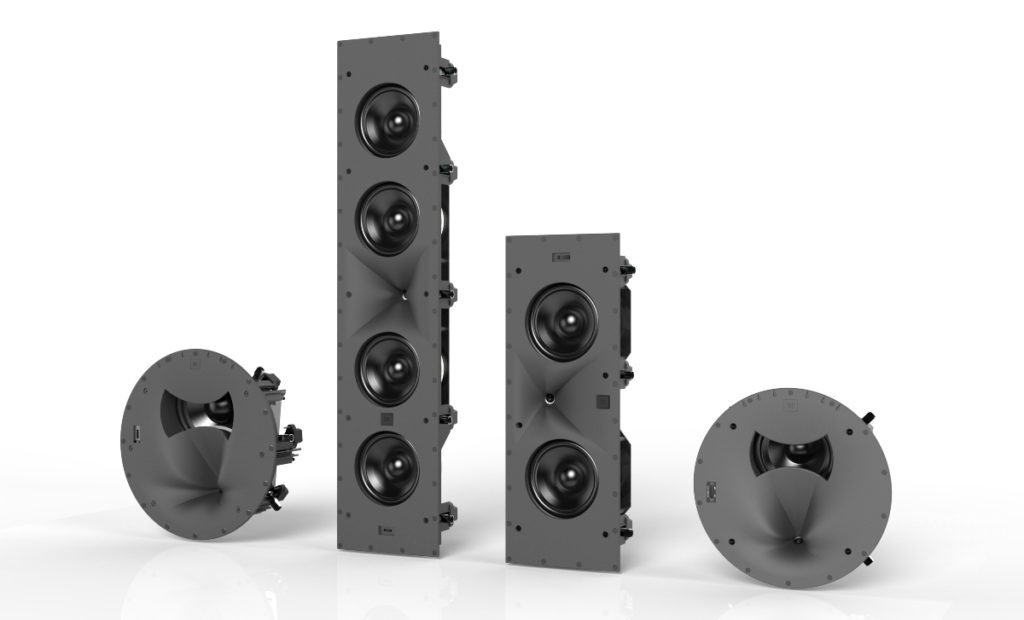 SCL-5 In-Ceiling Loudspeaker: The SCL-5 2-way loudspeaker system features the JBL 2409H 1-inch compression driver tweeter and High-Definition Imaging (HDI) horn assembly. The HDI horn is positioned at an angle on its baffle above the 7-inch black Advanced Aluminum Cone cast frame woofer with the woofer firing through an aperture that makes it virtually invisible acoustically to the compression driver and horn, according to the company. This patented design delivers incredibly smooth off-axis response and is suitable for applications as far as 60-degrees off-axis. The speaker uses the Cat Claw mounting system and has gold-plated, spring-loaded binding post terminals, and magnetically-attached round and square grilles. It will begin shipping in February 2021 at $2,000 each.
SCL-6 In-Wall Loudspeaker: The 2.5-way SCL-6 in-wall loudspeaker is a narrow footprint design with an on-axis horn suitable for LCR applications in small to medium systems or lower-level surround positions in larger systems. The SCL-6 features a patented 1-inch 2410H-2 compression driver tweeter, mated to a JBL patented High-Definition Imaging (HDI) horn assembly and complemented with four 5.25-inch (130mm) black Advanced Aluminum Matrix cone, cast frame woofers. It also uses the Cat Claw mounting mechanism and has gold-plated, spring-loaded binding posts, and a paintable zero-bezel, magnetically attached grille. The SCL-6 ships in February 2021 and retails at $1,500 each.
SCL-7 In-Wall Loudspeaker: The 2-way SCL-7 in-wall loudspeaker system is designed for off-axis listening as LCR, width and surround channels. The SCL-7 features the legendary 1-inch 2410H-2 compression driver tweeter, and patented High-Definition Imaging (HDI) horn assembly, complemented with dual 5.25-inch (130mm) black Advanced Aluminum Matrix cones. As with the SCL-6, it has the Cat Claw mounting mechanism and gold-plated spring-loaded binding posts.
SCL-8 In Ceiling Loudspeaker: The SCL-8, 2-way in-ceiling loudspeaker system is designed for off-axis listening in an immersive audio system. Essentially a smaller version of the SCL-5, the SCL-8 features the same transducers as used in the SCL-6 and SCL-7, including a 5.25-inch Advanced Aluminum Matrix cone cast-frame woofer, and 1-inch 2410H-2 compression driver tweeter mated to an HDI horn assembly. The SCL-8 comes with paintable zero-bezel, magnetically attached round and square grilles and will be available in February 2021 at the retail price of $1,000 each.
JBL Synthesis SCL-1 Loudspeaker, SSW-1 Subwoofer
With the introduction of the flagship SCL-1 and SSW-1, JBL Synthesis is expanding its patented technologies and acoustic advantages to large-format solutions scaled for ultra-premium, high channel count immersive audio deployments.
The SCL-1 and SSW-1 are two of the first products to launch since the creation of the JBL Synthesis Product Council in 2020. They are the direct result of dealer integrators who have been asking for a JBL Synthesis solution for large scale systems. Features and capabilities were reviewed and refined in conjunction with the members of the product council in order to deliver on the needs and expectations of the customers who have been requesting them.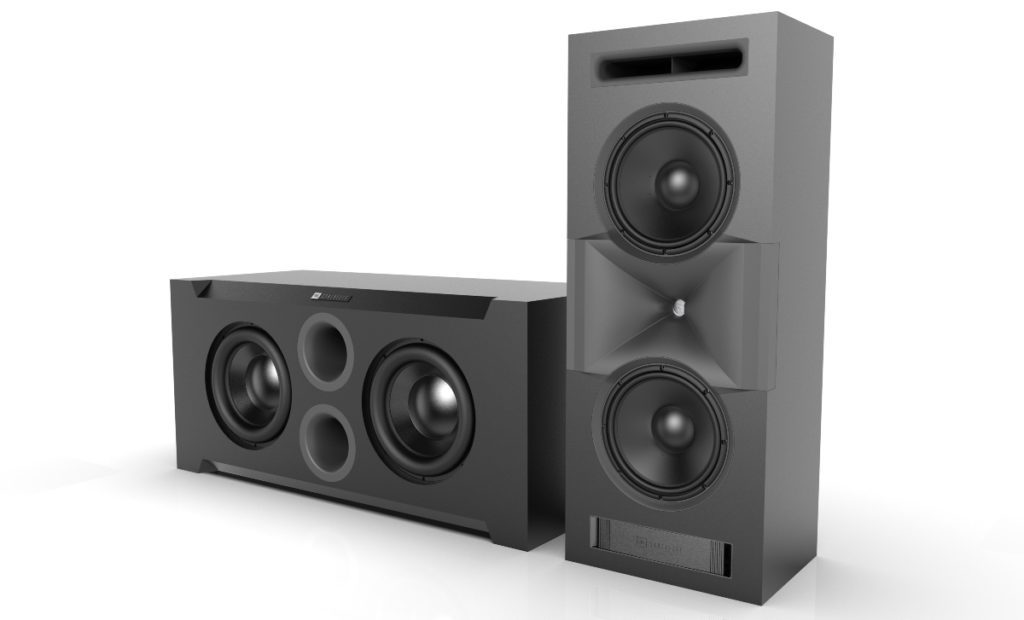 SCL-1 LCR Loudspeaker: The SCL-1 loudspeaker is the new flagship of the JBL Synthesis SCL range. Designed for custom installation behind projection screens, this large format LCR loudspeaker features JBL's patented D2430K dual 3-inch diaphragm compression driver mated to a High-Definition Imaging (HDI) horn. It includes a pair of newly designed 12-inch cast frame Carbon Cellulose Composite Cone (C4) woofers in patented Complementary Bass Alignment System (C-BAS) configuration.
The heavily braced MDF enclosure is finished in textured matte black and measures 48-inches high, 19-inches wide, and 15.3-inches deep with the included magnetically attached steel frame black fabric grille. Removing the grille reduces the depth to 14.5-inches. Connectivity is provided by dual sets of gold-plated binding posts. Custom tuning can be achieved via the front panel configuration controls providing HF adjustments for various installation considerations as well as selections for bi-wire, bi-amp, and complete bypass of the internal crossover network for use in advanced systems with outboard electronic crossovers. SCL-1 availability begins in March with a retail price of $15,000 each.
SSW-1 Subwoofer: Part of the Synthesis Subwoofer series, the SSW-1 is a newly developed, ultra-high-performance subwoofer designed specifically to complement the acoustic capabilities of the SCL-1 large-format LCR loudspeaker. Designed for horizontal or vertical application in large scale systems, the SSW-1 Subwoofer features dual high-excursion (4 inches peak-to-peak) 15-inch cast-frame woofers with composite cones and massive 6-inch voice coils.
The 53.5-inch high x 24-inch wide x 22.8-inch deep subwoofer enclosure is solidly constructed with 1-inch thick cabinet walls and extensive internal bracing throughout and weighs in at more than 330 lb. Enclosure tuning is via dual front-firing Slipstream ports, while connectivity is provided through two sets of gold-plated, spring-loaded binding posts – one for each woofer. With power handling of 2500W RMS per woofer and 5000W RMS per system, as well as extremely high SPL output and usable low-frequency extension to 13Hz, the SSW-1 seeks to provide the highest levels of sonic performance for custom home theater. The SSW-1 will begin shipping in March 2021 and retails at $7,500 each.
If you enjoyed this article and want to receive more valuable industry content like this, click here to sign up for our digital newsletters!