Much like the Gregorian calendar concept of BC and AD, the home technology market could almost be defined as BA (before audiophiles) and AA (after audiophiles) with the home systems of today standing in stark contrast compared to the systems of yesteryear.
Unlike the systems available during the heyday of audiophiles, which were highlighted by large floorstanding speakers and behemoth amplifiers, today's homeowners often desire electronics systems that unobtrusively blend into their homes' interiors.
Helping homeowners to meet today's modern system goals in Eastern Massachusetts and beyond is Needham, Mass.-based Systems Designs & Integration (SDI).
Co-founders Angel Centeno, CEO of SDI, and Alexa Centeno, CFO of SDI, opened the doors of the company 13 years ago and over the years the company has grown in spite of the potential damages COVID-19's recent isolation policies could have inflicted on the business. 
SDI Strikes a Balance of Design and High Technology
Evolving to reflect the maturation of the residential technology market, SDI's steady growth is fueled by its commitment to systems that deliver high-performance and high levels of interior integration.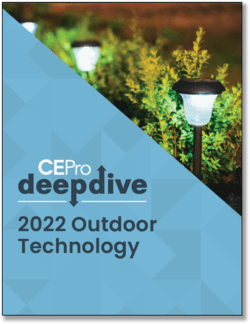 The 2023 CE Pro Outdoor Technology Deep Dive reveals unique set of impediments, including explaining pricing and interacting with outdoor-centric trades.
Get your copy now to take a "deep dive" into the trends and challenges of outdoor technology.
Download the report now!
Angel says that when SDI approaches the design of a system his team is looking at how the system will function in their clients' lives on a daily basis.
"When we look at a project, we think about how the family will use the system," he points out.
"That is our design approach, we understand that not everyone wants a 100-inch TV or surround sound."
Another element of the company's emphasis on design and functionality is the influence of SDI's co-founder Alexa Centeno who brings a woman's perspective to the design process. Angel states that Alexa helps to bring a different outlook to what the company is trying to accomplish with system designs that blend into their clients' home settings.
Supporting the company's growth and approach to design and user-friendliness, Angel points out that SDI now employs a full-time customer service staff member. SDI further solidifies its customer support initiatives with Parasol's array of customer support programs. 
Naturally, beyond its design approach and customer support policies, products play a big role in how the company meets its clients' needs. Angel like many within the custom electronics industry is a gear enthusiast, but his gear goals mirror SDI's core philosophies. This means the products must deliver high levels of performance; the products must look good, and collectively the systems must be easy to use. 
Choosing a carefully curated line of products, SDI carries audio components from McIntosh, Sonus faber, Bowers & Wilkins, Leon Speakers, Paradigm, and Anthem. Angel says SDI is a big proponent of Sony's line of home video products and Savant control and automation solutions. 
Expanding on its system offerings, one of the company's biggest growth categories over the past year has been lighting and shades. SDI's preferred lighting and shade products include Lutron, Ketra, and Colorbeam. 
In addition, Angel notes that SDI uses products from Basalte and FrameMyTV to help add an integrated look to its lighting and AV installations.
New Showroom Highlights Company's Core Values
Serving as a symbol of its growth, and its current and future goals, SDI moved into a new facility nine months ago.
Visitors walking into the new SDI showroom are greeted by a brightly lit seating area and reception desk. Near the seating and reception desk reside electronics from McIntosh, and speakers from Bowers & Wilkins, Sonus faber, and Paradigm. 
The space is accented with modern art and lighting fixtures that showcase the amalgamation of high technology, style and functionality. Other facets of the main showroom area include displays for lighting and shade switches, and accessories from Basalte.
A separate table area offers visitors a space to sit down and discuss project designs, while having a beverage.
Branching off of the main showroom area is a smaller room that hosts a hidden TV flanked by a pair of Bowers & Wilkins 800 series speakers and JL audio subwoofers. Powering the speakers are McIntosh electronics, and highlighting its design capabilities, SDI outfitted the room with acoustical treatments that complement the room's interior design.
Related: Hands-On: Sonus faber Palladio Series PL-664 Delivers Total Package
Another room just off the main lobby area features a Nexus 21 TV lift integrated into a cabinet and Ketra lighting that demonstrates the many ways that modern lighting can impact home interior spaces. 
Putting its showroom to good use beyond its use as a meeting place for SDI clientele, the suburban Boston-based company also uses its new facilities for CEU training for its team and other integrators, and it holds various marketing events to promote products and other solutions.
Looking ahead at what's next, Angel adds that SDI's future goals include building upon its expanding lighting sales and the company's expansion into other markets.
"I want to get a full-time lighting and shades salesperson," he admits.
"we are also working on opening a Southern Florida location."