The ability to hide technology or make it unobtrusive has always been one a hallmark differentiator for custom integrators. Motorized items such as mounts and lifts remain the "ace up their sleeve" for achieving such results, and lately manufacturing partners are dealing out more ways to give integrators a winning hand with clients.
More design-minded customers and those who work with specifiers, plus increasingly larger and thinner displays have changed the installation game these days, Cory Lovett, CEO of Nexus 21, explained during the recent Integrated Systems Europe 2020 show in Amsterdam.
"We listen to integrators and they have requests, they always have motorized things but now they need to be a little bit different," Lovett says.
"They need more automated function, they need options for larger TV screens, they need better forms of control. So these are things we've been trying to address."
Making Designers and Architects Happy
Lovett adds that integrators are working more – or trying to work more – with interior designers and architects. So the visual impact of technology is more front and center in their potential solution designs.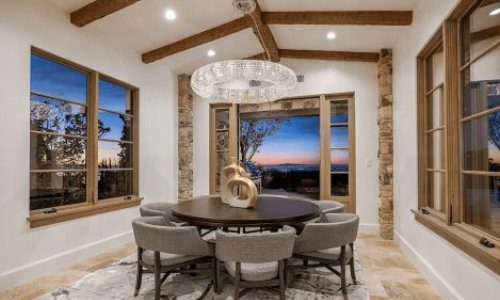 As a custom integrator, lighting is in demand. Effective communication, education and showcasing the value proposition of LED light fixtures in conjunction with integrative control systems are the keys to overcoming challenges and closing sales in this specialized market. Join us as we discuss the future of digital lighting and control with David Warfel from Light Can Help You and Patrick Laidlaw and Mark Moody from AiSPIRE.
Register Now! 
"We came in originally with a lot of mechanical solutions, but they need to be more aesthetically sound," Lovett says. "The integrators are getting specifiers like architects and designers telling them the space and the flow of a home is important – we want technology but we need to preserve the aesthetic."
To assist as this trend continues to influence projects, Nexus 21 has tweaked its versatile product designs of late, adding things like more positional features and IP control and two-way communications.
"In other words, more options for positioning devices, which provides more design freedom for architects and designers," Lovett says. "If you have to orient every seating area in the home to the one wall with the display, obviously it creates headaches for them, so you don't want to do that.
As an example, he cites Nexus 21's L-75ix drop-down and swivel for displays up to 75 diagonal inches. The original version lowered from the ceiling as well, but its positioning was constrained by the direction of a particular room's ceiling joists. If the room's seating didn't jibe with the layout of the joists, then so much for hiding the display with the slick motorized drop-down.
But for an innovative company like Nexus 21, the solution presented itself: add motorized swivel functionality.
"We've had requests for a long time to give [integrators] the ability to drop it down and anywhere in 360 degrees, plus you can use multiple angles now with this," Lovett cites. "So if you have a living room over there and a kitchen over here, then the device can serve both rooms – you get a lot of benefits from having that motorized swivel capability.
"Now the remodeler can use the least expensive or least invasive construction methods but still provide the position anywhere in the room with that TV," he adds.
"They can cut where it's the least damaging to the home and requires the least amount of expense and time and redo. By giving them that positional functionality, they can now select the easiest construction method and still face the TV any way you need."
'Technology in Motion' Sends a Message
It's part of why the company now goes by the broader tagline "Technology in Motion" as opposed to its original "Nexus 21 Concealment Systems," Lovett says. "It's less about concealment and more about multiple-use rooms."
He points out that ceilings in general have become a more favorable concealment environment, compared with pop-up boxes at the foot of the bed, for instance, that Nexus 21 commonly sold in the past.
"Nobody wants to build a piece of furniture or have it at the end of the bed. Sometimes they don't want to see it at all," he says. "And that's where the ceilings are so handy."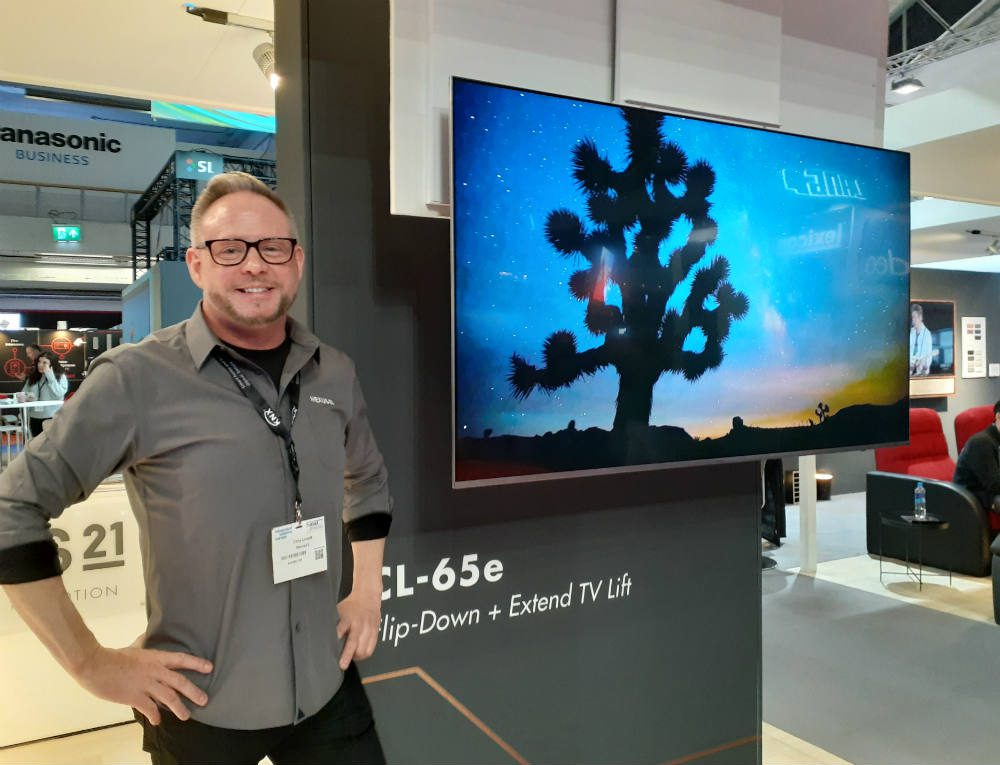 Of course, not every room will have the luxury of lots of above-ceiling height to stow a big display, and for those instances another key motorized product integrators can implement is the CL-65e flip-down and extend lift. Lovett says it's becoming a hit with not only residential spaces, but commercial and especially watercraft – in fact the CL-65e is the company's top-selling product into the marine market.
It only requires 7 inches of clearance above the ceiling, plus another version enables integrators or remodelers to bolt the lift directly to the ceiling (if they can't cut into it) and build a finishing box or soffit around it. Meanwhile, the extender aspect lowers the display up to 24 inches for improved viewing and greater installation flexibility.
"What's new about this for us is that it comes down and drops down, so you can use it with higher ceilings," Lovett adds. "It used to be that we had it only a flip-down, but with 12-foot ceilings that's still pretty high, that's why we added this extender."
Now available for displays up to 65 inches, the company is working on a flip-down and extend model that will house up to an 85-inch screen by CEDIA Expo 2020, Lovett says.
"Ceilings are becoming our biggest growth sector, which I didn't see up until a couple years ago – I thought pop-ups were going to be the thing," he admits.
Lovett notes that in these examples Nexus 21 tries to set up its dealers for better success by keeping costs down (20%-45% less than the competition, he says) and turnaround time fast (built in advance, most products ship within a few days of ordering). The company also touts a 10-year warranty and in-house customer support to aid integrators.
Apex Adds Motorized On-Wall Appeal
Below the ceiling, Nexus 21 also showed in its ISE booth the motorized Apex Wall Mount, which came out last year and just began shipping. The company showed a couple of versions of the ultra-thin mount, one mounted to the surface of the wall, another where the back box is inset and enables the display to sit only about an inch off the wall.
"It's very impressive, because you don't even know that there's a motorized mount back there," he says.
Lovett adds that the articulating mount includes a drive release in case people happen to push or pull on it, and it won't break – something that has hampered similar products that users would push/pull mistakenly thinking they were manual articulators.
The "smart drive technology," as Nexus 21 calls it allows people to move the mount manually as many times as they want.
"It always knows where it is in its travel and you can't break it. It's also extremely safe," Lovett says. "You can have a kid's arm in there when it closes and that smart drive will let go."
The company doesn't intend for the Apex to be used manually, but the smart drive technology offers a bit of protection for dealers against user error and resulting finger-pointing.
"If the thing breaks, who's responsible? Can you prove that it's a warranty issue or did the client mishandle it … and then who's going to pay to replace the mount, whose fault is it?" asks Lovett. "When I speak to dealers about that, it instantly resonates because it's a story they've heard many times."
If you enjoyed this article and want to receive more valuable industry content like this, click here to sign up for our digital newsletters!