Russound has a new self-amplified keypad audio system they call VoicePlay. It's a fascinating addition to their audio lineup, and worth knowing about for many applications, including A-BUS system replacement; situations where the homeowner simply wants streaming or Bluetooth sources playing at moderate levels; and people looking for Amazon Alexa features in a wall-mounted interface.
As integrators may recall, A-BUS was the brainchild of Australians Len Andrews and Andrew Goldfinch, who were with Leisuretech Electronics. They developed the product, sold it in Australia, and licensed the technology around the world. Russound was the first company to offer A-BUS products in the U.S., and other manufacturers followed suit.
A-BUS systems had a large power supply, a hub that connected to a fixed line-level audio signal (tape out was frequently used for this application), Cat 5 cabling from the hub to the keypad, and speaker wire from the keypad to the speakers.
The system featured a 7-watt per channel amplifier, and over time, different hub and keypad designs appeared allowing the user to select between multiple sources in the room where the keypad resided. The keypads also featured an IR sensor, so the user could manipulate the source equipment as needed.
The concepts behind A-Bus included offering a brick simple system for a homeowner to operate and, by placing the amplifier closer to the speakers, reduce the amount of signal loss that home-run speaker wires suffered from.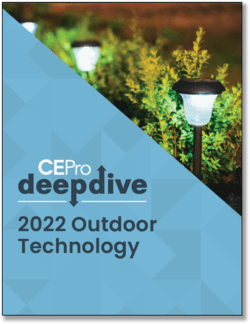 The 2023 CE Pro Outdoor Technology Deep Dive reveals unique set of impediments, including explaining pricing and interacting with outdoor-centric trades.
Get your copy now to take a "deep dive" into the trends and challenges of outdoor technology.
Download the report now!
It offered customers a way to send tunes to multiple rooms at a reasonable price point, even if it wasn't at concert levels. A-BUS systems sold well for many years.
Russound VoicePlay Amplified Keypad Audio System Features
Fast forwarding to today, we're all listening to an abundance of sources. Russound's VoicePlay system supports Spotify Connect (the Premium service), Amazon Music, SiriusXM, TuneIn, Deezer, iHeart Radio, Apple AirPlay, and your own music collection that you can access via Bluetooth. Since the unit supports Alexa, you can use voice commands to select virtually any type of music or artist.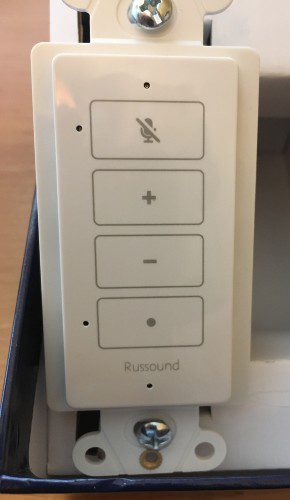 Users will want to spend a bit of time getting the appropriate software loaded onto their phone. Russound employs their VoicePlay app for initial configuration of the amplified keypad system, so download that from the Apple App store or the Google Play store, depending on your device.
Then synchronize your device to the Wi-Fi network in place and name the device (e.g., Anne's Room or Kitchen) as well as linking it to the appropriate Amazon account.
If Alexa is not of interest, users can operate the system without the Amazon association; some functionality will be sacrificed, including the ability to command the system to have up to 10 keypads play the same source simultaneously.
If you simply want to stream Bluetooth, you can skip the Amazon association and use your handheld device to select your music.
Russound VoicePlay Amplified Keypad Audio System Setup
Hooking up the system is simple. You'll need a VoicePlay V-PS-2 60W power supply for each two VoicePlay keypads (V-KP-1).
That can be located (within reason) anywhere you'd like in the house. If you have Category cabling from a location (think old A-Bus configuration), you can use four of the conductors for plus and four conductors for minus.
I'd strongly recommend using solid colors for plus and striped for minus, simply for consistency.
Connect the speaker wires to the appropriate terminals on the back of the keypad, and if you are using 4-ohm speakers, set the impedance slider to that setting.
Once everything is connected, finish mounting the keypad in its gang box and plug the power supply in. It'll take a couple of minutes to initially boot up, and you'll use the aforementioned Russound VoicePlay app to configure appropriately.
The 15-watts-per-channel keypad is available in black or white. It has four buttons on it in a nice Decora trim. There's a microphone mute button, volume up and down, and action button.
You'll use your handheld device to select music from the source App (e.g., Spotify) and the keypad will take it from there.
Folks who use Alexa for lighting control will need to have the appropriate third-party devices to achieve that.
Sound quality was very good indoors. Operation was a breeze once it was configured properly. For consumers looking to enjoy better performance than a miniature smart speaker, this clearly delivers the goods.
It's a viable option for dealers looking to offer starter music systems for new home construction. The simple wiring configuration allows you to upgrade existing tradition volume control-based systems to voice command systems easily.
Obviously, it's a viable replacement for older A-BUS systems as well.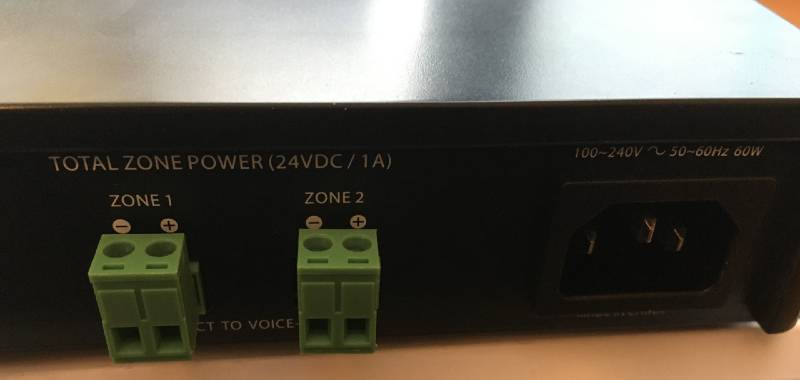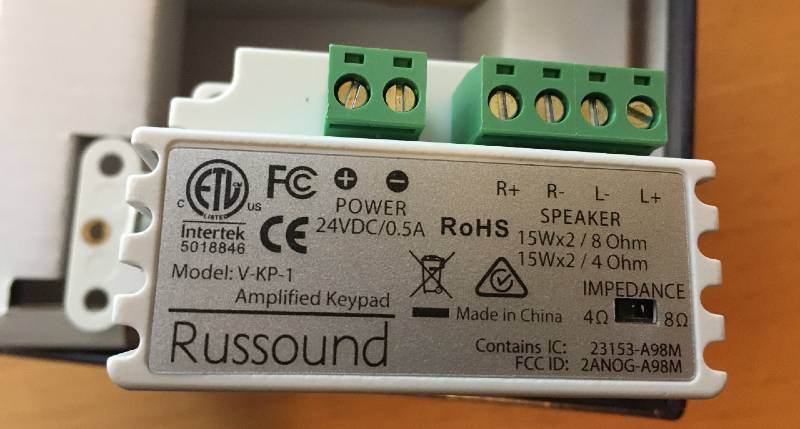 Russound VoicePlay Specs
Keypad
Bluetooth, streaming, multi-room audio and app control
Easy touch Volume Up, Volume Down, Mic On/Off and Action (standard Alexa buttons)
15W per channel, synchronize up to 10 rooms
Includes both white and black color options
Power Supply
Power output 60W/24VDC
Each power supply supports two VoicePlay keypads
Over voltage, over current and over temperature protection Over Temperature (All Are Self-resetting)
VoicePlay Keypads and Power Supply are sold separately
CE Pro Verdict
Pros: Easy to retrofit install; delivers popular streaming platforms plus Bluetooth audio; 15WPC amplifier can deliver reasonable volume levels for most installed speakers
Cons: Not employing Alexa association loses some functionality such as ability to command system to have up to 10 keypads play same source simultaneously