After the novelty of doing jigsaw puzzles wore out, millions of U.S. households found themselves stuck at home during the COVID-19 pandemic with limited ways to entertain themselves. And the custom electronics industry came to the rescue.
According to the 2021 CE Pro Home Theater Deep Dive Study, custom integrators installed an impressive median of 11 home theaters each over the past 12 months. Those 11 home theater projects included five dedicated private cinemas rooms, along with six home theaters in multipurpose rooms, such as dens/family rooms, living rooms and great rooms. 
CE Pro is using the same definition for "home theater" used by both the Consumer Technology Association and the National Association of Home Builders in their annual joint State of the Builder Technology Market Study, which is a "minimum 42-inch display with surround sound."
You could certainly argue that from both a mental and emotional well-being standpoint, the ability of integrators to install home theaters/entertainment systems for their house-bound clients was more valuable than the deployment of home networks for clients' Work From Home and Learn From Home necessities.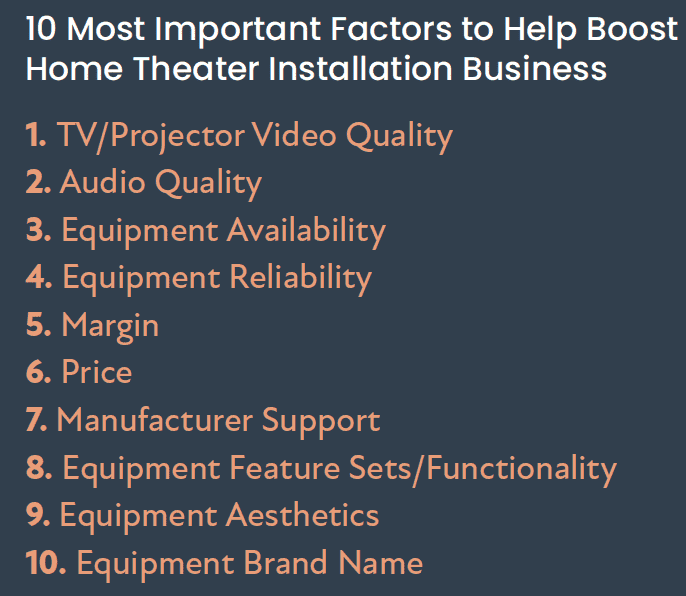 Perhaps for the first time ever, the desire for a home theater was not merely a luxury amenity sought after only by the wealthy and the elite, but a fundamental imperative that helped consumers maintain some semblance of sanity in an insane situation. And that thirst for home entertainment was further assisted by the available income that many consumers suddenly had as they could no longer spend money on travel and dining out — forget about "dinner and a movie," it wasn't an option for most of 2020.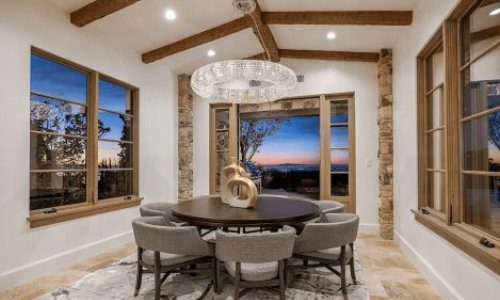 As a custom integrator, lighting is in demand. Effective communication, education and showcasing the value proposition of LED light fixtures in conjunction with integrative control systems are the keys to overcoming challenges and closing sales in this specialized market. Join us as we discuss the future of digital lighting and control with David Warfel from Light Can Help You and Patrick Laidlaw and Mark Moody from AiSPIRE.
Register Now! 
According to the study, 82% of integration companies said the coronavirus pandemic increased the interest in home theaters among their prospective customers. And in many cases, that COVID-19-driven interest resulted in sales. According to the study, 58% of integrators had boosts in home theater sales due to the pandemic. Among those, exactly one in four CE pros (25%) reported "strong increases" in sales due to the virus. Only 18% of integrators said the COVID-19 lockdowns had no effect on their home theater installation business.
The resurgence of home theaters represents quite a comeback for a category that was once thought going the way of the dodo bird. But what will the future hold? Integrators predict a modest 5.3% median increase in their home theater installations over the next 12 months, perhaps signaling the pandemic-driven fervor will subside somewhat.
For some integrators, 4K TVs and ultra-short-throw projectors have offered the opportunity to sell and install dozens of home theater systems. According to the data, one in 10 integrators performed more than 31 multipurpose home theater installations over the past 12 months.
Comparatively and almost equally as strong, 8% said they installed 31+ dedicated private cinemas, which could include basement theaters in addition to dedicated areas on the ground floor or even second story of a home. Only 15% of integrators said they did not install a single home theater of any type over the past year.
Home Theater Gear Gets Diverse
As every integrator knows, a home theater is not simply a TV, speakers and some wire and cable. The number of product categories that integrators incorporate into a home theater is highly diverse, which is what makes the category such a compelling one.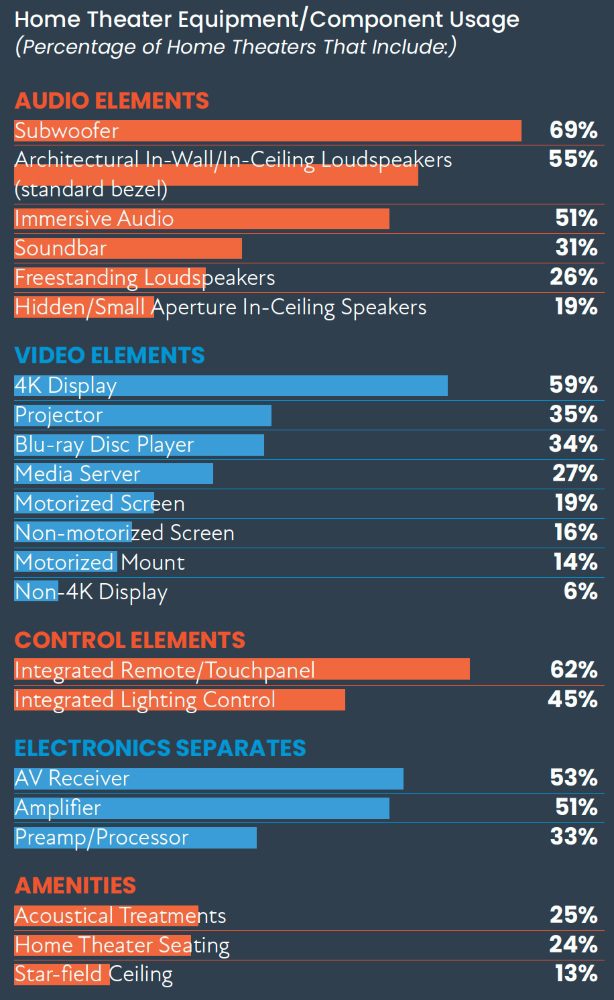 From the audio standpoint, it is not surprising that the median number of loudspeakers in a dedicated-room home theater is seven, while the median number in a multipurpose room is five. In a private cinema, the seven speakers likely are for the left/center/right and two layers of rear surrounds (or one rear and one Atmos). While in a great room, the second set of rears is apparently not being deployed. Meanwhile, more than two out of every three residential theaters (69%) include a subwoofer.
The advent of soundbars has enabled many integrators to use the single-chassis speakers as the LCR for their theaters, in combination with a sub and rear speakers in most cases. However, with soundbar manufacturers touting the surround-sound capabilities of their speakers, there certainly could be a percentage of installations that solely rely on the soundbar for all audio. CE Pro did not ask about that specific scenario in the Home Theater Deep Dive Study, so there is no way to know with certainty. One in 10 theaters is a monster with 13 or more speakers.
Further breaking down the speaker usage, standard-bezel architectural in-wall/in-ceiling speakers are the most popular audio choice, implemented in 55% of home theaters. Freestanding speakers are used in 26% of theaters, with hidden/ small aperture speakers are deployed 19% of the time.
On the video side, it is a mix of display-based vs. projector-based solutions. Just over one in three (35%) home theaters uses projectors, with displays being installed for the remainder. Particularly, 4K displays are in 59% of projects, with the remaining 6% of theaters being a mix of either standard HD TVs, 8K TVs or even large microLEDs. About one in five projects has a motorized screen, while 14% have a motorized TV mount.
In terms of content sources and electronics separates, AVRs and amplifiers are deployed in over half of all home theaters, with preamp/processors used in about one-third of jobs. Blu-ray disc players are also installed in just over one-third of projects and media servers are in one-in-four home cinemas.
Besides subwoofers, the most-commonly used device in a home theater is an integrated handheld remote or touchpanel, which dealers sold for 62% of their theater jobs. Sadly, that means dealers are simply relying 38% of the time on the out-of-the-box remote control that comes with the display or projector, or they are letting clients control their theaters via their smartphones.
In terms of additional amenities, lighting control is the most popular, as 45% of home theater projects integrated control that dims the lights and sets the mood for movie-watching. Other popular amenities that integrators installed during the past 12 months include acoustical treatments (25%), home theater seating (24%) and star-field ceilings (13%).
Home Theater Locations & Pricing
Just as the dining room table has become the home office for many people during the pandemic, the home theater has also migrated into many areas. Multipurpose rooms, such as dens, family rooms, living rooms and great rooms, are the most common spaces where integrators installed theaters last year, with 30% of jobs in those rooms.
The dedicated private cinema made a comeback, as noted previously, with nearly one-in-four (23%) home theaters in a separate room. Other popular spots include basements (19%), master suites (11%) and outdoor theaters (10%). Other areas, including garages and secondary bedrooms, account for 6% of home theater locations.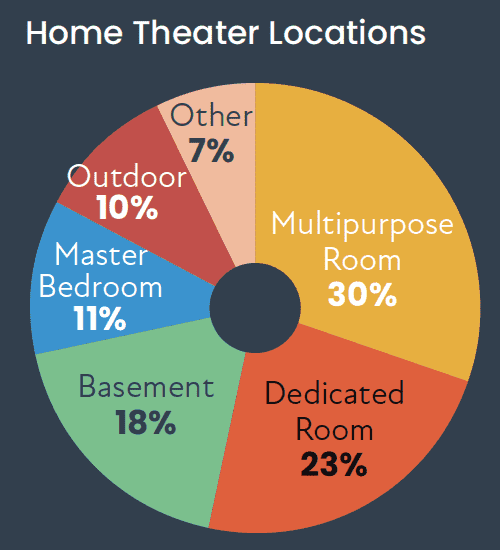 The beauty of home theater is the shared experience, so it's not surprising that the median number of seats for a home theater is five. Only about 2% of home theaters are massive with more than 11 seats.
Because so many home theaters these days are in multipurpose rooms, it is not surprising that they are being linked into a larger whole-house AV distribution system as a single zone. A quarter of home theaters (25%) is a zone extension of a multiroom AV system.
The advent of less-expensive gear has been a boon to the growth of home theaters. Super-expensive TVs and projectors still exist, but they are the exception today rather than the norm. As such, the median price for a multipurpose room home theater sits at $17,312. You might think a dedicated room private cinema is exorbitantly higher, right? Wrong. Over the past 12 months, integrators installed a private cinema installation for a median price of $28,227. Yes, that is still 63% higher, but not outlandish by any means.
The profitability of both multipurpose- and dedicated-room home theaters is comparable. Integrators report earning 26.5% profit on private cinema rooms and 24% on great room theaters. Overall manhours for an installation ran just over one week.
Other Factors Impacting Home Theater Business
In terms of what integrators are looking for to boost their home theater business, component quality tops the list. Dealers cite TV/projector quality as the most important factor, followed by audio quality and equipment availability. Margin is ranked as the fifth most-important factor, and price is ranked sixth.
Meanwhile, integrators say their clients are most focused on the experience. When asked what their clients desired most in a home theater, dealers said customers want a cinema-like experience first, followed by ease of use, aesthetically pleasing design, and the ability to use the theater for other experiences besides just watching movies, such as playing video games and listening to music. Again, low price was lower on the list, ranking as the fifth most-desired element.
Finally, the survey dug deeply into the features that integrators find most important in a media server, such as Kaleidescape. The data show that experiential elements are key, with the features of HDR/Dolby Vision and Dolby Atmos topping the list. Ease of use was the third most-desired feature, followed by the ability to access movies quickly.
To see all of the charts and graphs related to the Home Theater Deep Dive, click here. To download the full report, click here.
If you enjoyed this article and want to receive more valuable industry content like this, click here to sign up for our digital newsletters!