Let's be real—there is a developing situation that is brewing in broadcast television. Broadcast service providers are increasingly locked in disputes with media companies as they try to keep from losing subscribers as more people opt to subscribe to streaming media content.
Naturally, broadcast service providers are now taking a hardline with these media companies that are hiking up their carriage rates. Arguably the most high-profile disputes between media companies and services providers involves regional sports networks (RSNs).
These RSNs are trying to recoup their investments into their broadcast agreements with teams and leagues by asking for premium pricing rates while these service providers are trying to maintain their subscription bases while competing against a growing array of streaming services. The most obvious way for service providers to prevent subscribers from leaving is not raising consumers' monthly subscription rates, which would be difficult to do if their expenses are rising due to paying these increasing carriage rates.
Unfortunately, this increasingly hostile battle between service providers and media companies have placed consumers in the middle of their disputes.
Working to meet the needs of its subscribers that have been caught in the middle of these disputes Dish has developed a hybrid setup box (STB) that allows users to easily access broadcast media with all the entertainment options as its traditional broadcast STBs, as well as streaming content from all the top entertainment services that include RSNs, all from the same interface.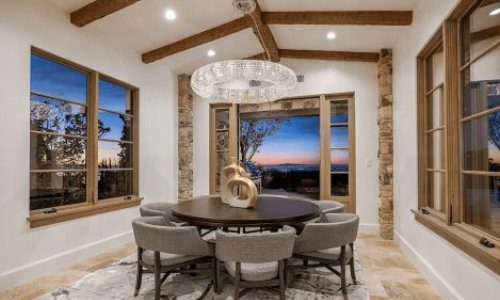 As a custom integrator, lighting is in demand. Effective communication, education and showcasing the value proposition of LED light fixtures in conjunction with integrative control systems are the keys to overcoming challenges and closing sales in this specialized market. Join us as we discuss the future of digital lighting and control with David Warfel from Light Can Help You and Patrick Laidlaw and Mark Moody from AiSPIRE.
Register Now! 
The idea with the hybrid STBs is simple: If your broadcast service provider is locked in a dispute with a media company and that media company's content has been pulled from your traditional broadcast television lineup, you simply download that media company's app and add it to your hybrid STB's user interface.
Very quietly, this new space-friendly, hybrid STB called the Joey 4, along with Hopper Plus and Wireless Joey 4 hit the market a few months ago, and Dish is now beginning to promote these Android TV-based solutions, which could shortly represent the next-generation of home-entertainment hardware in American homes.
Joey 4 Dish STB Delivers Unified Entertainment Experience
Installation of the Joey 4 STB didn't take long. Sending a technician to my home, the total installation time did take a couple of hours, but I want to stress most of that time involved a firmware update of my Hopper 3 STB, which is the heart of a Dish whole-house entertainment system. While the Hopper 3 was updating—the firmware was uploaded from a USB drive—the technician did the physical installation of the Joey 4 hybrid STB, which literally took minutes.
Once the firmware on the Hopper 3 was updated the technician called in the updates to the Dish support team and system was up and running. The technician explained to me that if I were a new installation the firmware would have been taken care of beforehand and the installation would have been much quicker.
With the system set to go, the technician went on to explain the hybrid STB utilizes the Android TV operating system (OS). Walking me through the navigation of the OS took only a few moments since the Sony television the Joey 4 was connected to also utilizes Android TV as its smart TV OS.
I do want to point out there are some slight differences between the standard Android TV OS interface and the customized version that Dish runs on its hybrid box. The Dish version features broadcast content windows that users can click on to enable easy access to frequently viewed programs and channels.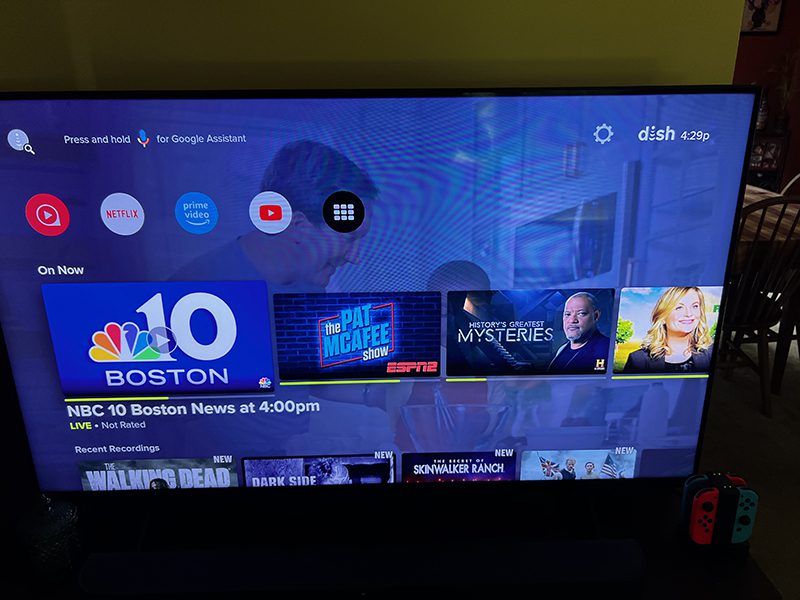 Scrolling through the interface provides users access to their streaming services just like a standard smart TV interface like my Sony TV's Android OS in addition to the broadcast content I mentioned. I should back up for a moment to point out that I did add my streaming services to the STB—the technician did ask if I wanted to install the streaming apps or if I wanted him to do that. Choosing to do it myself I clicked on the Google Play icon in the user interface and began to plug in services such as Netflix, Amazon Prime, Max, and NESN 360.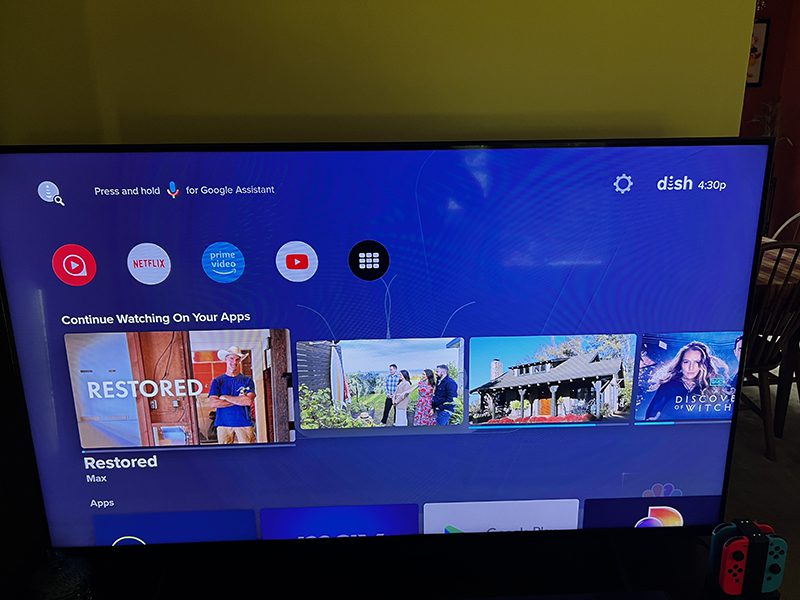 NESN 360 is an important app for Dish because it's the local RSN for my region of the country and it allows me to access live games from the Boston Bruins and Boston Red Sox. Backing up once again, Dish like a lot of service providers has drawn the line with RSNs like NESN that ask too much money for their content—especially with a terrible Red Sox team and a Bruins team that has reached the end of its Stanley Cup contention window—and dropped the RSN. Having the NESN app allows me to sidestep Dish's dispute with the NESN to watch Bruins and Red Sox games through my Joey 4 STB.
The beauty of the hybrid integration offered by the Joey 4 is that I don't have to switch inputs to access streaming content for example that's available from my TV's smart operating system or solutions like an Apple TV or Roku device.
In my house this is great because when my father-in-law visits, he can have problems navigating the AV system in my living room. My father-in-law like many retirees struggles with technology. Being a sports junkie asking him to switch from our STB to my Sony's smart OS services or the Roku soundbar we have on the TV with built-in Roku doesn't always go smoothly for him. Keeping him in the same interface on the same input to switch between broadcast and streaming will keep him from getting frustrated if something potentially goes wrong.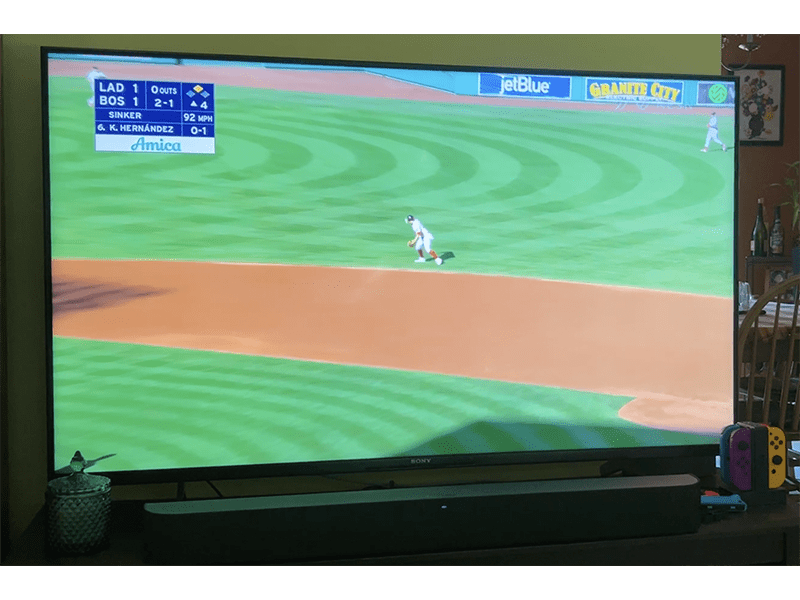 To be perfectly honest I think keeping things all within the same interface is also easier on my wife who fights her own battles with technology.
Comparing the performance of the Joey 4 to the older Joey 4K STB it replaced, I would say it is a much better STB. The Joey 4K was a fine STB and we never had issues with it, but it was apparent the picture quality is much better and the overall response time of the new STB using the remote seems more immediate.
Getting back to the navigation of the Joey 4 and its Android TV-based interface, I have not had any issues with it, and my wife has not said anything to me about the interface navigation. This falls under the category of no news is good news from my perspective.
Personally, for me, because the interface is so similar to my Sony TV's interface, I do have to remember that it takes the STB a few minutes to power up and display on the TV screen once I hit the power button on the Dish remote. So, if I'm not paying attention and try to navigate the interface without realizing I am looking at the Sony Android TV things obviously won't work.
Other than me not paying attention to the interface I do love the fact that I don't have to leave the Dish Joey 4 interface to go from broadcast to streaming media.
The most important thing in this overall media situation is that these battles between media companies and service providers is not exclusive to Dish. Comcast, DirecTV and others are all dealing with the same issues. Leaving one service for another won't solve the overall problem, which is media companies like NESN, Hearst Corporation, and Cox Media Group are asking for too much for their broadcasts while service providers are trying to adjust to a market with increased competition.
Ultimately, the best solution would be for these media companies to be more reasonable with their rate demands. Until that happens however, Dish's new line of Android TV-based STBs, including the small-footprint Joey 4 are the best way to deal with the situation.
If you enjoyed this article and want to receive more valuable industry content like this, click here to sign up for our digital newsletters!