Sometimes when integration companies join forces, the resulting merger means some brands get embraced while others get the boot because you can only carry so many.
When Bravas was created last year by joining 15 successful integration firms into a nationwide provider with offices in several key regions, the Dallas-Fort Worth area in this case turned three firms – Home Theater Technologies in the Fort Worth area, and Smart Systems and Audio Video Innovations in the Dallas area – into one serving the market as Bravas DFW.
The company's bread-and-butter clientele is in larger custom residential construction working with custom builders. In Texas, there's a lot of technology that can go into your average 5,000-6,000-square-foot homes. Installing reliable tech for that size house means working with a reliable vendor partner is a must.
"We are the city that combined the most – three different smaller integration firm combined to become Bravas DFW. That left us with the most varied product base, three different locations and three different solutions," says Bravas DFW sales manager Chris Claybon.
"They were also doing three different kinds of jobs so it's been a big challenge to become one giant custom AV provider. And building SOPs [standard operating procedures] and some sort of a line card was enough of a challenge."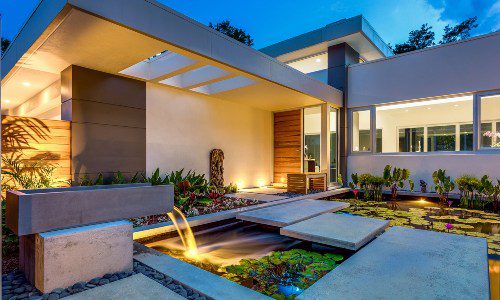 Landscape and architectural lighting create a magical and elegant ambiance for homeowners. The outdoor lighting industry has always been a phenomenal one and continues to grow in popularity. Now is the ideal time to learn more about this rapidly growing and highly profitable industry. Join our panel of esteemed lighting experts that will dive into why it's time for integrators to rethink their role in the outdoor lighting industry.
Register Now! 
AV Pro Edge Exceeds Expectations
Bravas DFW does 90% residential business, the sweet spot being those custom homes, plus 10% commercial. With extensive properties and homeowners seeking to have entertainment options at all reaches of the residence, including outdoors now, solid video distribution products are essential.
"You hit the nail on the head when you said reliability," Claybon says of why Bravas DFW recently made AV Pro Edge its preferred video distribution vendor.
The matrix switchers, scalers and extenders provider has upped its appeal with CE Pro 100 dealers like Bravas, earning AV Pro Edge a "Bullet Brand" designation this year in the annual CE Pro 100 Brand Analysis with its jump into the top five leaders (31 dealers, good for fifth).
"One of the three companies had just started using AV Pro Edge, and one of the big reasons they had gone that route was almost all of our service calls are from video distribution, it's really just taking a beating lately," Claybon recalls.
"They came in with some pretty high promises of being able to resolve that and make different components work together, and so we gave them a shot with one of the companies and when the three merged, the other two were having the same issues. We said let's make that our go-to if budget allows it, so that's kind of how we got the ball rolling with AV Pro Edge, based on trouble in the past."
Devices Handle Mix of Modern & Legacy Video Gear
Most of Bravas DFW's jobs rely on video distribution systems to neatly tie together video endpoints of varying resolutions, source content and technologies.
"Local sources is great when you're under five or six displays," Claybon says. "Now, with some of the new control systems wanting to do scaling and multiple displays [in a single zone], now video distro is back in the point, so AV Pro Edge pretty much is our go-to on anything we get to wire from the ground up because of simply the size of the project."
Claybon says that as much as Bravas would love an average project to consist of all new video gear to integrate, the reality is legacy equipment winds up being in the next room over from the 4K OLED. Video signal devices have to be ready to handle it, and AV Pro Edge's offerings have passed the test.
"We do get a lot of client-provided stuff where you do have to play nice with a newer, more capable display [in supporting the legacy source]," he says.
In terms of AV Pro Edge's array of solutions, "the video matrixes – the 8x8s, the 16x16s – and then the baluns whenever we have to cover any sort of distance even on smaller projects, they just seem to be a little more reliable so those are kind of our go-tos," Claybon says.
Bravas typically builds and programs racks in-house, and technicians have told Claybon that AV Pro-anchored video distribution systems set up faster than those using comparable solutions.
"So there's some labor hours saved," Clayborn says. "Of the ones we have deployed since we started really heavily into it the last quarter of last year, I don't know of any service issues … and whenever it's video distro there's where your real savings are – not going back out to troubleshoot."
If you enjoyed this article and want to receive more valuable industry content like this, click here to sign up for our digital newsletters!