When taking on this award-winning outdoor entertainment project in Huntsville, Alabama, the homeowner wanted "complete and total audio coverage" throughout their back—including underwater—notes Mozaic Audio Video Integration CEO Michael Johnson. And that request was only part of the battle. The poolside entertainment area was already challenging to work with as it was elevated on concrete with a steep dropoff, he says.
With only an open railing and a 6-foot drop on the other side, along with minimal soft scape near the pool area, this made it difficult for Mozaic to get speakers on the opposite side of the pool aiming back towards the home, Johnson explains.
"The crew came up with an ingenious way to snake the wiring behind the concrete along the water lines and then utilized pole mounts — to secure the speakers against the wall on the backside of the property. These speakers combined with the [Sonance] Mariner 64 near the hot tub and underneath the pool house porch projected even coverage at any volume level."
Underwater Speakers, Mozaic's "Icing on the Cake"
Mozaic went with three different types of speakers for this particular project. The sound performance of the Sonance Sonarray and Mariner system offers high-quality clean and clear music and bass performance throughout the entire backyard area, while Clark Synthesis takes care of the underwater audio in the pool. "The Clark Synthesis Under Water Speakers were just the icing on the cake," Johnson enthuses.
WattBox surge protection was also used to ensure any pool parties the owners were thinking about having wouldn't run the risk of interruption. Cap it off with a Vantage control system for atmospheric poolside lighting, and it's likely the owners will never want to step back inside.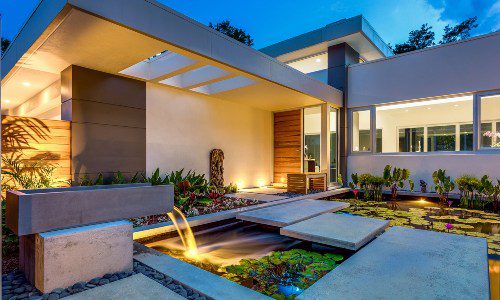 Landscape and architectural lighting create a magical and elegant ambiance for homeowners. The outdoor lighting industry has always been a phenomenal one and continues to grow in popularity. Now is the ideal time to learn more about this rapidly growing and highly profitable industry. Join our panel of esteemed lighting experts that will dive into why it's time for integrators to rethink their role in the outdoor lighting industry.
Register Now! 
Johnson adds that the technical competency of Mozaic Audio Video Integration crew was on full display as numerous obstacles emerged with speaker placement, wire access and desired sound coverage proving a tricky puzzle to solve.
"With some careful ingenuity, and creative speaker mounting, the team was able to deliver the sound and performance the homeowner was looking for. Yet, even with all of the power and performance, and numerous audio zones, the homeowner never feels overwhelmed with control and can easily adjust the system sources and volume levels from the convenience of the Sonos App," Johnson says.
Before you go, don't forget to check out the slideshow of this project.
If you enjoyed this article and want to receive more valuable industry content like this, click here to sign up for our digital newsletters!