For the past 13 years, U.S. Marine Corps Corporal Chad Watson (Ret.) has proven the resiliency and toughness of U.S. service members by creating a new life for himself after he lost half of his right leg in a 2006 IED explosion in Iraq. In recognition of Watson's sacrifice and determination throughout his difficult recovery, the Gary Sinise Foundation's R.I.S.E. (Restoring Independence, Supporting Empowerment) program selected him to receive a brand new smart home in Illinois, complete with security, automation, and entertainment technologies from Nortek Security & Control.
James Galla, owner of local electronics integration firm EOC Audio, designed and installed the home's digital infrastructure, providing Cpl. Watson and his family with powerfully simple technologies that enhance comfort, security and control over house-wide systems.
"Any injury that limits mobility introduces obstacles to common household tasks such as shutting off lights at night or answering the door," Galla said. "With 2GIG security integrated with the Elan control system, the Watsons have peace of mind, plus comfort and convenience. It really is an intelligent home."
Cpl. Watson can now more quickly and easily see live video of who is at the door, unlock the electronic door lock, or turn off every light in the house at once. Nearly all of the home's electronic subsystems are integrated into the simple-to-use interface, so adjusting the heat, closing the window shades or watching a movie can be as easy as a few taps in the app, or speaking a few phrases.
The home's technologies benefit nearly every daily activity. This includes providing ultimate peace of mind no matter where the family is, thanks to the 2GIG GC3e eSeries security system with encrypted sensors that is controllable from almost anywhere. Remote accessibility also offers new possibilities, such as letting a service provider into the home when nobody is there. Watson or his wife can more easily see who is at the front door through the doorbell camera, then unlock a Kwikset electronic lock and disable the security system.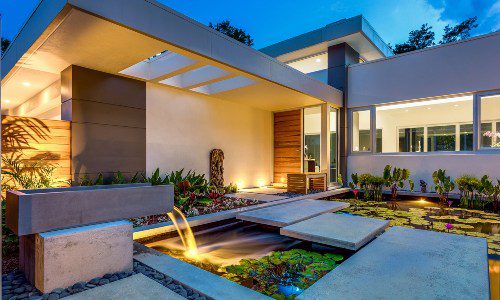 Landscape and architectural lighting create a magical and elegant ambiance for homeowners. The outdoor lighting industry has always been a phenomenal one and continues to grow in popularity. Now is the ideal time to learn more about this rapidly growing and highly profitable industry. Join our panel of esteemed lighting experts that will dive into why it's time for integrators to rethink their role in the outdoor lighting industry.
Register Now! 
"Watson's life changed forever on that November day in 2006," Galla said. "This new home is changing his family's life again, with the goal of providing independence and control over their environment. With lifestyle enhancements that include multi-room audio and video, motorized window shades and remote climate control for multiple zones, Watson can focus more energy on his family and less on repetitive tasks that normally require a lot of walking back and forth."
Each of the home's three TVs is equipped with an Elan HR30 TV remote that functions just like a normal TV remote, but also has a 2.4-inch touchscreen offering control of every connected subsystem in the home.
Property-wide Vantage lighting and motorized QMotion window shades are just a touch away, while six zones of audio offer music in multiple rooms, including the outdoor patio, through ceiling-mounted SpeakerCraft AIM Series 2 speakers. Even the home's climate is mobile-controlled, with two Elan thermostats covering distinct HVAC zones that can be adjusted or pre-programmed for daily schedules.
Audio and video distribution is managed through an Elan Multi-Room A/V Controller, which delivers content to any TV or audio zone, three DirecTV boxes, an Apple TV and all of today's most popular music streaming services.
"Now that the Watsons are living in the home, we'll be working with them directly to fine-tune the system and introduce even greater lifestyle improvements through scheduling and voice controls," Galla added. "Based on the family's daily routines and needs, we can introduce scheduled automation that turns on specific lights each morning, or add scenes that combine multiple lights for fast and easy control. More complex 'macro' events can also be added to combine multiple actions, such as a 'home' button in the Elan app that would disable the security system, unlock the door, turn on entryway lights and activate the air conditioning or heat to a pre-set level."
With daily home life relying so heavily on technology integration, EOC Audio made sure to protect the rack full of expensive equipment with Panamax power protection solutions.
"Having a working system, regardless of power fluctuations or surges, is essential," Galla said, "and that's why we backed up our system with power protection."
"Working with our valued partners, we were able to provide Cpl. Watson with a home filled with technologies that empower him to regain his independence," concluded Scott Schaeperkoetter, Director of Operations for the Gary Sinise Foundation's R.I.S.E. program.
If you enjoyed this article and want to receive more valuable industry content like this, click here to sign up for our digital newsletters!