CE Pro Podcast #13: What's Fueling Bowers & Wilkins Comeback?
Bowers & Wilkins resurgence in marketshare being driven by restructured sales channels. Sound United buyout proposal still moving along.
Listen to this podcast using the embedded player below.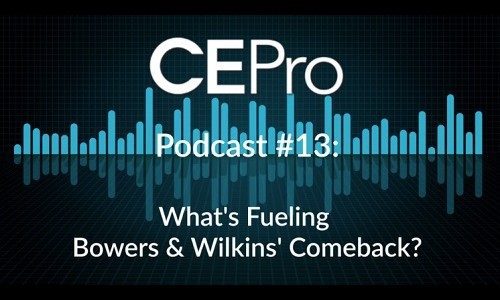 With all due respect to Austin Powers, international man of mystery, Bowers & Wilkins is the Brit that really has its mojo back. The company has long been one of the industry's most iconic brand names and it unquestionably brought high design to the freestanding speaker category. In recent years, the brand had lost a bit of its momentum in the market. Its marketshare in the CE Pro 100 Brand Analysis had dipped, the company stopped attending CEDIA Expo, and it was acquired by EVA Automation.
But in the past year the U.K.-based firm has experienced a resurgence after a series of strategic moves.
First, the company returned to CEDIA Expo 2019 with a large presence last fall. In its booth, attendees were able to walk through it and see the progression of Bowers & Wilkins' offerings, which will enable integrators to offer good/better/best solutions for their clients. The Formation suite of products was front and center in the booth, along with an assortment of all its speaker lines.
Immediately after CEDIA Expo, the company announced a new slate of reps. The new rep network is:
New England – ME, VT, NH, MA, CT, RI = FB Sales
Metro NY – So NY, No NJ = Atlantic Integrated Sales
Mid Atlantic – So NJ, East PA, DE, MD, VA = The Custom Group
Southeast – NC, SC, TN, MS, AL, GA = Market Movers
Florida – FL = AMI Sales
Midwest – West PA, OH, WV, IN, KY, MI, No WI, ILL = Tandem Marketing
MN/D – ND, SD, MN = Motherduck Marketing
MINK – MO, IA, NE, KS = Flannigan and Associates
South Central – TX, OK, LA, AR = New Era Marketing
Rocky Mountain – MT, So ID, WY, UT, CO, NM, EL PASO TX = CET and Associates
So CA – So CA, So NV, AZ, HI = ByDesign Sales & Marketing
NorCal – No CA, No NV = Fielder Marketing
Then in February 2020, Bowers & Wilkins announced a change in its leadership structure, with an independent board which is independent of EVA Automation, although the businesses will continue to co-operate with each other where mutually beneficial. EVA Automation acquired Bowers & Wilkins back in May 2016. Then, the news came out in May that Sound United had entered into preliminary discussions to purchase Bowers & Wilkins.
Lastly, in late June 2020 the company began a series of virtual product unveilings, starting with its newest 700 Series speakers—the Signature 705 and Signature 702. First introduced in 2017, the 700 Series of products feature design elements from the company's 800 Series Diamond products. Some of those elements include the solid Body Tweeter On-Top assembly, Continuum cone drivers and Aerofoil profile woofers.
As part of the speakers' Signature designation, the 705 and 702 speakers feature upgraded bypass capacitors from Mundorf, larger heatsinks. The Signature 702 adds an upgraded low-frequency capacitor to the bass section of the speaker's crossover network.
So clearly, the company has been very busy. In this week's podcast, CE Pro spoke with James Krakowski, executive vice president, Americas, for B&W, who gave us an update on the proposed acquisition by Sound United, and also delved into the sales channel restructuring and the new product announcements.
CE Pro also got a comment about the proposed buyout from Frank Sterns, vice president of commercial operations, Americas, at Sound United.