Vanco Hits the 'Spot' at CEDIA Expo
Vanco to demo new Spot for Dot amplification system for Amazon Echo Dot at CEDIA Expo 2018. Evolution HDMI-over-IP, Beale Street Audio and Pulse amplifiers also showcased.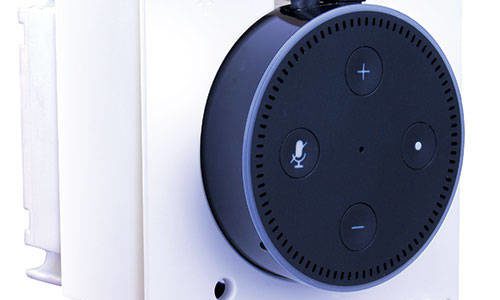 Vanco is laying claim to the best "spot" at CEDIA Expo 2018. The company's new "Spot for Dot" mounting system, that is, which takes an Amazon Echo Dot and amplifies it into two or four speakers.
"it's really a cool concept once you see it up close and working. It gives you a whole new philosophy of how whole-house audio can work," says Mark Corbin, president at Vanco International (booth #2017).
The Spot for Dot will be built in right into the Vanco booth so integrators can see it in action.
"It's very simple to use," quips Corbin.
The heavy-duty training in the Vanco booth will be for the company's Evolution branded HDMI-over-IP product, which will begin shipping on September 30.
"We are going to have someone constantly available. About every 15 to 20 minutes, we will be doing anywhere from a five- to 10-minute display and teaching of how the HDMI over IP works," says Corbin.
Integrators will be able to see the system I action in a two-by-two videowall setup, along with the ability to control it via the cloud using Alexa or Google Home voice commands.
Related: Vanco Launches 'Spot for Dot' In-Wall Amplifier for Amazon Echo Dot
Evolution's new 4K extender with Vanco's patented chip will also be on display in the booth.
"We have four patents on that. It's POE patented technology, which does HDR," adds Corbin.
Vanco will also be showcasing its Beale Street Audio speakers and some new amplifiers from Pulse, along with some new small Bluetooth speakers from Vanco.
"We're just going to continue to add those really unique audio devices that help any install," says Corbin.
"We're about a full year into launching and full through sell-through of distribution, we've had a lot of success and partnerships in the distribution channel for Beale. We're continually seeing double-digit growth, which is exciting."
Vanco also will be giving away Bluetooth speakers both Thursday and Friday, along with some Yeti coolers.