URC wants to ensure integrators don't forget what its initials stand for at CEDIA Expo 2019, but also illustrate how the "Universal Remote Controls" company delivers so much more for dealers as well.
Visitors to URC's booth #3001 at the Colorado Convention Center in Denver, Sept. 12-14, can expect to find a mix of new products designed to help their bottom line, says senior vice president and general manager Doug Cole.
"First and foremost, back to our roots with remote controls we will be introducing a new remote control, which will be a touchscreen handheld," Cole says of the company's new TRC-1480 model.
Of course, these days it's key to incorporate modern conveniences homeowners expect in control products – like being able to command a "handheld" product "handsfree," and URC has that covered in the TRC-1480 too.
"It will have voice control – this will be an in-remote mic and speaker system that will interact with both Amazon Alexa as well as Apple TV through Siri," Cole explains. "This provides dealers with a lot more choices for consumers in whole-house control. It will have push-to-talk functionality, so it will address end users' privacy concerns."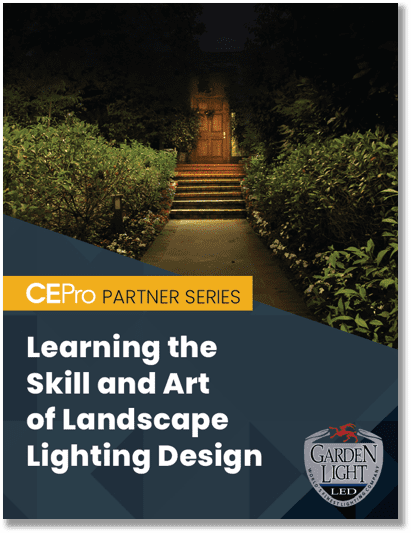 Experts recommend landscape lighting design as an entry point for integrators into the revenue opportunity of home lighting. Check out our new resource for tips and best practices. Download "
Learning the Skill and Art of Landscape Lighting Design
" today!.
Aim to Help Integrators 'Do More, Be More'
"Our goal is to empower our dealers. Empower them with great products, great software and phenomenal support."
— Doug Cole, URC
Among the other new rollouts from URC is a new loudspeaker line. A patented "truly tool-less design," says Cole of the differentiation from other architectural speakers on the market.
"We've actually measured it, and it is four times more efficient to install due to this design and can be installed in less than a minute," he says.
The architectural speakers – which will be available in an 8-inch in-ceiling pair, two 6.5-inch in-ceiling models plus a 6.5-inch dual voice coil version – feature an easy, secure clamping system as well as detachable, easy wire connections.
Read Next: URC Partners with Yamaha & HEOS to Expand Whole-House Audio Options
Along with other new products such as lighting dimmers and Z-Wave gateway, the speakers and remote speak pointedly to URC's theme for CEDIA Expo 2019, which is "Do more, be more."
"Our goal is to empower our dealers," Cole says. "Empower them with great products, great software and phenomenal support – and we do that combination correctly, our dealers will be able to do more jobs, more efficiently and be more profitable. … They can do more for their customers, they can be more valuable to their customers."