Chinese TV maker TCL is bringing Dolby Vision HDR, wide color gamut (WCG), and other premium display technologies to lower price points in its 2018 4K TV lineup, while it formulates North American plans for Onkyo-brand audio products such as soundbars following its purchase of exclusive global rights to the Onkyo brand from troubled previous owner Gibson Brands.
All of the new TVs unveiled feature the Roku TV smart-TV OS, which TCL also offered in 2017.
During a presentation in New York City, TCL executives also told CE Pro the company is:
Boosting 4K brightness and contrast ratios with the addition of the premium 6 Series, which consists of 55- and 65-inch models featuring 96 and 120 back-lit local-dimming zones, respectively.

On track for the fall launch of its first Roku OS sound .

Continuing to consider adoption of quantum-dot-on-glass displays to bring quantum-dot WCG technology to more mainstream price points.
TCL Acquires Onkyo Brand Rights, Plans Comprehensive AI Strategy
Highlights from press release — 11 April 2018, Hong Kong (direct quotes italicized; emphasis added by author)
New Entry to Smart AV Market to Empower Future Growth
"TCL Multimedia Technology Holdings Limited ("TCL Multimedia", HKSE stock code: 01070) announced that TCL Multimedia obtained brand authorization of Onkyo Corporation ("Onkyo"), to explore the smart AV market."
TCL obtains exclusive global usage rights (except Japan) of the "ONKYO" trademark (with exceptions) to develop, manufacture, and sell a variety of AV products such as headphones, small speakers, and TV speakers including standalone soundbars for TVs.
TCL will apply its proprietary artificial intelligence (AI) technology to develop innovative high-end smart AV products that offer added-value to customers.
The partnership aligns with TCL Multimedia's TV product strategy to create exceptional visual-audio and home entertainment experience for customers and marks the first step for its entry to the smart AV market segment.
TCL Multimedia is making a strategic planning for … AI technology in its product applications so as to further raise its overall competitiveness.
Onkyo is dedicated to providing incomparable functionality and immersive audio entertainment experiences.
In 2015, Onkyo acquired Pioneer's home audiovisual and headphone businesses.
Onkyo Brand Plans 'Undefined', but Nothing for 2018
In North America, TCL's plans for Onkyo-branded audio products such as soundbars are still "undefined," TCL North America senior vice president Chris Larson tells CE Pro. Onkyo-brand audio from TCL won't appear this year in North America, nor has it been decided which types of Onkyo-brand products will eventually be marketed by TCL in North America, he adds.
TCL's current operations in North America are "small and focused," Larson notes, yet "we have been blessed with tremendous growth in TVs."
In 2017, TCL focused on "earning space in the main TV room" rather than being used in secondary rooms, and in 2017, TCL grew to become the third-largest smart TV brand in retail-level unit sales, Larson said in citing NPD statistics. For the year to date, TCL ranked second in smart-TV retail-level unit sales and second among all TVs in sizes of 55 inches and up, he adds.
Earlier this month, TCL revealed it purchased exclusive global rights from Onkyo Japan (see sidebar) to develop, manufacture and market "a variety of A/V products" with the Onkyo name outside Japan, including headphones, standalone soundbars, and "small" speakers such as Wi-Fi and Bluetooth speakers, says Larson. The agreement does not cover such home-audio components as A/V receivers, says an executive with Onkyo USA, a privately held sales and marketing organization that markets Onkyo, Pioneer, Integra and Esoteric audio products.
Onkyo USA has been marketing Onkyo-brand products covered under the TCL agreement, including Wi-Fi and Bluetooth speakers and headphones. Onkyo USA also offers a non-standalone soundbar that's connected to an included AVR.
The Onkyo speakers and headphones are designed and manufactured by Gibson Innovations, which previously licensed the Onkyo name worldwide for personal audio products. Gibson Innovations owner Gibson Brands is a major Onkyo shareholder and has been restructuring and selling off assets in the face of $560 million in debt due this summer.
TCL Series 5, 6 TVs
In revealing pricing and details of its new phosphor-based Series 5 and Series 6 4K TVs, TCL said it is using its four-SKU 5 Series to bring wide color gamut, Dolby Vision dynamic HDR metadata, and other premium technologies down to a starting price of $349 for a 43-inch model and $449 for a 49-inch model. That's down from a 2017 opening price of $649 on a 55-inch model in 2017's single-SKU P series, which originally was to have had three SKUs. Although prices on the 55- and 65-inch Series 5 SKUs weren't revealed, the company previously said the 55-inch SKU would be available for less than $500.
"[W]e have been blessed with tremendous growth in TVs."
— Chris Larson
TCL North America SVP
The 43- and 49-inch models are available, with the 55- and 65-inch models due "soon," says Larson.
The 5 Series features edge-lit LED lighting to slim down chassis depth. TCL didn't specify the TVs' color gamut as a percentage of the DCI P3 standard, nor did it reveal the displays' brightness in nits.
In the two-SKU 6 Series, the most important step-up from the 5 Series is the addition of full-array LED backlighting with local dimming zones, said product development director Aaron Dew. Back-lit local dimming appeared in TCL's lineup for the first time in 2017 in the single-SKU P Series, but this year the company is boosting brightness and black levels by increasing the number of dimming zones to 120 in the $999 65-inch model and to 96 in the $649 55-inch model, up from 72 zones in last year's $649 55-inch P Series model. The prices are introductory, and the products are available.
Compared to the predecessor P Series, the 6 Series delivers a similar color gamut of about 93 percent of the DCI P3 standard, or about 74 percent of the BT.2020 standard, but the contrast and brightness levels of the 6 Series are higher, Dew says. The company previously said brightness would be about 25 percent greater.
The 6 Series also steps up to add brushed-metal feet and a brush-metal-finish bezel, not available on last year's P Series model, to "communicate a premium experience when the TV is off," Larson said.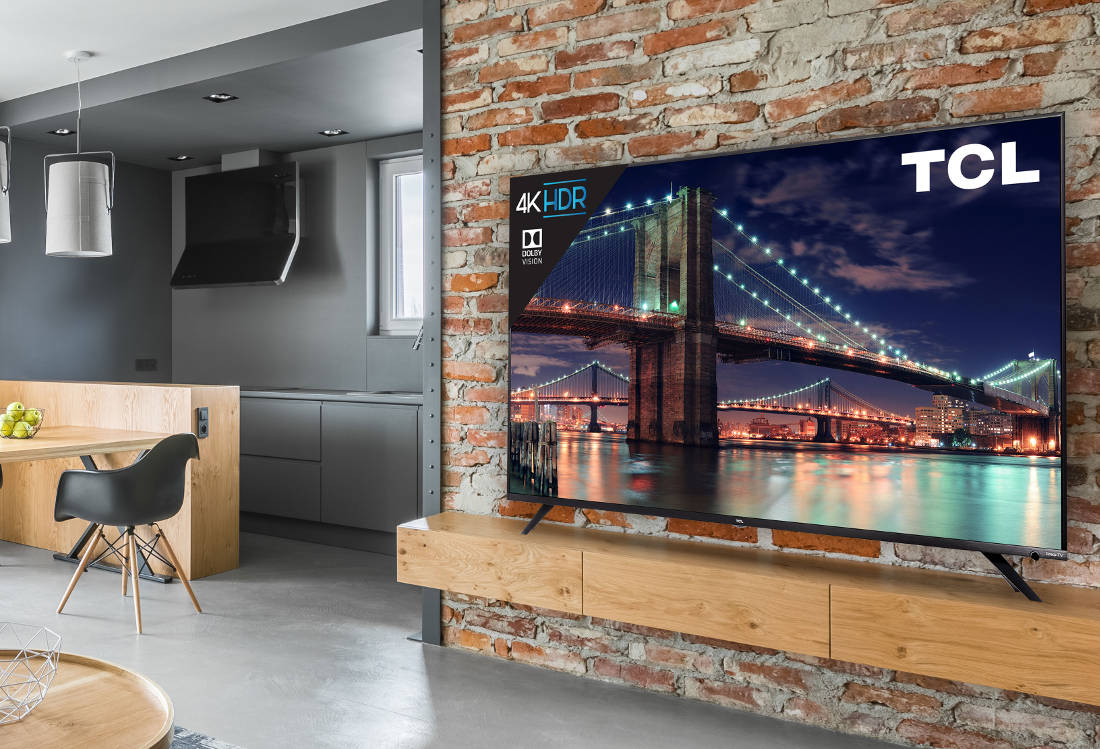 The P Series was the company's first series "to receive significant CI penetration, and we expect the 6 Series this year to be similar," a spokesperson tells CE Pro.
Dolby Vision and wide color gamut also appear in the carryover C Series, which consists of edge-lit 55-, 65- and 75-inch models at $699, $1,099 and $1,999, respectively.
Dolby Vision is used to deliver higher brightness, deeper blacks, and more details in the brightest and darkest portions of a scene on more than 240 Dolby Vision-encoded movies and more than 200 hours of Dolby Vision TV episodes through streaming services such as Amazon, Netflix and VUDU and on 4K UHD Blu-ray discs, TCL said.
TCL's Dolby Vision TVs also feature HDR 10 but not HLG, HDR10+, or HL-SDR1. Dew says HDR 10 and Dolby Vision cover "the vast majority of HDR use cases," but the company continues to evaluate additional HDR technologies.
Shared Technologies for Smart TVs
Both the 5 and 6 Series share multiple technologies, including proprietary NBP (nano band phosphor) Photon technology to widen the color gamut and iPQ Engine, said to deliver consistent color accuracy out of the box without calibration or the need to adjust settings.
Both series also feature HDR Pro Gamma, a new feature designed to optimize HDR content for a variety of viewing-room lighting conditions. HDR Pro Gamma ensures that details in the brightest and darkest portions of a scene are visible in moderately bright and sunlit rooms, not just in dark rooms, the company said.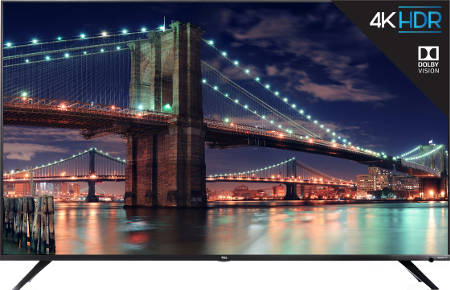 HDR Pro Gamma lets users select different gamma curves optimized for dark, normally lit, or bright rooms. "HDR content is optimized for controlled lighting [dark] environments," Dew explained.
Both series also feature passthrough of Dolby Atmos metadata from embedded video-streaming services, having appeared for the first time in TCL's P Series in 2017. The two series also feature HDMI 2.0 inputs.
Voice-Controlled Roku Soundbar
The company is moving ahead with previously announced plans for the networked TCL Roku Smart Sound Bar, expected by TCL to be the industry's first soundbar enabling the creation of Roku-based home A/V systems. The soundbar will incorporate Roku's entertainment OS and the entertainment-focused Roku Entertainment Assistant.
Roku-equipped soundbars are promoted as simplifying set up when connected to Roku OS TVs and delivering voice control over a deep set of soundbar and Roku TV features.
When connected via HDMI to a Roku TV, for example, a Roku-enabled soundbar will, after being turned on for the first time, automatically discover the Roku TV, set itself up, and automatically connect to a home's Wi-Fi network without users manually entering the network's password. In addition, Roku-equipped wireless surround speakers and subwoofers will automatically discover the Roku-equipped TV and soundbar and connect to the network, though TCL hasn't yet announced plans for such speakers.
The wireless speakers could also be used as wireless multiroom speakers.
With the home-entertainment-focused Roku Entertainment Assistant, TCL's soundbar will deliver voice control of Roku TVs and Roku streaming devices, with the variety of voice commands exceeding the variety of voice commands currently available through Roku's smartphone app and microphone-equipped Roku TV remotes, Roku said. The Roku TV OS currently supports basic commands and the selection of streaming services and content.
In addition, a Roku TV will turn on automatically when the connected soundbar hears a command to launch a streaming service.
Other 2018 Plans
For North America, TCL continues to mull a 2018 launch of quantum-dot-on-glass displays, Larson says. "Quantum dot on glass is being evaluated and developed," he told CE Pro, but "as of today, we still believe that the NBP Photon technology has a better value proposition to the users with nearly identical color space coverage." Nonetheless, he noted, "the marketing value of QD may overcome some of this. More to come this summer as we make some decisions on fall introductions. "
With QD-on-glass displays, current barrier films, which protect quantum dots from air and water, would be replaced with a glass barrier that extracts more light from the LEDs and thus makes the displays more efficient. The efficiency boost could be used to make the display brighter or make quantum-dot TVs more affordable through a reduction in power output or the use of fewer LEDs.
TCL is also mulling a 2018 launch of a step-up 8 series or X series. "We are weighing the opportunity and applicability of the value proposition of these other series to the North American consumer," Larson says. "However, we have nothing to announce at this point."
If you enjoyed this article and want to receive more valuable industry content like this, click here to sign up for our digital newsletters!