Anyone who's been to New Orleans knows it's a place overflowing with music, where you really can't walk around the city without hearing jazz or other tunes emanating from bars or from a line of brass players marching down a side street.
So of course it served as the perfect backdrop for Sound United to host its first North American Dealer Conference (NADC), held last month at the historic Hotel Monteleone.
Overflowing with music would certainly be one way to describe the San Diego-based company, which already owned a portfolio of storied audio brands before it announced shortly before the event it had entered into an agreement to add more in the form of Onkyo, Pioneer, Pioneer Elite and Integra.
"I feel like I have the absolute best job in the world. I get to work with the talented group of people who care so deeply about making the best acoustical products they can. It's why our mission is so meaningful to us, which is to bring joy to the world through sound," Sound United CEO Kevin Duffy told the custom integrators, retailers, manufacturer's reps and others among the roughly 150 attendees.
"It's also one of the reasons we picked New Orleans for this location, it's obviously a very musical city. From founding jazz in the late 19th century … there's a community of musicians here who really changed the landscape of music."
Combining 'Rhythm + Melody' into Well-Orchestrated Company
Sound United's existing brands include Denon, Marantz, HEOS, Definitive Technology, Polk, Classe and Boston Acoustics.
While the acquisition of the Onkyo Corp. consumer audio division brands is still pending shareholder approval, Duffy was able to update the NADC crowd that a definitive agreement had just been signed (the deal was originally announced as a non-binding term sheet) and the company anticipated the transaction to close in July if everything stayed on track.
"It's all with a very clear vision and that's to curate the largest portfolio of luxury and premium audio brands in the world. … We're investing in a very simple idea, and that is that sound matters."
— Kevin Duffy, Sound United
"We've been building our own community of brands. I joined here in 2003, when I got here we didn't own any audio brands, so when I reflect back on the journey it's been amazing," Duffy said of an acquisition timeline that included Def Tech in 2004, Polk in 2006, Denon/Marantz in 2017 and Classe last year.
"It's all with a very clear vision and that's to curate the largest portfolio of luxury and premium audio brands in the world – that's what we're trying to do. … We're investing in a very simple idea, and that is that sound matters. That retailers, partners, brands and technologies that advocate better sound matter. To launch a new product every year that has the latest features, we have to have a great engineering team."
Duffy added that the notion of "sound mattering" has been questioned in the recent past, but the company does not agree with the perception that, for example, Millennials don't care about sound quality or are unwilling to invest in a higher quality experience.
"We believe that is a retrospective statement, and the reason is we think the last 10 years, indeed, has been focused on convenience – whether it's Bluetooth or wireless or streaming – and that made a lot of sense; you had to get access to content the easiest way you possibly could," he said.
"But that's been standardized. It's been commoditized, and most of the devices you're going to see today have some type of easy access to content already built in."
With Sound United brands and their competitors all offering such components, the question then becomes, Duffy said, how do you differentiate?
Related: Denon, Marantz Each Roll Out Pair of New A/V Receivers
"The good news, we believe, is you see a flight back to quality, a return to high-quality experiences. And I don't think we're alone in this belief," he said, adding that content providers such as Netflix, Amazon and others are investing huge dollars to produce and market compelling video for the home that also needs to be accompanied by great audio.
Dolby Atmos and DTS:X are good examples, as well as IMAX, whose IMAX Enhanced initiative launched last year with Denon and Marantz among its device partners.
The theme for Sound United's inaugural NADC was "Rhythm + Melody," which Duffy used to analogize the company's own key ingredients.
"Of course it's musical, but more than that it's perfect for this event because I don't think you can have a good song without rhythm and melody and I don't think you could have a good company without them too," he said.
"When you break it down, rhythm is about cadence, it's about systems and processes and architecture and rules; it's what really makes your feet move when a song comes on. That's the same for our company – we've got to have great systems, we've got to be able to take your orders and ship them correctly, we've got to be able to communicate with you well, have to be able to inventory-plan correctly.
"Melody is the sexy stuff, it's what makes your head nod when the song comes on. And for us, that's all about our products."
Demos Showcase Surround Sound, 2-Channel, Integration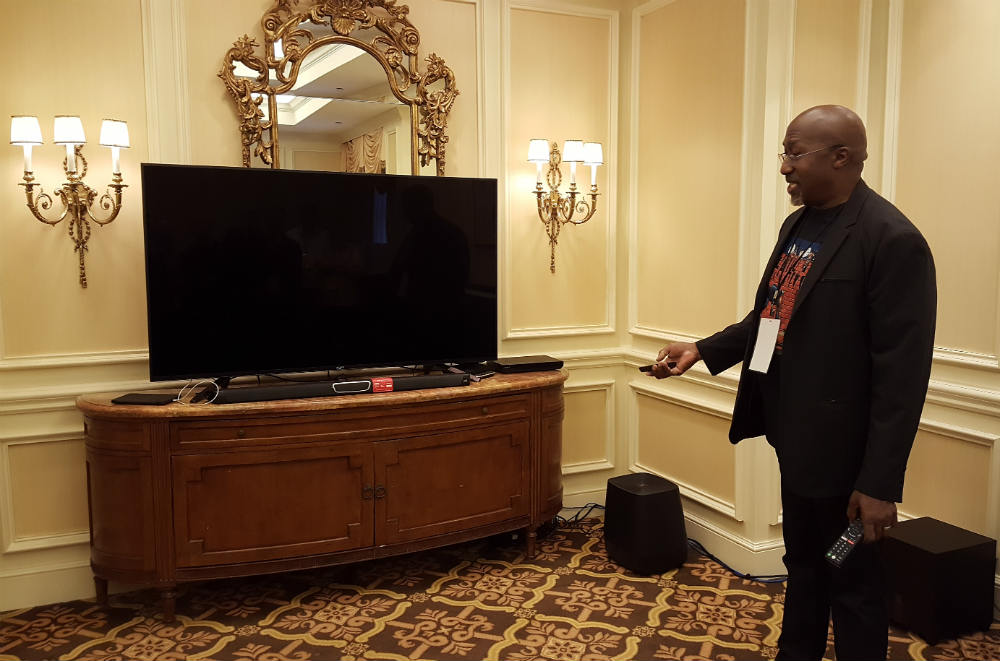 When it comes to products, naturally Sound United had plenty on hand to review and demonstrate for attendees. The company used one of the hotel's large spaces to set up an exhibit-type area staging current products as well as embargoed sneak previews of more to come later this year from its various brands.
In addition, there were four rooms dedicated to specific technology and application highlights. In the Immersion Room, national training manager Jim Crowley provided Dolby Atmos and IMAX Enhanced demos through Marantz electronics and Def Tech speakers.
In the Listening Room, Jeff Cowan (recently retired from D+M) and Dave Nauber (Classe) led 2-channel demos that essentially featured good/better/best setups involving bookshelf and full-range speakers paired with digital and analog (both turntable and reel-to-reel) sources.
While those focused on the audiophile wares, the other two rooms catered more to the custom integration business to show how Sound United is keeping pace with the smart home as well as implementing more dealer-friendly features in its components.
A Voice Control Room offered insights and demos from director of training Phil Jones about how products and technologies like HEOS and the recently introduced Polk Assist speaker could work agnostically with various voice platforms – Google, Amazon, Apple, even the higher-end Josh.ai for the custom industry – to play music in multiroom configurations, stream to soundbars, as well as retrofit and old speaker system with the modern control option.
Related: 13 Dolby Atmos, DTS:X Immersive Audio Products for 2019
"There's a huge amount of content and it can be intimidating for people to control it – I don't care if you have a high-end control system. Voice control is basically a verbal button push, that's all it is, and some people are just more comfortable asking for something than pushing a button," Jones said. "And not only can you ask it to do something, you can ask it to find something."
The ability for the latest Sound United products to work with all the voice control platforms also illustrates how the company leverages its diverse engineering resources across brands and ensure components typically are first to market with features like Atmos, DTS:X, voice control support, etc.
Meanwhile, the Integration Room highlighted how even though cutting-edge features may be expected in the latest A/V receivers, for example, Sound United still relies on dealer feedback to learn what might be missing that could help make their installations and services more efficient.
The company has an online CI Portal that offers quick access to control databases, product firmware, owner's manuals, reset capabilities and other support functions, for instance.
"Over the last couple of years we've been building out those APIs [in our receivers]," based on dealer feedback.
— Paul Belanger, Sound United
Product manager Paul Belanger explained that typically after every CEDIA Expo, Sound United will meet with some local dealers for discussions on what can be improved. Such talks have yielded implementation of things like built-in HDMI diagnostics testing for AVRs and support for remote monitoring/management systems including most recently OvrC.
"I think it was five years ago we really started hearing the need from the field to start supporting Ihiji at that time, and what we took from that was the APIs inside the AVR were not complete for what we wanted to show in these third-party systems," he said.
"Over the last couple of years we've been building out those APIs to allow us to see temperature, to see reset and protection history, and then from there it's more like a business development effort with the Ihijis, the Pakedges, the OvrCs and the Domotzes of the world."
Moving Forward with More Brands
So are there plans to provide the same staunch research into and implementation of such functionalities for similar products from Onkyo, Integra and Pioneer? Of course, Belanger could not comment on that, and only time will tell.
But it was pretty clear from the first NADC event that Sound United is excited about the prospects of adding the well-known brands to integrators' cache of solutions. More features, price points, R&D and target consumer could be immediate benefits.
"It's been an ongoing dialogue," Duffy mentioned to a press contingent about the acquisition, while talking further in more generic terms. I think scale has become increasingly important in the industry overall, particularly with digital technologies, they've advanced and are just more complicated and more expensive to implement so because of that you need more engineers.
"Think about all the voice agents we've put on our platform over the past 12 months, and we iterate a platform pretty fast. And so if you're not big enough, I think it's hard to keep pace with that quickness of iteration and you'll end up generations behind in your product platform. And it's not just engineering, it's supply chain – manufacturing, production, moving around, having the warehouses where they need to be."
Then there's the customer, or potential customer, and how they will view the swath of options from such a large portfolio.
"Brand differentiation … that's like the single biggest risk of a multi-brand company, and we talk about it all the time," Duffy said.
"It's very high on our radar – how do you think about consumer segmentation; how do you think about what brands appeal to who? What are the guardrails by which you can't go there?"
Sound United embraced the New Orleans music scene by bringing in the Rebirth Brass Band during its welcome reception.
If you enjoyed this article and want to receive more valuable industry content like this, click here to sign up for our digital newsletters!