Sonance Celebrates 35 Years with More Architectural Speaker Innovation
The Dana Innovations brand shows its wide-ranging indoor and outdoor audio systems, myriad subwoofer options and recent collaboration with Sonos during CEDIA 2018.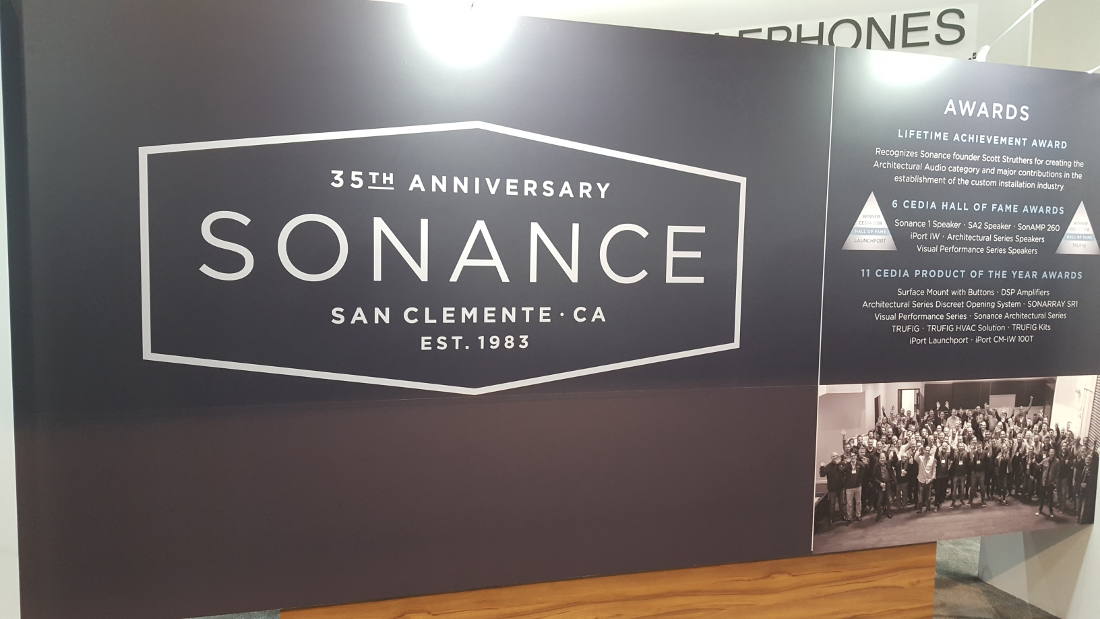 Photos & Slideshow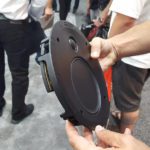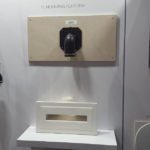 ---
Sonance is celebrating its 35th anniversary, and certainly had good reason to celebrate with CEDIA Expo 2018 attendees in San Diego, not too far from the company's new home base just north in San Clemente.
"This is a pretty significant show for us," says Jason Sloan, chief sales officer, Sonance parent Dana Innovations.
"Scott [Struthers] and Geoff [Spencer] started the company 35 years ago in July. We look at the longevity of this company, and it's certainly not that we're defined by our awards but we're pretty proud of those awards."
Sloan notes Struthers received the Lifetime Achievement award in 2002. The company had six Hall of Fame awards, with two more added to that this year, and has won 11 CEDIA Product of the Year awards over the last 11 years.
"But it's really the people who help make the company," he adds, and those integrators now have a new place to visit Sonance. The company opened the doors to its new multiuse headquarters building in the spring.
"The facility came online in March of this year, and I keep getting asked if it's done," Sloan adds, "and I don't know the definition of that word anymore. It's this iterative process, kind of like most people's showrooms."
The company was chartering buses during CEDIA to take attendees up to San Clemente to visit the facility as an Open House event.
New Speakers, Lots of Subwoofer Versatility
The architectural loudspeaker pioneer still finds new tricks for that old dog category and maintains dealer loyalty with products like the Ultra Thin-Line models that have been shipping for a couple of months now and were highlighted at the San Diego Convention Center.
Sonance also had on hand additions to its popular VP Extreme series announced earlier this year, with new embedded magnets to aid installation.
"For us, it's about speakers that can blend into a space."
— Jason Sloan, Sonance
However, besides loudspeakers the company used CEDIA Expo 2018 to really lower the boom on attendees – there were subwoofers everywhere in Sonance's booth, in a true spectrum of sizes and applications.
On one side of the booth with the architectural speakers showcased the Thin-Line (not Ultra, but TL) in-wall subwoofers that attach within wall studs and "get the bass out of the box," to move air into a room without being obtrusive.
The company showed two new mounting platforms for the subwoofers, which can go into a wall cavity or ceiling cavity.
"For us, it's about speakers that can blend into a space," he says of the architectural subs.
"[The subwoofers are] doing very well because of this idea that products' aesthetic shouldn't impact a space, but can deliver a performance that our dealers and customers are expecting."
Sonance did have in-room subwoofers, but even those new models are about as compact as you can get while still offering impactful bass.
The D8, available in black or white, is an 8-inch subwoofer with dual-firing woofers driven by a 300-watt amp.
Outdoor Audio, Partnership with Sonos Highlighted
Moving over to the outdoor audio section, giant mushroom-like in-ground subwoofers featured 12- and 15-inch versions, while another 12-inch traditional enclosure sub was also shown to augment Sonance's LS4T and LS6T 4- and 6-inch Landscape Series satellites. The company revamped its outdoor audio system earlier this year.
"It's high performance but it's also really flexible," Sloan says of the speakers, which can be deployed for 70-volt or 8-ohm applications.
Meanwhile, the legacy Sonarray system can now accommodate 16 satellites and two subwoofers, Sloan adds.
Related: Sonos Unleashes Sonance In-Wall and Outdoor Speakers; Launches Real Dealer Program
Coincidentally, the Sonance booth was right next to Sonos, which recently unveiled three SKUs of speakers co-developed with its showfloor neighbor (and seen in the Sonos booth). The companies collaborated on outdoor, in-wall and in-ceiling models.
"These are all Sonos products, they're not Sonance products, but we did help them with the design and engineering," Sloan says.
"It's big. They've got their new Amp now, and with these speakers there's the ability to leverage [Sonos'] Trueplay to calibrate them. That's pretty cool."
Sonance has also beefed up its line of soundbars. The SB46 series, which previously incorporated adjustable width to match a range of display sizes, now has four standard sizes: 55, 65, 75 and 85 inches, created to match the common flat panels of major vendors.