Physical media has experienced quite the renaissance over the past decade, mostly around the LP format but lately numerous articles have also chronicled the comeback of CD, whose sales increased in 2021 for the first time in 17 years. I had contacted European brand Pro-Ject Audio Systems about the possibility of reviewing one of its turntables, in fact, but when the company introduced a pair of new CD players earlier this year I jumped at the opportunity to check one out.
Pro-Ject, based in Austria and distributed here by Sumiko/Pro-Ject USA, added the CD Box DS3 ($899) and CD Box S3 ($549) models, and I spent time spinning discs with the latter product. I knew the company had a solid reputation for its array of analog options but admittedly was unaware about their range of digital audio offerings that includes DACs, streamers and CD players from budget level to just over $3K on the high end.
The CD Box S3 is the company's initial product for its S3 line, and based on my experience with it, there will be high anticipation for whatever comes next.
Pro-Ject CD Box S3 Features & Setup
I was actually surprised, not having read the specs closely that included dimensions in millimeters, about the size of the CD player when I unboxed it.
It's about half as wide as the Integra Blu-ray player I use for disc playback and at roughly 8.1 x 2.2 x 6 inches (W x H x D) is only slightly larger than my Spectrum cable box — perhaps meant to sit alongside a modern streaming component or DAC on an audio rack shelf.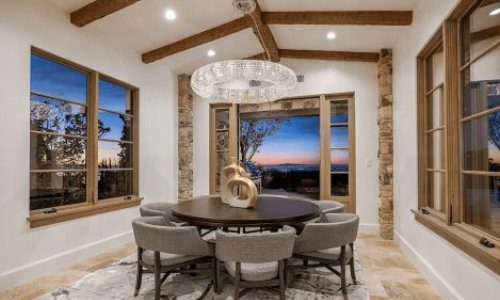 As a custom integrator, lighting is in demand. Effective communication, education and showcasing the value proposition of LED light fixtures in conjunction with integrative control systems are the keys to overcoming challenges and closing sales in this specialized market. Join us as we discuss the future of digital lighting and control with David Warfel from Light Can Help You and Patrick Laidlaw and Mark Moody from AiSPIRE.
Register Now! 
The "ultra-compact" CD Box S3 is not a super showy audiophile type of product, but offers subtle industrial design in black or silver finish (the sample I got was black) for the aluminum chassis. It feels very sturdy weighing just under 3 pounds without the power supply.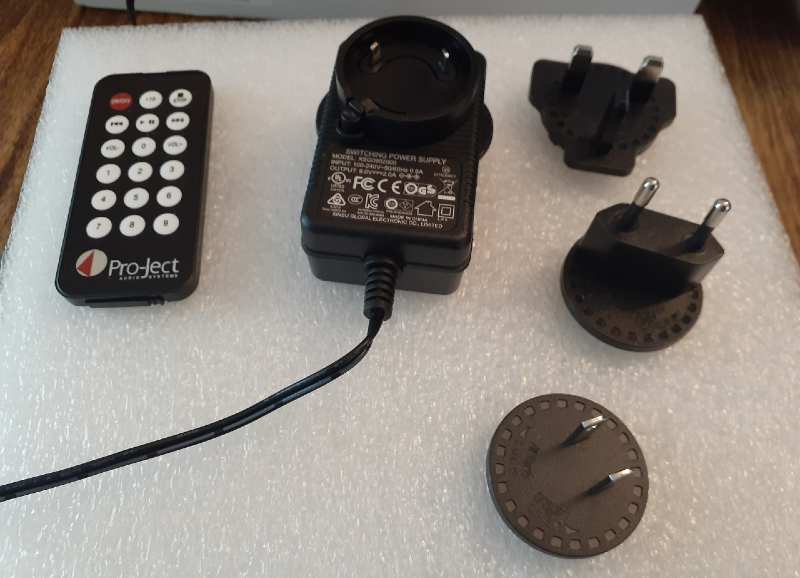 Having the unit reside next to a DAC might make sense, too, as the CD Box S3 can be integrated into an audio system either via the pair of RCA line-level analog outputs or the digital S/PDIF coaxial output if one connects it as a transport device paired with an external digital-to-analog converter product.
Internally, the CD Box S3 incorporates a PCM5102 DAC that delivers bit depth and sampling rate up to 32-bit/384kHz.
Besides those outputs, the only other connection on the rear panel is for the power.
The front panel includes a 1.54-inch display for track number, status and time; but is mainly understated with buttons for power, play/pause, forward/back and stop/eject, plus the slot-load mechanism for discs.
Pro-Ject ships the CD Box S3 with a wall-wart style power plug and three adapters to cover different international outlets. I snapped in the U.S. version and plugged it into an outlet on the Clarus Concerto power conditioner in my system.
I added the CD player into my setup that features an Anthem Statement D2v preamp/processor, Anthem Statement P5 amplifier and Paradigm Studio v5 loudspeakers, all connected via Clarus Crimson cabling.
I did some listening to the Pro-Ject component hooked up to the D2v both ways, first with Crimson analog cables and later a Crimson digital audio cable utilizing the D2v's internal DAC.
After making the analog connections, I fired up the CD Box and its status indicator lit up blue, while the onscreen display came on to show "no CD" inserted yet.
The most difficult part of the setup was removing the battery tray from the included credit card-size remote so I could insert its penny-size battery. I was a little worried about snapping and breaking the tray but with a slight squeeze I managed to pop it from the remote, place the battery and insert it back.
Pro-Ject CD Box S3 Performance & Conclusions
A couple of years ago when I reconnected my Anthem components and the Clarus cabling, I had also revived an old Sony 5-disc CD changer that I hadn't used in 20+ years; I figured why not, it might be fun hearing how it sounded in a high-end rig. Pretty quickly I recalled why I had turned to an Integra DBS-50.2 Blu-ray player, and prior to that a Toshiba HD-DVD player, for my CD playback purposes — there was just something lacking in what I heard from the old CD player.
It's part of why I wanted to test out Pro-Ject's CD Box S3, to hear what a modern, purpose-built CD player could sound like in a revealing reference system. After previously relying on multi-format video disc players for CDs over the years, which sound pretty darn good, how would the CD Box S3 sound?
As it turns out, exceptional and really joyous to hear as I dove into my vast collection of standard Red Book CDs old and new, as well as CD-Rs I had burned 15-20 years ago for copies of standard discs or live music lossless FLAC file recordings.
Going back to some discs that long ago were in heavy rotation for me, it was such a riveting experience to hear them anew through the Pro-Ject player in tandem with the rest of my setup. I always wanted to hear if there was more impact to the drum thwacks that open Paul Simon's Graceland and Rhythm of the Saints (on "The Boy in the Bubble" and "The Obvious Child," respectively), for example, and they thumped with authority through the CD Box S3.
These are CDs I bought 30+ years ago, and the jungle-evoking soundscapes created on tracks such as "The Coast," "Proof," "She Moves On" and "Born at the Right Time" on Rhythm with Simon's Latin American musicians were completely enveloping.
The omnipresent percussion is all over that album, but none of it gets overshadowed or lost when listening through this system, even high-pitched pieces like triangles. Instrumentation is very well defined and spacious within the sonic imaging coming through the CD Box S3, something that struck me with virtually every CD I popped in.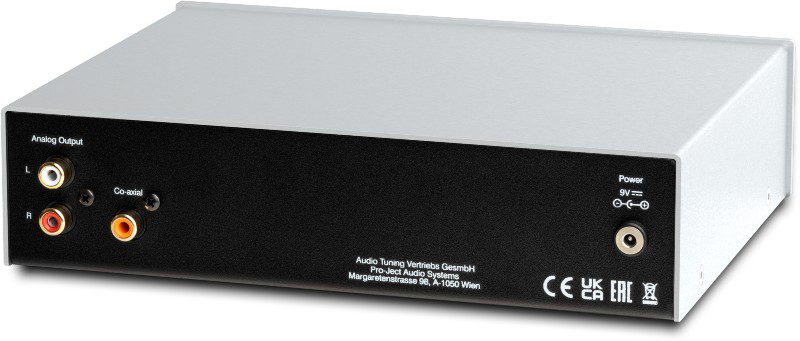 That nuanced rendering enabled me to enjoy a feeling of hearing CDs anew because I could follow individual instruments — and vocalists as well — more throughout a song, making the sum of the parts sound more robust; hearing bigger, better bass lines from the stand-mount Paradigm speakers impressed me. I imagine this is why audiophiles gravitate toward classical music on highly revealing systems.
As I noted in reviewing the Clarus Concerto, the combination of it, the Anthem gear and Crimson cabling lets me crank up the system without distortion, and the Pro-Ject unit held its own producing cleanly and clearly at high volumes.
It was fantastic hearing extra little layers of detail in CDs as varied as U2's Rattle and Hum, Bruce Springsteen's We Shall Overcome: The Seeger Sessions, 10,000 Maniacs' Our Time in Eden (Natalie Merchant's vocals sounding ever-so lush), Phish's Rift (improving the ability to isolate baritone bassist Mike Gordon's fun backup singing on "Sparkle"), The Band's Northern Lights-Southern Cross (absorbing every low and high note of the groove-laden "Ring Your Bell," with great imaging of vocals split between Levon Helm, Rick Danko and Richard Manuel), and Jerry Garcia/David Grisman's eponymous acoustic duet release.
That last one is an exceedingly well-recorded album, but every bit of plucking from Garcia's acoustic guitar and Grisman's mandolin seemingly offered more vibrancy and decay, giving tracks like "The Thrill Is Gone" and "Friend of the Devil" added depth.
Pro-Ject CD Box S3 Technical Specs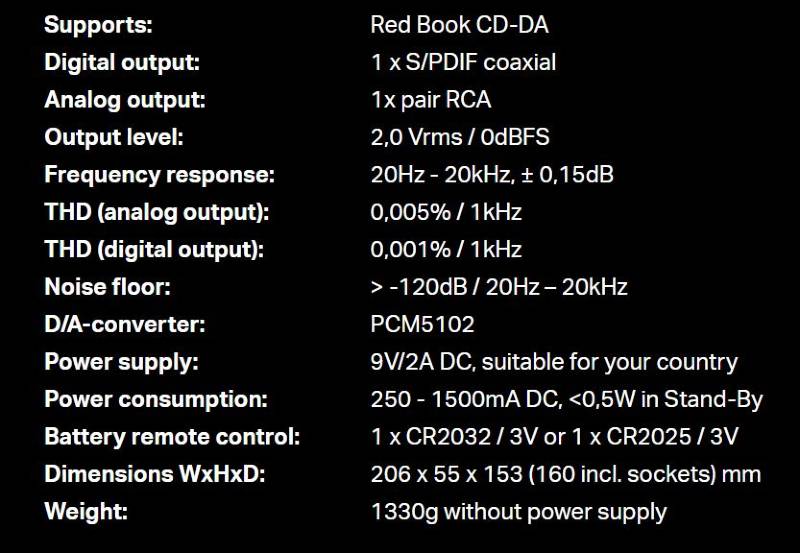 Rattle and Hum showcased the range of the system's performance. It sounded glorious between Larry Mullen Jr.'s dynamic, hi-hat heavy drumwork that anchors the music whether it's hard-driving on "Desire" or gentle brush strokes of "Love Rescue Me"; to weighty tambourines and gospel chorus backing Bono on the live "I Still Haven't Found What I'm Looking For," especially the left/right channel male and female soloists near the end; to the gritty vocal interplay belted out between Bono and B.B. King on "When Love Comes to Town."
There's beautiful fiddle, piano and horns surrounding Springsteen on "O Mary Don't You Weep" on We Shall Overcome, and you can really hear how the band jelled interpreting Pete Seeger's work overall. The raucous song reaches a part where it's just Springsteen solo, and his dead-center image, soft strumming and breathy singing are stunningly captured as if he were standing a few steps in front of me.
It wasn't just my system in which the Pro-Ject component shined. I brought it to a buddy's house and we gave it a workout in a digital transport setup connected to a Topping e50 DAC, Pioneer C90 preamp and Wyred4sound ST-500 amp hooked up to KEF LS50 speakers, stand-mount models like my Paradigms.
He ordinarily uses an early 2000s Denon CD player that cost nearly twice as much as the CD Box S3, and like me noted the Pro-Ject added subtle details underscoring songs such as the title tracks from Tom Petty's Wildflowers and Steely Dan's Aja.
For a small component, the CD Box S3 achieves big impact. Pro-Ject might be better known for its analog offerings but it would be interesting to hear how much more sonic improvements its higher-end CD players could make.
In analog and digital setups, the thought I kept having while listening was that the CD Box S3 felt like a high-resolution experience – not too shabby for spinning those shiny disc collections.
CE Pro Verdict
Pros:
Highly affordable at $549
Nice internal DAC, can use in analog or as digital transport
Full, detailed, dynamic presentation with great spaciousness, definition and imaging; ultra-compact size
Cons:
Remote was difficult to add battery
Occasionally took more than double-tap of stop button to eject a disc
If you enjoyed this article and want to receive more valuable industry content like this, click here to sign up for our digital newsletters!