It's a common refrain that kitchens and bathrooms are the most important rooms when it comes to a home's resale value. Of course, they're arguably the most used spaces, too; so whether or not your customers are thinking about selling down the road, they're likely already pondering how to upgrade kitchens and bathrooms.
The question becomes, do smart home seekers even know how intelligent or tech-infused their kitchens and bathrooms can be? Probably not, and neither do many of the designers they may be hiring to work on updating those spaces.
According to the 2022 Design Trends Report from the National Kitchen & Bath Association, whose members will be attending their annual big tradeshow event this month at KBIS (Kitchen & Bath Industry Show, Feb. 8-10 in Orlando, Fla.), projects including integrated technology remain in the minority for the report's surveyed designers, specifiers, remodelers, architects, etc. Only 30% of kitchen projects and 21% of bath projects had integrated tech features, per the research.
Then again, those numbers correlate well with how infrequently designers, et al., are turning to custom integrators for their tech system design and installation savvy. NKBA's survey-takers "rarely" or "never" enlist "technology experts" on 72% of kitchen and 76% of bath projects.
Bridging that divide will be among the many topics covered – along with calling out some cool technology we see on the show floor – during the "Tech Point: The possibilities for total tech integration with leading tech experts" that I will moderate on the KBISNeXT Stage (Thursday, Feb. 10 at 10:30 a.m.), featuring panelists Heather Sidorowicz of Southtown Audio Video, Melanie Niemerg of Integral Systems and Josh Christian of HTA (Home Technology Association).
"I would say the majority of designers, they're just not there yet," NKBA VP of Marketplace Pam McNally told me during CEDIA Expo 2021 in Indianapolis. "Even high-end designers, a lot of times clients are thinking looks first and how I live first but not technology, so as a result maybe the designer isn't thinking about technology either."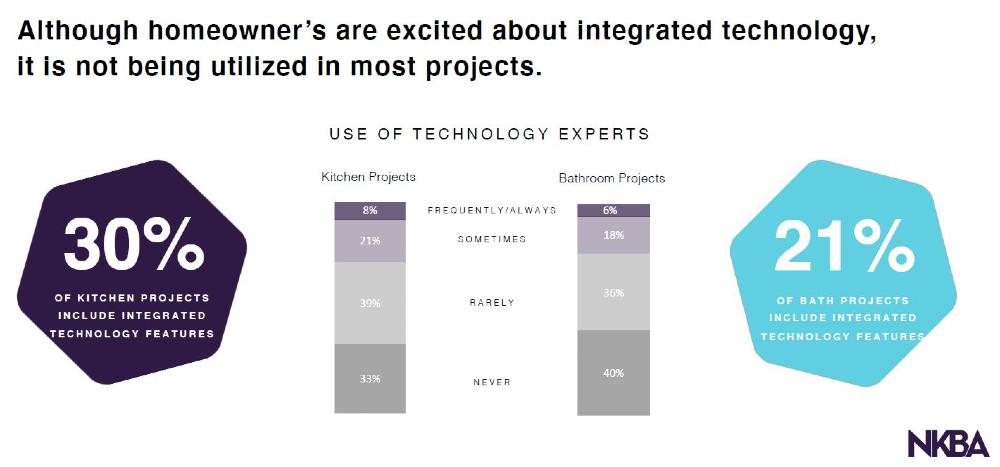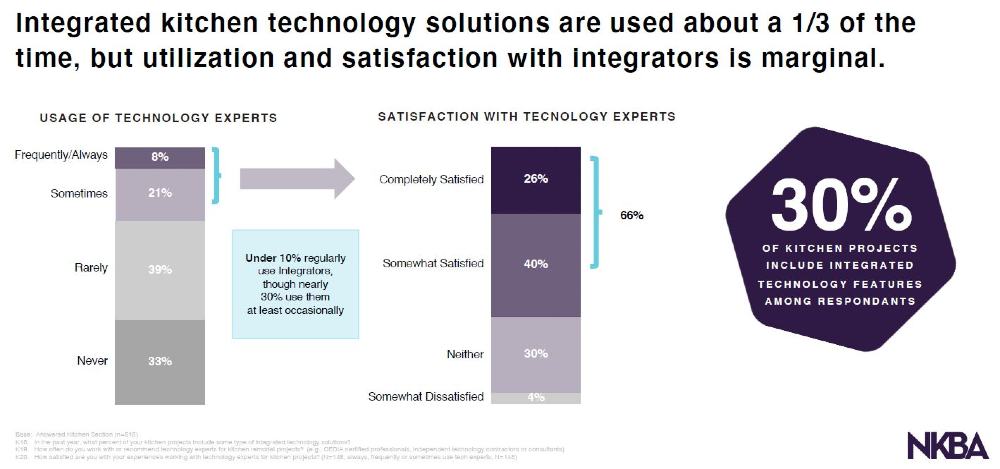 The NKBA report asked about technology in addition to features such as colors, furnishings, materials and more. In estimating top in-demand tech over the next three years, when comes to kitchens the survey-takers expect (among the most relevant for custom integrators):
dedicated areas for mobile device/laptop charging and viewing (64%)
app control of appliances (50%)
refrigerator emergency power (49%)
motion sensor faucets (45%)
elevated water purification (44%)
voice-activated lighting controls (42%)
automatic flood detector and alerts (40%)
voice-activated appliances (38%)
wall-mounted touchpanels (38%)
Meanwhile, on the bathroom side of the design equation, respondents cited:
thermostat smart control for flooring/shower (61%)
connected scales, mirrors and other products (54%)
app control to start shower/heat in the morning (51%)
motion sensor controls for lighting (47%)
integrated speakers for audio (44%)
built-in display for videos/music/Internet (42%)
voice-activated lighting controls (40%)
leak detection with sensors and alerts (40%)
voice-activated controls for faucets/tubs/showers (39%)
preset lighting schemes (30%)
NKBA, KBIS Can Become Valuable Resource for Integrators
Does all that sound familiar? NKBA addressed LED lighting fixtures separately, but respondents listed 100% LEDs as the top sustainability demand (79% in kitchens, 75% in baths) and, of course, that's a category that has simply boomed within the custom industry.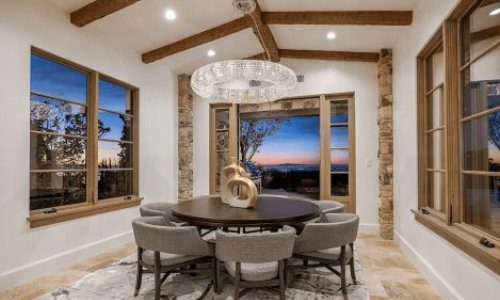 As a custom integrator, lighting is in demand. Effective communication, education and showcasing the value proposition of LED light fixtures in conjunction with integrative control systems are the keys to overcoming challenges and closing sales in this specialized market. Join us as we discuss the future of digital lighting and control with David Warfel from Light Can Help You and Patrick Laidlaw and Mark Moody from AiSPIRE.
Register Now! 
Not to mention color-changing LEDs, whose wellness aspects make it attractive as part of integrated "chromatherapy" technology (which polled at 30% for anticipated in-demand bathroom tech).
"A couple things that we're doing," McNally mentioned when we chatted about NKBA's approach to bridging the integrator/designer divide. "The first is to educate our members, our designers about why they would need an integrator, how they would need an integrator, what does that mean, some of the things they should ask."
It's not that designers and specifiers are embarrassed to inquire, she notes, but that they're "probably not feeling comfortable about approaching an integrator to start that conversation. What we do is host webinars, events … obviously with Covid it's pushed things out, but what we wanted to do is create these events that are inspirational, educational, but also more importantly networking and collaboration events.
"So we get them together and they're talking — because on the integrator side a lot of them don't know how to reach out to designers, don't know how to work with them, and also where to meet them."
For integrators who want to be proactive, where to begin? Of course, there's attending KBIS, but McNally suggests dealers try a local NKBA chapter meeting even. "We'll set it up for you," she says.
Follow KBIS news this month and find NKBA chapters and members on nkba.org. To borrow from the classic "Casablanca" as it celebrates its 80th anniversary this year, I think this is the beginning of a beautiful friendship. What do you think?
If you enjoyed this article and want to receive more valuable industry content like this, click here to sign up for our digital newsletters!