At last, at last, Google Home is providing local integration with third-party smart devices. No network required. No Internet required. No third-party hub required. Google Home is the hub.
[*Clarification– a network is needed for the Google Home Assistant device for voice control and other intelligence, but not for pairing or "message" delivery.]
So did the company finally put Z-Wave or ZigBee into a new Google Home device? Nope — not even into the shiny new, touchscreen-endowed Google Home Hub, announced today at the big Made by Google launch event.
No, Google's first crack at local smart-home integration is via Bluetooth (BLE), and not necessarily in a standards-based way. The company has a newish smart-home scheme called Actions on Google Hardware for pairing and communications. Would-be integration partners would write to that protocol when the API becomes available.
At the product launch event today, Google announced its first local-integration partner: GE Lighting.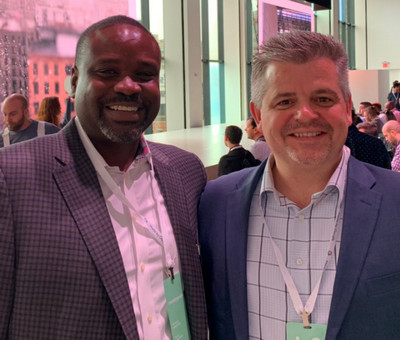 New "Made for Google" bulbs under the C by GE brand will pair and integrate out-of-the-box with all Google Home products – Google Home classic, Mini and Max, as well as the new Google Home Hub announced today (stay tuned on that).
For this first implementation, GE and Google worked together to create some GE-specific Javascript that will be pushed to the Google Home platform layer.
Once the Actions SDK and API are ready to go, Google will welcome all comers. Until then, Google will work with select partners to enable local integration the old-fashioned way – with device-specific drivers, which is usually how it's done.
The GE/Google Home integration is elegant and simple and remarkably inexpensive:
Remove GE bulb from packaging.
Screw bulb into socket.
Turn on power.
When device automatically appears in Google Home app, acknowledge it and name it if you wish
Then just talk.
If you're feeling a little frisky, incorporate the bulb into Google Home scenes or schedules.
The BLE-enabled C by GE bulbs already exist. They've been around for a while, along with a companion C by GE App, which just does lighting.
They come in two dimmable LED flavors – a multipurpose "daylight" model called C-Life, and a C-Sleep model with three different color-temperature settings that "supports your Circadian rhythms."
A C-Life two-pack retails for $25, and a C-Sleep two-pack sells for $35.
On October 22, GE will begin selling a Smart Light Starter Kit, comprising a C-Life bulb "pre-paired" with a Google Mini, for $55.
C by GE bulbs already work with Amazon Alexa and Google Assistant by way of a Wi-Fi gateway called C-Reach. When Google flips the switch, consumers won't need the gateway – or an Internet connection for that matter – to integrate Google Home with the bulbs. That's pretty nifty.
Google's Curious Course for Local Communications
If you weren't a long-time student of home automation protocols, you might think GE smart lights and Google Home make the best of bedfellows. Such a natural collaboration!
But I happen to be a 25-year student of home automation, dating back to when CEBus was battling LonWorks and X10 for smart-home supremacy. And I'm scratching my head.
Unlike other smart-home hub makers (Amazon has the ZigBee-enabled Echo Plus), Google continues to spurn popular home-automation standards like ZigBee and Z-Wave for its Google Home products. More surprisingly, Google so far has avoided Thread and Weave, the networking and home-automation protocols found in virtually every single Nest product since the 2010 thermostat.
Unlike other smart-home hub makers (Amazon has the ZigBee-enabled Echo Plus), Google continues to spurn popular home-automation standards like ZigBee and Z-Wave for its Google Home products.
Nest Cams, Nest Protect smoke alarms, Nest Hello doorbell, Nest Secure alarm and home-automation hub, and every little sensor in the Nest Secure ecosystem has Thread and Weave. It's what allows them all to communicate with each other reliably, quickly, securely, and locally, sans network connectivity.
So far, however, Google Home and its smart-home ecosystem haven't joined Nest's protocol party.
Today, during the Google launch event, executives went to great lengths to stress the deep collaborations between Google and Nest – besties since the erstwhile frenemies officially merged earlier this year.
I have been told, repeatedly and credibly, that Google is wholly committed to Thread. I'm mystified by it all, but I'm sure Google has its reasons. Maybe they just haven't gotten around to messing with the silicon in the Google Home smart speakers, and BLE was simply the fastest route to local integration.
It will be interesting to see if Google really builds out this Actions integration platform, and if the company goes somewhere particularly interesting with BLE for home automation. I'm told that the Actions framework is protocol-agnostic and likely would be adopted by smart-device makers of every wireless denomination.
---
Free Webinar 10/10/18
GOOGLE NEWS: THE DAY AFTER
with Michele Turner, Sr. Director, Google Smart Home Ecosystem
---
Google Home + GE Bulbs Could be a Nice Quick Fix
Meanwhile, you can pick up a Google Home Mini for about $30 these days. With the GE Bulbs going for about $13 to $17 each, you could assemble a pretty useful lighting-control solution for cheap. I could easily see myself setting up a Mini and a couple of the tunable-white bulbs for my home office, possibly the bedroom … because I simply haven't gotten around to anything else quite yet.
I'd probably set up a sub-$100 lighting system for my tech-bereft mother. Possibly it could work as a simple (and temporary) way to introduce clients to a modicum of human-centered lighting (HCL) if they don't belive the stuff "works."
Where will GE go next with the C by GE smart-lighting platform, now that it's scored a nice win with Google?
Next up for the C by GE line is a "voice-compatible" smart wall switch with occupancy, humidity and temperature sensors built in. GE says no hub is required for voice control but the details are sparse.
The other product in GE's What's Next tab is the "smart ceiling fixture," reportedly "the industry's first voice-integrated ceiling fixtures [that] allow you to extend the reach of smart lighting and voice experiences throughout the home, whether that's listening to music, completing voice-driven tasks or changing your white light based on needs or tasks in a room."
These fixtures apparently have voice assistants built in.