CES 2018 marked the first time many manufacturers were able to showcase products designed to meet the new HDMI 2.1 specification. And that was the case for FIBBR, made by EverPro Technologies Co., which revealed its Ultra 8K fiber optic HDMI cable, which the company claims to be the world's first 56Gbps 8K-HDR Fiber Optic HDMI cable. The company says the cable is capable of transmitting HDR data in residential applications up to 50 meters.
The Ultra 8K is made with high-quality glass fibers, available exclusively from YOFC, the world's largest fiber producer.
"FIBBR is thrilled to lead the category with the introduction of the industry's first 56Gbps fiber optic HDMI cable," says Joe Zhang, product manager for FIBBR. "CES is always an exciting venue to showcase industry-defining technology, and the Ultra 8K is no exception. Our kiosk in the HDMI Forum booth will show not only the Ultra 8K but also our award-winning Ultra Pro v2.0 series certified by the Imaging Science Foundation (ISF) for 18Gbps. While the standards and hardware continue to evolve, the market needs a reliable solution to move their high bandwidth data. FIBBR's fiber optic solutions are here for today and ready for tomorrow."
FIBBR's BendRobust technology allows the fiber to be bent 180-degrees, and assures flexibility and durability in extreme conditions with uninterrupted transmission of signals, according to the company.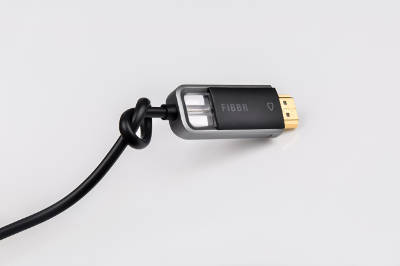 The company's fiber optic cables are slim and flexible, yet strong and extremely lightweight—60 percent lighter than traditional cabling. These key advantages are critical in protecting valuable connected hardware devices from potential harm caused by heavy cables putting undue stress on delicate connectors.
FIBBR's proprietary technology delivers the power direct from AC coupling, eliminating the need for external power on the receiving end while achieving simple plug and play. To enable a trouble-free installation, FIBBR uses a SmartLED indicator visible on the source connector—a blue light confirms proper connection and operation status, while no light indicates an improper connection.
Other features of the fiber optic HDMI cables are reliably high bandwidth, low signal attenuation, and high resistance to external electromagnetic interference—all necessary features for future, higher-definition developments.
If you enjoyed this article and want to receive more valuable industry content like this, click here to sign up for our digital newsletters!