When integration company Sounds Good opened its showroom several years ago in Westborough, Mass., owner Greg Brett knew it would be somewhat difficult to get Boston-area clients to drive 30 miles west. And he was right.
So, in 2017 Brett started looking for an ideal location to build another showroom closer to the more-affluent immediate Boston area. In August 2017, he found the perfect location in a brand new commercial building in suburban Waltham, about 25 miles closer to the city. After some months of negotiation, Sounds Good started rough wiring the new location in early 2018, which is physically about 100 yards from the company's offices. The move culminated with a grand opening of the new 600-square-foot Control4 Certified Showroom on Control4's second C4Yourself Day on October 18.
In all, Sounds Good hosted more than 70 designers, builders, architects and key clients for the grand opening. Though the actual showroom itself is a small space, it doesn't seem that way. The building itself has a large shared demo area and a separate kitchen space with True Spec Golf, a custom golf club manufacturer that has two giant golf simulators, which are available for Sounds Good visiting clients. There is also an outdoor space loaded with buried speakers.
Control4 Intercom Anywhere Greets Customers, Contacts Office
"Our main goal behind the showroom is to host events, "says Brett. "There is a 4,000-square-foot common area in the building with a kitchen for events. With True Spec sharing the space with the similators, it is ideal for corporate events."
The showroom is not only there for Brett and his team to show technology to clients with appointments, but is also open for walk-ins Monday through Friday from 9 a.m. to 5 p.m. Before guests even enter the showroom, Control4's Intercom Anywhere system greets them. The system automatically unlocks the door to the showroom, which does not have a full-time staff person there for efficiency sake. Instead, the Intercom Anywhwere system calls the Sounds Good office up the street. A member of sales team can then communicate with the customers and let them know he will be there momentarily.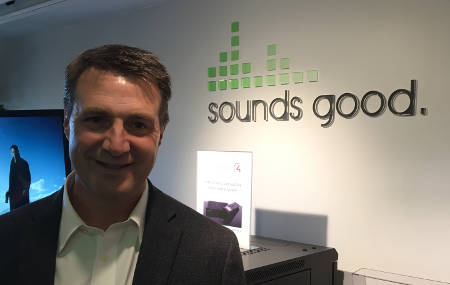 "Our main goal behind the showroom is to host events."
— Greg Brett, Sounds Good
In the Sounds Good showroom, there are several Control4 hands-on demo touchpanels and keypads showcasing control of entertainment, home networks and lighting. Brett notes that lighting now represents 30 percent of Sounds Good's business.
Noticeably missing in the showroom is the ubiquitous Control4 wallpaper that CE Pro saw in all other Control4 Certified Showrooms.
"They are relaxing the design criteria a bit," jokes Brett.
There is also a "bathroom" area with small aperture 4-inch in-ceiling speakers from Origin Acoustics, Triad invisible in-wall speakers, and a Séura SMART Mirror set up in a vertical alignment as would typically be done in a bathroom.
Other areas of the showroom centers around Paradigm freestanding speakers, a Samsung Art Mirror display, and a demo from T1Visions, makers of a commercial communication/collaboration software system that Sounds Good installs for its corporate clients.
A rack with SnapAV OvrC is also set up to showcase the company's remote service capabilities. Brett says Sounds Good currently has 500 Control4 clients in the field with 140 of them on service agreements.