There were a lot of "F's" flying around at the recent Azione Unlimited spring 2019 meeting last week… 144 of them to be exact. Two of the "F's" had to do with the theme of the Bonita Springs, Fla., event, which was dubbed the "Fulgent Fling." But the other 142 "F's" were failing grades given to members' websites in audits of their online review performance conducted by vendor member One Firefly.
"The importance of online reviews cannot be understated," said Ron Callis, CEO of marketing specialists One Firefly, speaking to the group.
Callis pointed out that while most integration companies derive the great majority of their new clients from referrals, he emphasized that most of those potential new clients will type an integrators name into Google to try learn about their business. If that dealer has online reviews, good or bad, they will show up first in that search result, thus playing a role in whether that prospect reaches out to make contact.
"While noting there is always a chance that the strength of the referral may stand on its own, Callis added, "Sure, they may not go online, but they probably will."
He cited other data from various sources showing:
Nine out of every 10 consumers read online reviews
80 percent of consumers have actually reversed a buying decision based on reading a negative online review.
93 percent of consumers check online reviews prior to shopping or dining
72 percent of consumers trust an online review equally with a referral recommendation from friends or family.
Google, Yelp, Houzz Algorithm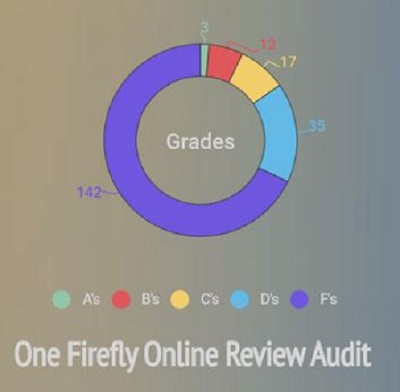 With that in mind, One Firefly undertook an audit of all 208 Azione Unlimited members' websites to grade them on how they appear in online reviews from Google, HomeAdvisor.com, Facebook, Yelp and Houzz.
The average review score from each website was tallied, then One Firefly used an algorithm to determine an overall grade. The algorithm placed more emphasis on Google reviews, followed by Houzz and Yelp.
The remaining sites were weighted with lesser value for various reasons, including that few Azione members are even associated with HomeAdvisor.com, and that Facebook recently eliminated its review scoring mechanism from a 1 to 5 rating to a simple positive or negative review.
The results of the audit were staggering. In all, 68 percent of Azione members' websites flunked, receiving an "F" grade. The final grades were:
A – 3 companies
B – 12 companies
C – 17 companies
D – 35 companies
F – 142 companies
On Google, the average Azione company review has 6.4 total reviews, with an average score of 4.6 stars. More than one-third of Azione member companies do not have a single Google review online.
On Houzz, the average Azione member has 2.5 reviews, and by and large, those reviews are very positive, with an average score of 4.8 out of 5.0. However, nearly two-thirds of members do not have a single review on Houzz.com.
On Yelp, Azione integrators average 2.3 reviews, with an average score of 3.7 out of 5.0. In all, 63 percent of members do not have a single Yelp review.
The integrator's websites that performed the best in the audit were:
Among One Firefly's service offerings for integrators is a program called Review Champ. It is an app-based service that allows integrators to gather more reviews, then filters those reviews to enhance a dealer's rating, while also acting as a feedback mechanism for integrators to garner constructive criticism from clients.
FYI —Fulgent means "shining brightly."
If you enjoyed this article and want to receive more valuable industry content like this, click here to sign up for our digital newsletters!