"We are a buying group, first and foremost," said Azione Unlimited executive director Richard Glikes in his opening remarks to the 270 attendees at the group's spring conference in Philadelphia. "We are all here to make money. Other buying groups want to be called trade consortiums… I defy them to drop their buying programs."
A straight shooter, Glikes always wears his emotions on his sleeve and doesn't mince words with his membership, which now sits at 188 integration companies.
"We are really three groups in one: a buying group, an education group and a networking group, but we will always be a buying group first," he told the attendees. The primary focus for Azione in 2018 is:
Lighting fixtures
High-performance selling
Marketing
RMR
"You are going to be in the lighting fixture business," said Glikes to the members bluntly. "Lighting fixtures are the next motorized shades. It is real. It is going to happen. No one would have thought 25 years ago that you would be selling window shades," he said to skeptics.
"Lighting fixtures are the next motorized shades. It is real. It is going to happen."
— Richard Glikes, Azione Unlimited
To that end, Azione has formed relationships with a core group of fixture companies, including LumaStream, Coastal Source, Light & Green, and Element Tech.
Also, new member Wolfers/System 7, which has two large lighting showrooms in Boston, will vet other decorative lighting fixture brands for the group, as well as provide lighting design training for Azione members. Wolfers currently handles approximately 500 different lines of lighting fixtures.
On the marketing front, Azione is working with vendor member One Firefly on Facebook marketing for the group. During his opening remarks, Glikes asked members by show of hands who spent 3 percent of more of their revenues on marketing, and not a single hand went up.
"We are going to invest in marketing with our dealers," he notes. Eight Azione members just under took a marketing beta test with One Firefly using Facebook with strong results, according to Glikes.
Related: One Firefly Launches Review Champ, Review Management for Tech Professionals
For recurring monthly revenue (RMR), vendor member Access Networks unveiled a 10-tiered service plan program for Azione members. The program ranges from $29 per month up to $1,500 per month, with varying levels of response time, services, phone support, etc. Dealers are being encouraged to select up to three of the tiers that best fit their business (based on criteria such as average project size, number of employees, size and scope of service team, and several other factors) and best fit their typical customer (based on criteria such as tech-savviness, net worth, age, and several other factors).
Finally, Azione wants to help its members grow, and plans to help them do that with sales training. "If we can take a small dealer from $1.5 million to $4 million, there is a huge upside potential for that company," says Glikes. "That growth will easily pay for the $750 quarterly dues that we charge members, not to mention it will be paid for in discounts right away. But the real benefit of being in Azione goes well beyond the money.
Azione Membership Growth Plateaus
Azione's membership growth slowed in the past year, with the group adding just nine new integrator members, from 179 to 188.
"Growing members is not our goal this year. I am taking the attitude to let the growth come by itself," says Glikes. He noted that other than filling a few geographical gaps, Azione does not really need new dealer members.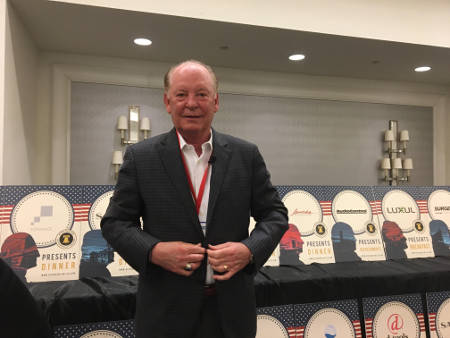 He had originally stated a goal of 250 members was necessary to formulate a nationwide exit strategy for the group. While backtracking on the 250 number today, he still has an exit strategy in the works. The new D-Tools Cloud solution is the key, he says, with an aim to get all the members on that same software platform.
The D-Tools Cloud is currently in beta and the first leg of it will be unveiled this fall at CEDIA with late 2019 as the target for the full suite, according to CEO Randy Stearns. With its current membership size and with a common software platform in place, Glikes says Azione has reached critical mass to contemplate an large scale exit strategy.
"Reaching critical mass is vital for any successful exit strategy," he notes, adding that groups such as the Bravas group will have difficulty developing an exit strategy until they reach critical mass.
In terms of vendors, Glikes is also to the point.
"We do not need any more vendors. The other buying groups already have 50 percent more vendors than we do," he adds.
Google, Sonos, Josh.ai Talk Voice
One highlight of the Philadelphia conference, dubbed "Philosophically Phocused," was a panel discussion featuring Google Home, Sonos and Josh.ai discussing voice control. Alex Capecelatro, founder and CEO of Josh, Andrew Vloyanetes, head of sales in North America for Sonos's Installed Solutions business unit, and Daniel Clarkson, head of business development for Google Assistant, each described the differences between their voice controls.
"Google Home and Sonos chose to partner with us."
— Richard Glikes, Azione Unlimited
Clarkson stressed Google's broader ecosystem with Nest and its voice algorithm abilities, which are unquestionably the most advanced in the industry.
Capecelatro of Josh.ai stressed his focus on the smart home channel, and not to sell products or mine data.
Related: Josh.ai Micro Is Complete Voice-Controlled Home Automation Hub for Every Room
Vloyanetes discussed Sonos' broad "Works with Sonos" ecosystem and its hardware focus, which includes industry leading speakers, soundbars and subwoofers that can be sold as attachments to voice control.
Privacy/security and how to make money on voice were main concerns among integrators, who expressed frustration that voice controls are currently adding tremendously to their service burdens, while not helping their bottom lines. The panelists emphasized that dealers must make profit on labor installing voice, while also recognizing the technology is a giant door-opener for gaining new customers.
"Google Home and Sonos chose us to partner with," stressed Glikes, adding that he has been trying to get Sonos as a vendor member for 13 years.
The event also featured a panel discussing relationships between integrators, interior designers, and architects. The gap between the groups was markedly apparent when architect Tim Lucci of Zimmerman Architects in Philadelphia indicated that most of his architectural colleagues budget $0 per project for technology during the design phase. He noted that he will usually "throw in $1 or $2 per square foot in the budget" to cover technology needs. When Azione members indicated that their typical projects range between $35 and $65 per square foot for technology, Lucci was shocked.
Other sessions included roundtable discussions covering topics such as owning your own shop versus leasing, as well as personality tests for employees. (CE Pro will address these in future articles in depth.) On the networking side, attendees were treated to an evening of music that included Hack Monet, a local Massachusetts band fronted by Luke Germain of Tune Street, an Azione member based in Great Barrington, Mass.
If you enjoyed this article and want to receive more valuable industry content like this, click here to sign up for our digital newsletters!