When it comes to Wi-Fi and connectivity in today's digital era, the best solutions are barely noticeable because they work seamlessly in the background. An unstable internet connection and Wi-Fi signal can derail both productivity and entertainment, especially with remote work continuing to endure beyond the pandemic. The TP-Link Deco X55 Pro – AX3000 Whole Home Mesh Wi-Fi 6 System does just that, providing seamless connectivity throughout the entire home.
According to TP-Link, the mesh Wi-Fi 6 system is designed to eliminate weak signals and enhance connectivity throughout an entire home and optimizing connections by directing devices to the closest Wi-Fi node. For example, a user with a smartphone or tablet should be able to move from room to room without sacrificing signal strength as the system's seamless roaming feature works together to form one unified network.
Unboxing and setup
This was my first experience with a mesh Wi-Fi system, and it couldn't have been any easier to set up. The three-pack comes with three nodes, a power supply for each, and an ethernet cable connecting the modem to the main node. For an integrator, this doesn't get much easier.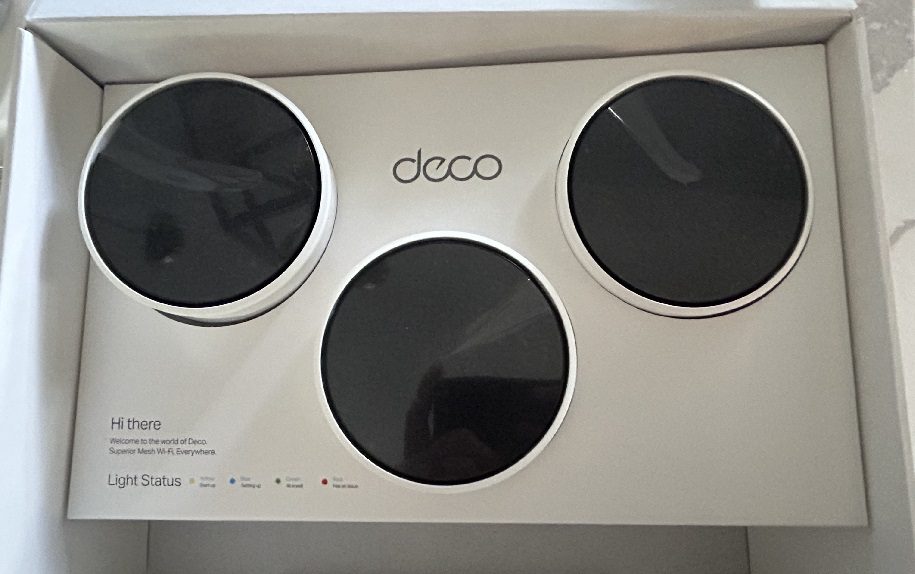 A QR code in the packaging directs users to download the Deco app, which walks users through the process. I was replacing an existing network with a single router, but I went ahead and changed my network password just to be safe.
After setting up the main node and the network, installing and connecting the other two nodes was as simple as can be. All that took was simply plugging them in, and they automatically connected to the main network within a few minutes.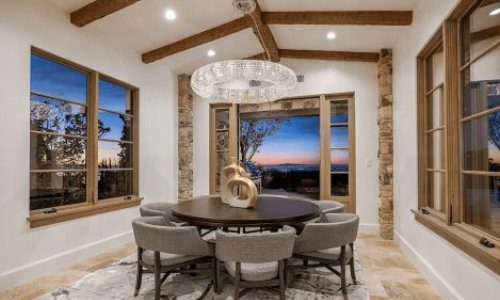 As a custom integrator, lighting is in demand. Effective communication, education and showcasing the value proposition of LED light fixtures in conjunction with integrative control systems are the keys to overcoming challenges and closing sales in this specialized market. Join us as we discuss the future of digital lighting and control with David Warfel from Light Can Help You and Patrick Laidlaw and Mark Moody from AiSPIRE.
Register Now! 
The design of the Deco X55 Pro nodes is unlike legacy Wi-Fi routers, as the units blend into any home décor and don't necessarily have to be hidden like other unsightly networking equipment.
Coverage
According to TP-Link, the three-pack should cover up to 6,500-square-feet. However, I don't own a mansion and my home is just about 1,500-square-feet. I placed the central node by my modem in my living room, place another in my office off of that living room, and another upstairs in my bedroom.
Connection to the previous router would lose strength upstairs, and the network would get bogged down with over a dozen devices connected to it. I'd also be forced to rely on cellular data for music streaming while mowing the lawn.
My old setup was as follows: an ISP-provided modem with a third-party router I purchased at Best Buy last year to replace the ISP-provided router that fell woefully short of my expectations. In addition, that ISP-provided router was somehow not compatible with Chromecasts (it took me a while browsing Google forums to learn that last piece).
That third-party router was serviceable, but it was placed downstairs on the TV stand by the modem. My office was upstairs, so video calls tended to suffer, especially when my wife (a teacher) is home for the summer streaming her TV shows.
Now, my wife and I are expecting our first child in November, so my office is now downstairs as the old office will become the baby's room. Even though my office is downstairs, the signal strength still wasn't great.
With the TP-Link Deco X55 Pro – AX3000 Whole Home Mesh Wi-Fi 6 System, I have full bars in every room in my house and get a strong signal in the far corner of my half-an-acre property.
All my family's (my wife and I) devices enjoy strong signals to the nearest node. Devices include two iPhones, an Apple Watch, a smart TV, a security system, an IP camera, an Xbox, two laptops, two Chromecasts, a smart vacuum, a Nest thermostat and a printer.
For the most part, the seamless roaming feature does work quite well. However, my iPhone has had a hard time switching from the living room node to my bedroom node, which I'm assuming is due to my small house and close proximity since the bedroom is directly above the living room. Switching my phone's Wi-Fi on and off solved that problem.
Speeds
Anecdotally, my internet speeds seem much faster with the Deco X55 Pro network. As I mentioned before, the hallmark of a strong and reliable network is simply not really noticing it. As I've enjoyed fast, efficient access with all of my devices while simultaneously working, streaming and gaming, the Deco X55 Pro fits the bill.
When I tested the speeds, the difference was clear. The only thing that was unclear was how I managed to be productive at work, stream TV and movies, or game.
On my old router, which was just about 20 feet away from my office, my download speed hovered around 30Mbps. However, the Deco X55 Pro gave me download speeds that were consistently near 100 Mbps or better. In the table below, the first four tests are with my old router, and the last four are with the TP-Link Deco X55 Pro.
| | | |
| --- | --- | --- |
| DOWNLOAD_MEGABITS | UPLOAD_MEGABITS | LATENCY_MS |
| | | |
| 32.44 | 11.08 | 5 |
| 27.79 | 9.96 | 7 |
| 31.74 | 10.89 | 12 |
| 31.39 | 10.58 | 14 |
| 106.13 | 10.71 | 14 |
| 104.93 | 10.81 | 10 |
| 98.71 | 9.07 | 11 |
| 189.11 | 10.34 | 5 |
Management
The Deco app is full of management features for security and parental controls, including a feature that alerts the user when a new device is added to the network. Users can then remove and block devices that they don't recognize, so neighbors can't steal the connection if they happen to know the password.
To prevent stationary devices like a printer from switching nodes, users can disable the mesh technology capabilities for certain devices. As mentioned before, the only way I saw to fix incorrect mesh optimization is to move devices to certain nodes is to disconnect and reconnect to the network.
For advanced security, homeowners would have to upgrade to Security+, a subscription plan that enables blocking malicious websites, prevents unauthorized access and blocks hackers from accessing IoT devices, per the company.
The app also includes a Quality-of-Service feature that allows users to prioritize specific devices for a set duration. When set as high propriety, they will run smoothly even when the network is crowded, according to the Deco app. This feature seems perfect for videoconferencing or other work-related, high-bandwidth activities.
The Deco app also allows users to set up a guest network to protect their main network.
CE Pro and Cons
Pros
Great connectivity and speed for the whole home and connected devices.
Sleek design that can blend into home décor.
Management features via the Deco app, like guest network, new device notifications.
Cons
The seamless roaming feature sometimes didn't always switch device to best connection, but I'm chalking that up to my smaller home and the close proximity between nodes.
If you enjoyed this article and want to receive more valuable industry content like this, click here to sign up for our digital newsletters!