As the wellness trend hits the custom installation market, no company has been more on the forefront than Delos with its DARWIN platform. Among other things, the company has spearheaded workspace-related research with the renowned Mayo Clinic and it has been offering in-depth training to various buying group members.
"Integrators now have a unique opportunity to position themselves at the leading edge of the wellness technology trend. Given our modern-day shift to indoor living, it has become increasingly important to understand the fundamental environmental concerns in the home," says Paul Scialla, CEO and founder of Delos.
"Our homes can have either a significant beneficial — or detrimental — impact on our health and well-being. Through both technology and design interventions, our homes can be leveraged as both an immediate opportunity to enhance our well-being as well as a longer-term, preventative health tool."
"With this mind, Delos pioneered the wellness real estate industry to bring wellness solutions to the places where we live, work and play. Delos' latest innovation, DARWIN Home Wellness Intelligence, monitors, calibrates and responds to changing environmental conditions to help improve human health, well-being and performance. The powerfully responsive platform is always-on, analyzing and calibrating the home environment.
"A first-of-its-kind system, DARWIN brings together a proprietary sensor monitoring platform and solutions across air filtration, water purification, circadian lighting and comfort elements. To help scale this movement, Delos has begun training system integrators across the country on DARWIN and how to help enhance the health and well-being of people everywhere," he adds.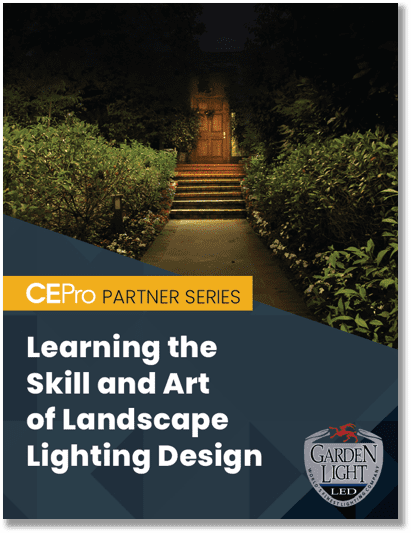 Experts recommend landscape lighting design as an entry point for integrators into the revenue opportunity of home lighting. Check out our new resource for tips and best practices. Download "
Learning the Skill and Art of Landscape Lighting Design
" today!.
According to chief marketing officer Anthony Antolino, the DARWIN Home Wellness platform is a combination of hardware and software that was eight years in the making.
"The company merges building science with health science. For the residential sector, it's all about how we use those insights to have our software talk to third-party products to create healthier environments in the homes we are living in now," says Antolino.
He notes that prior to the pandemic, the common statistic floated was that humans spend 90% of their time indoors.
"Now, given the pandemic, that statistic has obviously gone up. But instead of that 90% of time spent divided among your home, office, hotel or wherever, all of the time is now spent in our homes," says Antolino.