Personalized wellness rooms are receiving a lot of attention among interior designers and architects as of late. In an article published by Architectural Digest, spiritual author Lalah Delia goes so far as to calling these rooms, which can take the form of spas, saunas and home gyms (to name a few) "a restorative necessity in the home."
A consequence of the pandemic and looming stress over an economic recession? Probably.
One of the main reasons the wellness train got rolling was because people staying at home all the time during lockdowns got a good look at how much their living environment affected their health and mental wellbeing. Then, when people finally had a chance to go out, a large majority decided, "Nah, I'm good right here."
Economic pressures have also caused a lot of people to stick right where they've been for the past couple years, and while that same economic pressure is reducing spending, people are still planning on putting some of that home buying budget to use to make their living space more beneficial to both mental and physical health.
We at the very least know that wellness remains a considerable motivator in influencing consumer purchases. Whether or not a specific client will think something like a wellness room is a necessity will vary, but in that same article, architecture and design firms do note a rising prevalence in these requests.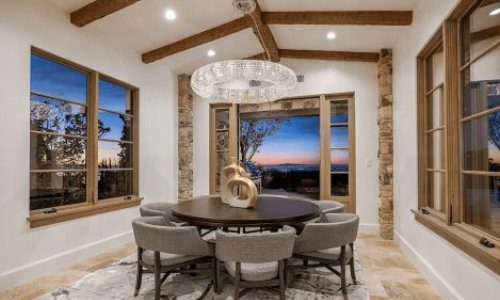 As a custom integrator, lighting is in demand. Effective communication, education and showcasing the value proposition of LED light fixtures in conjunction with integrative control systems are the keys to overcoming challenges and closing sales in this specialized market. Join us as we discuss the future of digital lighting and control with David Warfel from Light Can Help You and Patrick Laidlaw and Mark Moody from AiSPIRE.
Register Now! 
Traditional Home Environments Seeing More Holistic Upgrades in Wellness Rooms
With news like this, it's a great opportunity to see what clients might be on the lookout for when it comes to home improvements. However, in this case, it's also a great opportunity to see what outcomes architects and designers might be focusing on for their projects, especially as integrators continue to search for ways to position their own offerings as a partner or co-collaborator on a project.
And of the many types of wellness rooms being requested by clients of these architecture and design firms, there are plenty that actively benefit from, if not require, an integrator's touch.
For instance, one growing request many architects and designers are hearing from clients are singular sound-proofed rooms. While the emphasis may at first seem like silence, it's quite the opposite (pure silence can be quite bad for one's mental health). Instead, the purpose is to eliminate outside noise while leaving the occupant free to be immersed in whatever sounds they choose.
This desire mirrors something that's already being done by the company Rayva. Well known for their bespoke home theaters, the company moved to offer wellness rooms roughly three years ago that follow a similar design philosophy to a home theater (such as sound isolation), except instead focusing on more biophilic media being the core focus.
There's also the uniquely named "jet lag room," which is meant to help send travel-worn home occupants straight off to sleep. The name itself is a great example of how a more holistic, intent-based language can really change the outlook of a project because, at the end of the day, it's just a finely crafted bedroom. Color-tunable lights, motorized blackout shades and enhanced environmental controls all come together to make a space that's capable of shifting immediately into a night-time setting should a travel-weary homeowner need it.
(Side note: having a "Jet Lag" scene programmed to do just that sounds like the perfect customization for a client who travels a lot.)
There are even lower budget options that don't necessarily need their own rooms. The bathroom is an ever-popular space for homeowners to escape to after an arduous day. It's also a space that has already been receiving plenty of support in trying to connect integrators with designers on projects and one that clients are seeking to add more technology to in support of wellness, according to the NKBA.
Spas, saunas, and steam rooms are all named as well on the more luxury end of the spectrum, which, as integrators commonly work with more luxury clients may crop up on projects. The same principles that would turn a bathroom into a sanctuary, such as the ability to shift into moodier lighting or isolate oneself from the rest of the home through a specially cultivated atmosphere, apply here.
If you enjoyed this article and want to receive more valuable industry content like this, click here to sign up for our digital newsletters!