Popular homebuilder KB Home has been at the forefront of implementing energy- and wellness-friendly construction, and two new communities in California embody the latest trends. KB Home has announced that it has launched the first all-electric, solar- and battery-powered, microgrid communities in California.
The homebuilder has partnered with the U.S. Department of Energy (DOE), SunPower Corp., the Advanced Power and Energy Program at the University of California, Irvine, Southern California Edison, Schneider Electric and Kia to test the energy-efficient and healthy new homes located at the Oak Shade and Durango communities within its popular Shadow Mountain master plan in Menifee, Calif.
Every new KB energy-smart connected home at these communities will be equipped with smart technologies and a backup battery, plus community microgrid connectivity. These innovative features are designed to work together to provide a self-supporting energy system that powers a specific neighborhood with a community battery and has the capability to operate independently during a grid outage, the builder explains.
In 2021, KB Homes enlisted Schneider Electric, a manufacturer of energy management, battery backup and automation products, on the energy-efficient Sundance at Park Circle community in Valley Center, Calif. CE Pro touted high-performance energy storage systems as one of the five top tech trends for 2022. Schneider began offering its 'grid to plug' Square D energy management ecosystems, controlled by its Wiser smart home controls in 2021.
Benefits for homeowners in the new Menifee communities, according to KB Home, include: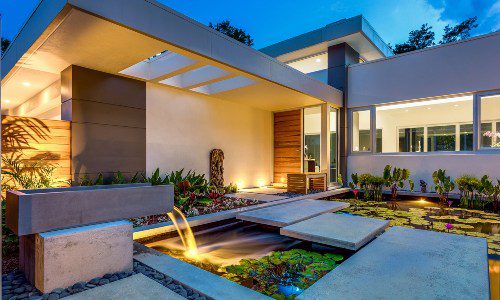 Landscape and architectural lighting create a magical and elegant ambiance for homeowners. The outdoor lighting industry has always been a phenomenal one and continues to grow in popularity. Now is the ideal time to learn more about this rapidly growing and highly profitable industry. Join our panel of esteemed lighting experts that will dive into why it's time for integrators to rethink their role in the outdoor lighting industry.
Register Now! 
Reduced Energy Usage: Innovative technology, coupled with advanced home design and certifications, enable homeowners to decrease energy usage by 40%, while potentially lowering energy costs.
Essential Protection: Homeowners can switch to battery energy use in case of an outage and disconnect from the grid to help maintain the home's essential energy functions continue to operate for a certain period of time.
EV Charger Ready: All homes will be wired to be smart charger ready. Additionally, some homes in the communities will be testing bidirectional electric vehicle (EV) chargers, which, during a power outage, enables the EV to be another source of energy.
Convenient Real-Time Monitoring: Owners will enjoy the convenience of app-based monitoring and control to easily customize and track their energy usage and storage.
Less Environmental Impact: These home and community features in combination can help lower homebuyers' carbon footprint and conserve precious natural resources.
Trusted Certifications: Every energy-smart connected home will be certified as a DOE-designated Zero Energy Ready Home (ZERH), reflecting a high level of performance with rigorous requirements that build on the Environmental Protection Agency's (EPA) ENERGY STAR, WaterSense and Indoor airPLUS programs, and will be verified by a qualified third party.
KB Home Leverages Energy Industry & Academic Leaders
"KB Home has been at the forefront of deploying advanced technologies and energy solutions for the benefit of our homebuyers. In our pursuit of building better homes, better communities and a better future, we believe that our all-electric, solar- and battery-powered homes at Oak Shade and Durango in Menifee, California have the potential to deliver significant energy savings," says Jeffrey Mezger, KB Home chairman, president and CEO.
"Working with industry and academic leaders, we plan to explore how these energy-smart connected communities can help protect the environment and turn our homes into their own power centers designed to deliver resiliency while also reducing the overall cost of long-term homeownership."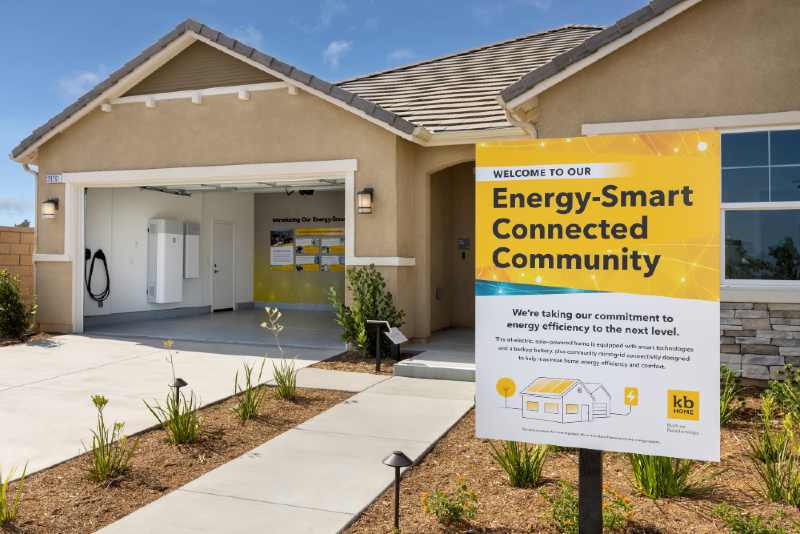 The project partners will conduct research to measure the energy efficiency of each energy-smart connected community in comparison to traditional residential solar communities, KB Home adds. They will explore how to build all-electric homes that will more effectively meet the requirements of future energy codes and how an energy-smart connected community, energy storage batteries and bidirectional EV chargers can work together to maximize efficiency and comfort — and help keep the power on for a certain period of time at a community level.
KB Home notes that it was the first builder to make every home it builds ENERGY STAR certified and has constructed over 160,000 ENERGY STAR certified new homes since 2000, more than any other builder. It says its homes deliver a level of advanced energy efficiency met by fewer than 10% of new homes built in America, and estimates that its sustainably designed homes have cumulatively reduced energy utility bills for its homeowners by an estimated $856 million.
Additionally, to date, these KB homes have reduced CO2 emissions by an estimated cumulative 6.3 billion pounds, the equivalent of removing 616,000 gasoline-powered passenger vehicles from the road for one year. The homebuilder states it has created over 14,000 solar homes, achieving 44 cumulative megawatts of solar power installed and producing an estimated total of 75 million total kilowatt hours of renewable energy annually.
In February 2021, KB Home and the Well Living Lab introduced a concept home to further the commitment and research in healthy homes.
If you enjoyed this article and want to receive more valuable industry content like this, click here to sign up for our digital newsletters!