Much as kitchen and bath designers saw earlier this year at KBIS, which in conjunction with the International Builders' Show drew 70,000 attendees, in-person events are in demand right now. Designers and custom integrators have a chance to extend their mutually beneficial partnerships soon again as the CEDIA Expo approaches, and designers are more than welcome to attend as their influence continues to increase on projects.
With that in mind, Jason McGraw, group vice president, CEDIA Expo and KBIS, for Emerald, joined Katye McGregor Bennett, of KMB Communications and host of Design Uncut Live, to discuss the upcoming CEDIA Expo. The show will take place Sept. 29 – Oct. 1 (education starts Sept. 28) at Kay Bailey Hutchison Convention Center in Dallas (register here).
Bennett noted the buzz is already building for this year's CEDIA Expo, which after a scaled-down event last year and a virtual event in 2020 is fully stocked with exhibitors and education for the first time in person since 2019.
McGraw and Bennett presented "5 Things for Designers to Know at CEDIA Expo" on Instagram Live to outline why kitchen and bath plus other interior design professionals should be enticed to attend the tradeshow.
"Well the number one reason attendees of almost any tradeshow [go] is they want to see new products, they want to see what's next, they want to see what they've been missing," McGraw says.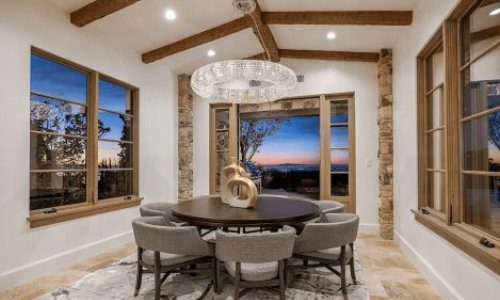 As a custom integrator, lighting is in demand. Effective communication, education and showcasing the value proposition of LED light fixtures in conjunction with integrative control systems are the keys to overcoming challenges and closing sales in this specialized market. Join us as we discuss the future of digital lighting and control with David Warfel from Light Can Help You and Patrick Laidlaw and Mark Moody from AiSPIRE.
Register Now! 
He mentions the small 2021 return in Indianapolis for CEDIA Expo, but this year is full-scale, so designers can catch up on tons of innovation from a variety of companies across the industry.
"We're very pleased, we're excited to have all the major brands back at the show this year," McGraw says. "The whole broad spectrum from audio/video to control systems, lighting is a growing segment at our show. Networking, security products, home theater, basically any product that's electronic and integrated into your home is a product you'll see at CEDIA Expo."
So while attendees and exhibitors – and designers – won't see the "innards" of the home such as building materials and physical infrastructure innovation, which they can at KBIS and IBS, McGraw notes, they do experience items that homeowners will engage with on a daily basis.
"We deal with all the components that go into making your home interactive. The motorized shades, the lighting instruments, the in-wall speakers, power outlets, touchpanels, and security cameras. That's the most important part, seeing those products on the show floor firsthand, getting to talk to the manufacturers and finding out what's new, what's hot, what's trending, and finding out how those products can make your clients' home experiences even better."
Education, Networking Opportunities Abound for Designers at CEDIA Expo
Members of the design-build community can use the CEDIA Expo to get up to speed. McGraw says the second big reason to attend is so designers can expand their learning horizons on the tech integration side.
"How do you implement these technologies? How do you work with a system integrator? What are the design considerations and ergonomic considerations of a system when you're designing it? How do you create flexible spaces today, that's a big trend," McGraw says, for instance. "Outdoor living … technology is pervasive both inside the home and outside, so do you know enough about that to incorporate it into your design?"
Designers will encounter no shortage of learning opportunities at CEDIA Expo in Dallas. He cites education from CEDIA, training from manufacturers, and show floor sessions on the Smart Stage and Innovation Hub Stage among ways designers can bolster their custom integration knowledge base.
Networking, after-show dinners and parties, events such as the Women in Consumer Technology Luncheon, and more offer further appeal for designers to make connections with technology pros by attending CEDIA Expo, McGraw adds.
"We also have a Design + Connection program on Friday, September 30 that designers can sign up for and get curated show floor tours, to visit major brands at the show, and the networking reception," he says as another draw.
The Design + Connection tour (and Design + Connection Pavilion) has highlighted aesthetically minded solutions and opened designers' eyes to myriad tech integration possibilities since CEDIA began conducting the tours for small groups of designers a few years back. The Expo can benefit designers, remodelers, architects, builders, and other potential integrator partners alike.
"Being around your colleagues and peers. We're human beings, we're analog, we crave that interaction," McGraw says. "Go to dinner, share a drink together … you can do that at the show and I think it's a huge part of the experience of getting back together in person."
That goes for being able to actually put your hands on products as well in an exhibitor's booth vs. just seeing a photo of a new solution. Designers can even use the event as an opportunity to visit the popular Dallas Market Center while in town, or perhaps check out a local integrator showroom with a connection made on the show floor.
"I think it's really going to set the stage for the rest of this year into next year if you think about business opportunities," McGraw says. "There's going to be a need for continued investment in remodeling … the high-end market is still there. About three-quarters of CEDIA members do their business in the luxury, upper end of the market, certainly, those folks have funds to invest and embrace new technology."
McGraw says design attendees won't be disappointed. "There's just always so much to see and do," he says of the Expo.
If you enjoyed this article and want to receive more valuable industry content like this, click here to sign up for our digital newsletters!