Top 10 CE Pro Stories of September 2019: BEST Awards, Barry Sonnenfeld, More
Need to catch up on the latest industry news after a hectic CEDIA Expo? We've selected our top 10 most popular stories of the month you should definitely check out.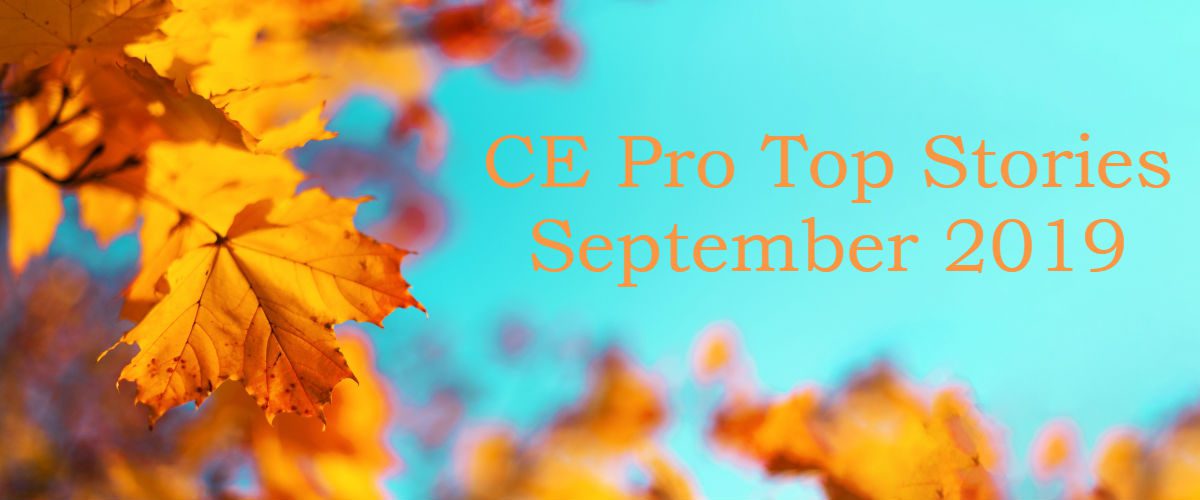 To the surprise of no one, CEDIA Expo 2019 talk dominated the CE Pro homepage throughout September. Whether it was Barry Sonnenfeld putting the smackdown on 8K and HDR or Vivint making a few big moves, September was packed with juicy stories that readers may have missed in the midst of expo season.
To that end, we've rounded up the top 10 best performing stories of the month according to analytics and reader engagement. Feel free to skim through the descriptions below and see if anything catches your eye!
Top 10 Stories of September 2019
---
CE Pro received a TON of reader feedback and praise for this year's BEST Product and BEST Project Awards. By far our best performing pair of stories, we've combined them here since they serve the same purpose: to highlight the brands and projects that exemplify what it means to be a part of the CE industry. Take a look and maybe get inspired to create the next great home theater.
---
When news broke that Vivint was ready to offer two-way integration with Control4 home automation systems, it naturally piqued the interest of a lot of our readers. The ability for all existing sensors in the Vivint ecosystem to work with Control4 meant a lot more customization options for integrators.
While some were naturally skeptical of Vivint's move into the CE industry, Chris Ivie, senior director of Pro Channels at Vivint, assured them that collaboration with influential companies like Control4 is designed to create a full, end-to-end solution for the channel.
---
It came as a bit of a shock when the longtime security brand Interlogix announced it was winding down operations with plans to be mostly removed from the industry by the end of 2019.
The company, which was the #2 Security & Fire Systems brand in this year's CE Pro 100 with 25% market share, was created as the result of a 2000 merger between ITI and SLC Technologies. It was then purchased by General Electric in 2002 and renamed GE Security in 2004. United Technologies Corp. (UTC) then bought the security business of General Electric for $1.82 billion in 2010 and reverted it back to the Interlogix moniker.
---
In the runup to CEDIA Expo 2019, CE Pro's Julie Jacobson scoured the attendee list to find a few home automation companies that might fly under the radar and give them her signature treatment.
So who are these sleepers? Tuya and Home Assistant are well-known in the smart-home maker community but haven't received the same level of attention by CE pros. Newcomer CIWare seeks to attract a similar crowd of developers from within the home-tech channel.
---
It is safe to say that legendary Hollywood director Barry Sonnenfeld is not a fan of HDR or 8K. "HDR is the future… but it shouldn't be. It's great for watching sports, like hockey, but nothing else," said Sonnenfeld during his CEDIA Expo 2019 panel discussion alongside famed TV, film, and voice actor Patrick Warburton.
Sonnenfeld was equally unkind toward 8K, echoing many of his thoughts on HDR. While the story makes for an entertaining read, maybe integrators should be growing concerned by the extent to which these technologies are being adopted.
---
Another one of Julie's finds, Caavo immediately impressed her when she checked out its booth on the expo showfloor. The controller, which auto-discovers HDMI devices plugged into its hub, is designed to make managing multiple devices easier than ever before.
While it's a little too early to make that determination, the remote's ability to search universally across all of its devices allows users to find exactly what they want to watch without the hassle of checking each streaming service and box connected to a TV.
---
The Bowers & Wilkins name appeared in a lot of headlines throughout CEDIA Expo 2019 and for good reason; The company announced several important bits of industry news, including an opportunity for more integrators to become resellers and installers of coveted Bowers & Wilkins products.
On top of that, Bowers & Wilkins also announced its Formation suite of products and detailed how it has modernized some of Eva Automation's most well-known features.
---
During CEDIA Expo 2019, the developers at Home Assistant demonstrated how a user's personalized home-automation interface could be "cast" to a Google/Nest display through the Hubs' built-in Chromecast service. According to Google, this allows users to stream thousands of apps from their phones to a Hub Max, as long as it has Chromecast functionality. Cool stuff!
---
After the recent merger between Control4 and SnapAV just a few months prior, all eyes were on the new company's announcements during CEDIA Expo 2019. The event coincided with the release of Control4's newest operating system (OS 3) and featured the introduction of the company's CA-10 controller. The top-of-the-line machine boasts four times the processing power and four times the memory of Control4's previous flagship controller, according to the company.
---
Speaking of giant industry moves, Sonance started off September with a bang by announcing its acquisition of James Loudspeaker. While the full details of the acquisition have not been formally revealed, the announcement sent shockwaves throughout the residential AV industry, with CE Pro receiving a number of emails, tweets, and Facebook comments surrounding the news.