Savant Systems continues to be at the forefront of the emerging residential smart power and energy opportunities for integration customers. The Cape Cod, Mass.-based company, a leader in smart home and smart power, has announced an agreement with Sunnova Energy International, a leading U.S. Energy-as-a-Service (EaaS) provider, to add Savant's intelligent load management and control solution to Sunnova's Energy as a Service offerings for customers across the U.S., beginning Q1 of 2023.
Integrators can put together a Savant/Sunnova smart power solution to monitor and control energy from the grid as well as home solar systems and generator power, creating an optimized ecosystem for any home, the company says.
"Savant is excited to team with Sunnova, bringing intelligent electrification infrastructure to all residential applications," says Savant CEO Robert Madonna. "Our innovative load management system advances the renewable energy experience, extending the life of any local power source. With Sunnova's growing installation footprint and Savant's network of dealers, our objective is to make best-in-class energy management solutions readily available, reducing both carbon emissions and overall energy costs."
Through this agreement with Savant, Sunnova's growing portfolio of energy service solutions allows customers to integrate the use of solar, battery storage, energy control and management technologies, making clean energy more accessible, reliable and affordable.
"Our relationship with Savant is about increasing Sunnova's ability to monitor and manage the power service for our customers, both on and off the grid," says Michael Grasso, chief marketing & growth officer at Sunnova.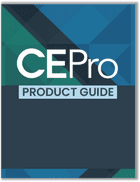 CE Pro's 2022 Product Guide showcases some of the latest and innovative solutions from manufacturers serving the custom electronics industry in a cross-section of categories.
Download the guide now!
"Sunnova provides a better energy service at a better price and by integrating data from Savant's smart energy solutions we will be able to offer more control to our customers. With the addition of Savant, Sunnova is further 'powering energy independence' by giving customers the ability to seamlessly monitor and control energy usage in their Sunnova Adaptive Home."
Savant Power System Modules Enable Scalability
Savant notes that its Savant Power System is engineered to scale to cover myriad applications, and systems can be designed to provide revenue-grade monitoring and control — making every conventional electrical panel potentially smart, at an affordable price.
Savant's smart energy software and power modules comprise the core of the system, with 20, 30, and 60-AMP models designed to fit industry-leading, standard electrical panels.
The manufacturer offers both Wi-Fi and LTE connectivity, ensuring that homeowners retain control even when the grid goes down and Wi-Fi becomes unavailable.
Savant adds that its Power System will extend the life of connected batteries, inverters and generators by dynamically shedding loads for maximum efficiency. Dealers can activate Energy Modes at the touch of a button via Scenes Engine and each mode can be personalized based on lifestyle. Customers will have access to Eco Mode, Storm Watch Mode, and Off-Grid Mode, to be ready for any scenario while prioritizing the use of stored energy and local generation to reduce grid dependence, Savant explains.