From the outset, Bruce A. Solis wanted Kore Multimedia Solutions in Dallas to be a custom installation company that had no boundaries, and its recent adoption of smart energy solutions from Savant is a fulfillment of that original mission. Solis started the company back in 2010 with the idea that he would take on any type of installation to solve customers' needs.
"It's been a wild ride," admits Solis. "I basically started off just doing whatever I could, from hanging a TV to simple surround sound systems to slinging cable or digging trenches. Over the years the business has really grown and taken on a life of its own. I never wanted to be defined as 'just an AV company.' I wanted to go beyond that and find out how many more problems I could solve for clients. Every year I've always added another level of product or service to the business."
That willingness to experiment has led Kore Multimedia Solutions to excel in both residential and commercial work, new construction and retrofit home projects, and broadening into the new cutting-edge category of intelligent power from Savant.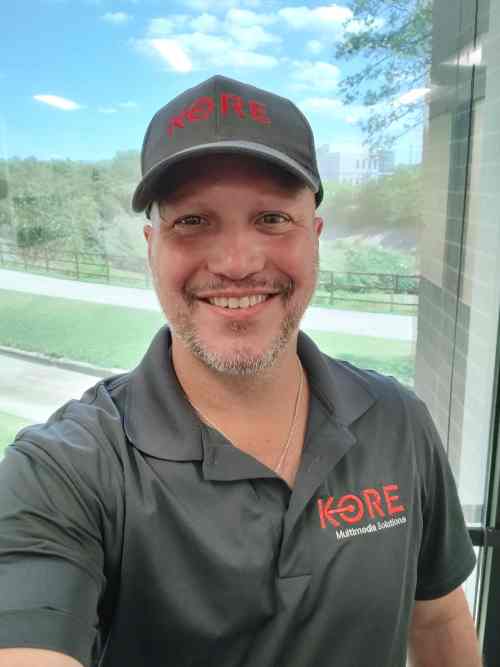 Solis says the initial push to check out intelligent electrical panels came when he hired engineer Jody Matheson.
"He has all the knowledge when it comes to programming electrical engineering. He has really helped broaden the services that I can offer to clients because of his knowledge base. That has helped us grow," says Solis.
At Kore Multimedia, the company's migration to offering Savant power systems has been driven by the lighting category.
"It has been an evolution. We have been looking for a real total solution for a home, whereby it wasn't just mixed with multiple other brands. Ultimately, we want a true solution from one company that can offer A to Z, and then offer the flexibility to grow as clients grow. That's why we came to Savant," he recalls.
Solis is normally an advocate for starting small with a new product, but ironically Kore's first power project with Savant was a massive 20,000-square-foot ranch-style home on 10,000 acres of land in West Texas with multiple buildings on the property. That was three years ago.
"Thank God we got a lot of assistance from Savant," says Solis, noting the project has 21 TVs and more audio zones that he can remember.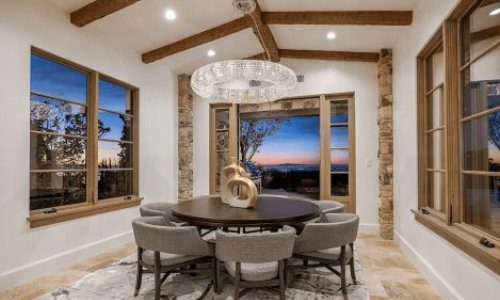 As a custom integrator, lighting is in demand. Effective communication, education and showcasing the value proposition of LED light fixtures in conjunction with integrative control systems are the keys to overcoming challenges and closing sales in this specialized market. Join us as we discuss the future of digital lighting and control with David Warfel from Light Can Help You and Patrick Laidlaw and Mark Moody from AiSPIRE.
Register Now! 
"Ultimately, we want a true solution from one company that can offer A to Z, and then offer the flexibility to grow as clients grow. That's why we came to Savant."

Bruce A. Solis, Kore Multimedia Solutions
The genesis of the smart power portion of the project came from the lighting control and using that as a starting point to educate the client.
"It really starts with the lighting control system," says Solis. "You're going to get three types of clients: Those who know exactly what you're talking about; those who have no clue what you're talking about; or those in the middle. So depending on that client it is, the energy conversation starts there.
"First, we educated the client on what a lighting system is. Then, once we get into the benefits of a lighting system we have additional conversations about energy and energy management. Beyond that, we discuss solar power and whether they are considering it all."
Solis labels educating customers on energy "the exciting part" of the sales process for both Kore and for homeowners. He says there are two primary factors that influence customers to be concerned about their energy: the attraction of alternative energy solutions such as solar panels, and protection against power outages. He admits that "saving energy" is usually less important for his customers.
"Many clients are going to initially say, 'I don't care,' but when we start educating them on why they should care, then a little light bulb goes off… no pun intended. It is all of a sudden cool because we can talk about solar power or the Tesla Powerwall," he quips.
Solis says the devastating ice storms that hit Texas in the winter of 2021 are still fresh on many residents' minds. The recollection of that event with clients triggers them to want to find out more about their energy options, he says.
"People's ears perk up — both commercial and residential clients — and they really, really want to get educated on alternative energy solutions because they never want to deal with that over again," he adds.
What Exactly Is a Savant Power System?
"Energy management and control are the next big trend in the home. Everything is becoming smarter, and Savant is hitting the market in a big way with a power solution. The goal of Savant is to deliver smart power to the home by putting intelligence in the electrical panel," says Angie Larson, senior vice president of customer operations at Savant.
The foundation of the system is comprised of intelligent 20A, 30A, and 60A modules able to control and monitor circuits in the home. The modules are designed to fit into a standard electrical panel. The modules, which obviously require an electrical license to install, can be installed inside the electrical panel side-by-side with the breakers or can be installed in a subpanel. Either option makes for a relatively fast and easy install. Integrators, electricians, and homeowners can determine which circuits are the most critical.
Once in place, the modules are able to collect all the information on the home's electrical usage as well as deliver control at the circuit level. The system can be expanded to integrate with solar panels, generators, and battery storage. All that information is fed it into a Savant energy dashboard giving homeowners real-time visibility into their energy production and consumption trends. That's where the intelligence of the system kicks in.
Using its Energy Modes, Savant manages time-of-day power usage to offset peak utility rates and can move the home from on-grid to off-grid power sources if available. The Storm Watch Mode automatically reserves all available batter storage for a predicted off-grid weather event, storing energy and protecting the home from a possible outage. It can also send push notifications that deliver energy usage insights to the homeowner, according to Ian Roberts, vice president of product marketing at Savant.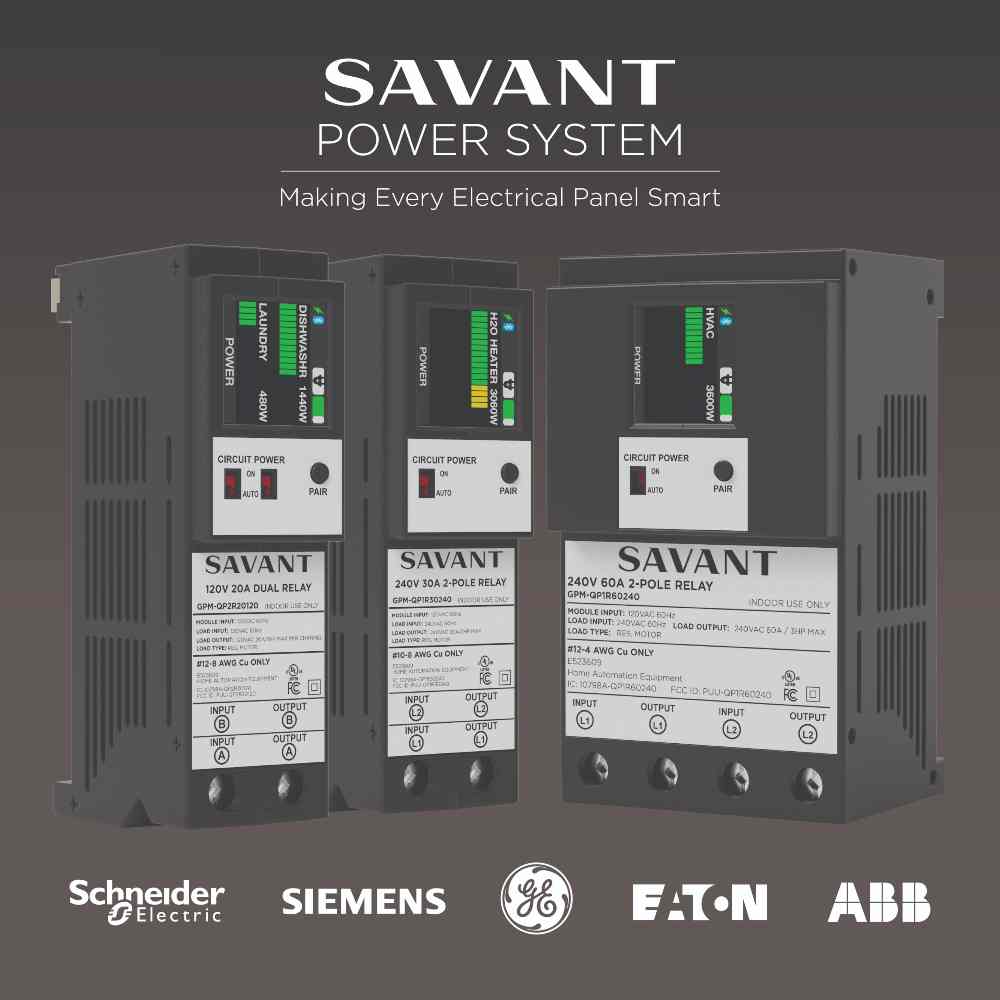 Best of all, the electrical contractor and homeowner never need to pre-determine critical circuits that are hard-wired to a generator or battery.  Once installed, the homeowner can use the interface to automatically or manually activate/deactivate any controlled circuit.  For example, during a power outage the homeowner can choose which loads are critical to be powered, and the system will showcase estimated battery life based on currently powered circuits.  Simply change the number of powered circuits to extend available generator capacity or battery life. 
Savant Power System Modules are compatible with electrical panels from ABB, Schneider Electric, Eaton, GE, and Siemens. On the battery storage and inverter front, the system is compatible or will soon be compatible with units from Schneider Electric, Fortress Power, sonnen, Tesla, SolarEdge, Sol-Ark, and HomeGrid, powered by Lithion. 
Because the critical circuits have been identified, the homeowner can use the interface to activate those particular circuits during power outages, so the meat in the freezer, for example, is not lost.
The interface also provides insight into battery life and maximum generator capacity. Savant Power System Modules are compatible with electrical panels from ABB, Schneider Electric, Eaton, GE, and Siemens. On the storage front, the system is compatible or will soon be compatible with units from Schneider Electric, Generac, Siemens, HomeGrid, Eaton, GE Sol-Ark, Fortress Power, and ABB.
Savant offers prepacked energy management kits designed for complete circuit control of a 200A service scaling up to 800A for larger properties. Savant dealers can purchase scalable battery storage packages from the Savant Store scaling from 7kW/11kWh to 72kW/384kWh. Energy Management packages start at $3,500 MSRP, with battery storage packages starting at $18,500 MSRP.
Working with Electricians, Builders, Clients
One key benefit of providing the power solution is that it gets the integrator involved in the project very early in the process with the architect, electrician and homeowner.
"Because we are doing the electrical design and designating the essential circuits as part of the lighting control engineering, it means everything else is put on hold until we are done and have provided a complete picture of the lighting loads and electrical schedule. It makes it a collaborative effort," says Solis.
Once the lighting schedule is complete, it enables Kore Multimedia to direct the conversation to the power system because we will create the design based on the lighting load schedule. Kore Multimedia does not have an electrical license. The company partners with electricians for the installation.
Solis says the installation of the Savant Power System is "a bit different," especially for electricians that have never installed one before.
"But if you have an educated electrical team and they have done some level of lighting control in the past, they will grasp this concept very easily," he adds.
"This is the future. I am excited to see where it goes."

Bruce A. Solis, Kore Multimedia Solutions
To date, Kore Multimedia has done two projects with the Savant Power System, and the company is in the midst of a third one right now. All three of the projects are six figures just for the lighting control and electrical, but Solis says the size of the home is not the biggest determining factor as to whether this inventive energy solution gets installed. He says it is really based on the passion of the homeowner.
Because the lighting control and electrical panel design are so intertwined, Kore is able to package them together. So far, the company has not tried to include a generator or home battery system in the package.
The one obstacle Solis has run into so far regarding Savant power solutions has come from homebuilders.
"They just aren't that into technology in general. Most of the individuals are into building homes. Period. They are not into lighting control, solar panels and most of them don't know anything. Builders can be your best friend or your worst enemy in terms of trying to get technology deployed," he notes.
He continues, "As I mentioned earlier, one of the reasons we have chosen to work with Savant is that the company is on a continual growth cycle. That's beneficial because our clients are actually getting smarter and more aware of things that they'd like to have in their homes. This is the future. I am excited to see where it goes. This is not only a really cool solution, but I enjoy where Savant is taking this because I believe society is heading this direction. I am excited to see where this ends up two years from now," he concludes.
If you enjoyed this article and want to receive more valuable industry content like this, click here to sign up for our digital newsletters!