Indoor air quality (IAQ) is a hot topic these days in the smart-home sector, given its association with wellness, productivity and energy savings.
Yet the product category has largely evaded the home-technology channel. In the past, only Aprilaire – a provider of smart thermostats and IAQ solutions — has made a concerted effort to educate the channel on the benefits of monitoring and controlling humidity, airborne pollutants, and other environmental conditions.
Enter Airthinx, a new CEDIA Expo exhibitor for 2018, and possibly the first pure-play IAQ monitoring company to target the channel.
[Check out more CEDIA 2018 Finds]
Airthinx is a $699 IoT device that monitors nine environmental conditions, including temperature, humidity, gases, and particle pollution (PM). It has an onboard processor and pairs with a cloud-based (Netronix) AI engine to perform real-time monitoring and historical analysis.
The device communicates in a number of ways – cellular, W-Fi, Bluetooth, ZigBee, LoRa (Low Power Wide Area Networks, or LPWAN) — and the company provides APIs for third-party integration.
Integrates with Home Automation
In fact, the company claims, "Airthinx is designed with integration and interoperability in mind." Developer tools enable pros to organize data in meaningful ways, and manage devices to optimize air quality based on Airthinx reports.
Integrated with thermostats, humidifiers/dehumidifiers, fans, ventilation systems and other IAQ controls enables an ecosystem to regulate itself using data from Airthinx.
The product integrates directly through services such as SAP, Nest ad IFTTT.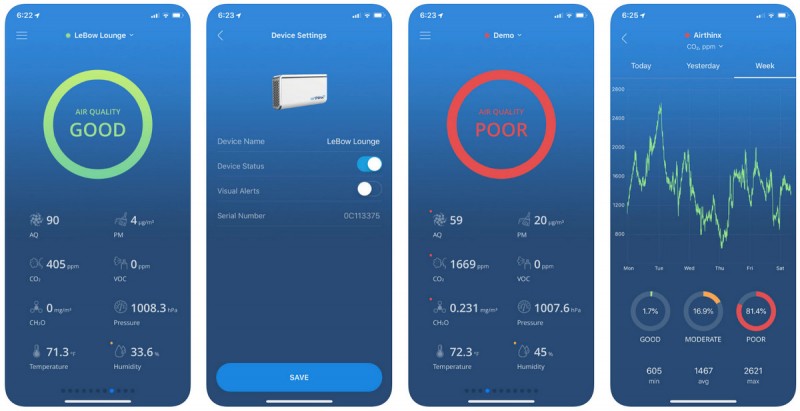 Even without integration, the data alone — accurate to within 5 percent — is valuable for users to "make timely informed decisions about corrective action," the company notes.
Residents can simply avoid the home when airborne pollutants register high, change their cleaning or painting products if VOCs reach unhealthy levels, or call a pro if Airthinx data suggests a gas leak or mold.
Airthinx recommends its solutions for a variety of applications, from homes to hospitals. Indoor air pollutants can affect vital human organs like the lungs, heart and brain. Certainly, IAQ monitoring is valuable for those with respiratory or pulmonary disease, but it can also be worthwhile for general wellness and productivity.
According to the World Health Organization, one-third of cardiovascular diseases can be linked to
indoor and outdoor pollution, while 29% of chronic obstructive pulmonary disease deaths are tied to poor indoor air quality.