It's not easy being a distributor these days in the custom electronics industry. Distributors are not just warehouses, they are filled with expertise at every level, from technical support to sales support. That's why CE Pro readers have taken the effort to recognize the leading distributors in the industry for their support services as part of the 10th annual CE Pro Quest for Quality Awards.
More than 12,000 votes were cast to identify the top distributors in eight categories for the 2020 Quest for Quality Awards.
---
Best Customer Service
PLATINUM: Skywalker AV Supply
"Winning in this category for the last several years is a direct reflection of the culture here at Skywalker. As a family-owned business, we're very fortunate to have a team of great people that genuinely care. We take great pride in our customer service and knowing that our team is focused on putting the customers' needs first." —Randy Criebaum, President
GOLD: WAVE
"Our sales staff is made up of people from the CE industry; they live and breathe the gear that they are selling. Our number one goal is to always add value to each dealer encounter. Building relationships is what sets our team apart and ensures each dealer is met with an amazing buying experience." —Holly Ford, Director of Marketing
SILVER: PowerHouse Alliance
"The PowerHouse Alliance's distributor members are staffed with a knowledgeable team that's always available to guide dealers and integrators through the purchase, design, and installation of new products. Integrators can look to our distributor members for troubleshooting problems and advice when it comes to choosing the best solution for particular installations. PowerHouse Alliance members work to schedule training and informational events that provide valuable education opportunities and introduce new products across home control, audio, networking, and other consumer electronic categories at their many convenient locations across the country." —Dennis Holzer, Executive Director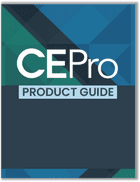 CE Pro's 2022 Product Guide showcases some of the latest and innovative solutions from manufacturers serving the custom electronics industry in a cross-section of categories.
Download the guide now!
---
Best Technical Support
PLATINUM: Skywalker AV Supply
"Our industry experts are committed to helping dealers troubleshoot and resolve any problems they might encounter on the job. In addition to a wide range of product knowledge and installation advice, our team is dead set on providing solutions
at critical times. For that reason, the Skywalker tech team is always on-call and ready to offer on-demand support." —Randy Criebaum, President
GOLD: Future Ready Solutions
"Future Ready Solutions' founding principles are based on assembling and testing brands of connectivity solutions that are proven to work together — period. So our technical support starts even before the purchase is made. We provide consultative services for design and sales on both on our website and over the phone, and welcome and encourage our customers to contact us early, and oft en. Our motto is 'Don't install a service call.' When a technical issue does arise, we have direct hotlines to dedicated technical support all our brands and will conference the field technician in with our contact in real-time, if necessary." —Eric Bodley, President
SILVER: Allnet/SnapAV
"At Allnet, we believe the most important recognition we can receive is from our customers, so we're honored that integrators value our Technical Support team so highly. The bottom line is that no one on our team considers the sale complete until your product is installed and operating to expectation, and we promise to uphold that level of support in the years to come." —Wally Whinna, Allnet President
---
Best Shipping Policies
PLATINUM: Skywalker AV Supply
"Our platinum-rated shipping policy is tough to beat and popular among dealers. We have amazing wholesale prices and offer free freight on orders over $750." —Randy Criebaum, President
GOLD: Ui Supplies / PowerHouse Alliance
"Ui Supplies is a family. We are the local guys and we understand how our area ticks. The adage often used in business that 'time is money' rings true for all. In the NYC Metro area, labor costs add up faster than anywhere in the world, and we feel service is the most important value that a
distributor can bring to the local installers. Having our own delivery vehicles helps to give us the leg up on our competition as well as priding ourselves on making things happen for our customers. Building in this area takes a full team effort and at Ui we are proud to be a trusted part of the construction process." —Patrick Berna, COO
SILVER: KOA/ PowerHouse Alliance
"Needed a product first thing in the morning. KOA CCTV manager went to the L.A. store at night to get it to me in the a.m. in Anaheim!" —Verbatim comment from reader
---
Best Website
PLATINUM: Audio America/ PowerHouse Alliance
"Over the last year the team has worked really hard to produce a best-in-class website. Our new and improved site provides dealers with access to rich and accurate content, real-time inventory, enhanced search capabilities and web only manufacturer promotions. Additionally, we are proud to be the only distributor to off er a free freight program with no minimums. Our website is just one of the many ways we are taking distribution to the next level." —Jonathan Elster, CEO
GOLD: Anixter
"The Anixter team has exhibited fantastic customer service whether it is defective product, returns or questions regarding product availability." —Verbatim comment from reader
SILVER: Skywalker AV Supply
"As a nationwide supplier, having an award-winning website is a big deal for us! Our goal is to provide the dealers with a top-notch user experience and connect them to everything they need. Once signed up, they gain access to over 5,000 products along with exclusive content and product support such as images, descriptions, specs and videos. Custom features also allow dealers to build projects, create bids, fast-track ordering and more." —Randy Criebaum, President
---
Best Training Programs
PLATINUM: ADI
"Education and training are major focus areas at ADI. For more than 25 years, we have hosted the ADI Expo Series to give our customers a chance to see and test the latest technologies, meet with manufacturers, attend seminars and earn industry credits. The ADI Expo is free to all industry professionals, and our 2020 Expo schedule is set to visit more than 40 cities across North America. In addition, we continue to work with our supplier partners and industry associations to provide training opportunities at all our branch locations." —Marco Cardazzi, Global VP of Marketing, ADI Global Distribution
GOLD: Future Ready Solutions
"Our training programs are engaging, educational and based on real takeaways that attendees find useful for months and years to come. We offer frequent webinars, and have robust library of online training, installation and 'how-to' videos. We also participate in all the CEDIA Tech Summits and several training events hosted by our network of local rep firms." —Eric Bodley, President
SILVER: Volutone/SnapAV
"Offering first-class local training is an important way to build on our partnership with dealers. At our free monthly training events, dealers receive hands-on demonstrations and certifications in key categories like networking, control, automation, and more. We even offer special discounts, giveaways, and great food on training days. Dealer education is our number one priority at Volutone, and we promise to maintain that commitment going forward." —Trevor Hansen, Volutone President
---
Best Dealer Programs/Incentives
PLATINUM: Tech Source Distributors/Catalyst AV
"Tech Source Distributors has been great with letting us know when discounts are available when placing orders, or when is the best time to place an order to get the most savings They are also more interactive with us in term of real-world 'in the trenches' type of feedback and support the brand they carry." —Verbatim comment from reader
GOLD: PowerHouse Alliance
"The PowerHouse Alliance distributor members provide dealers and integrators with monthly product incentives and excellent warranty policies. Weekly specials on hot products across the AV, security, consumer electronics, and networking categories give dealers and integrators an incentive to buy from the PowerHouse Alliance. PowerHouse also incentivizes its dealers by off ering an industry-leading 10-percent quarterly rebate on our personal A2V line of high-quality TV mounts, certified HDMI cables, AV racks, custom speakers, powered subwoofers, and other AV products and accessories." —Dennis Holzer, Executive Director
SILVER: Volutone/SnapAV
"The Volutone Rewards program is one of the many ways we thank our dealers for their loyalty. With low minimum thresholds and significant payouts at preset tiers, our program helps a dealer grow their business while taking the guesswork out of being rewarded. Our user-friendly dashboard makes it easy for dealers to check their progress and see how close they are to a payout. Plus, we make sure our team is always available to answer questions about new opportunities or product categories." —Trevor Hansen, Volutone President
---
Best Trade Show Presence
PLATINUM: ADI
"ADI's trade show presence is carefully designed to help our customers build complete, integrated systems. Visitors to ADI's booth can find our comprehensive product offering from leading supplier partners, and our trade show sales staff are some of the most knowledgeable and well-trained professionals in the industry. In addition, we're excited about our recent acquisition of Herman ProAV and our expanded AV capabilities will be incorporated into our trade show presence to help our customers expand into new categories and services, and capitalize on the growing pro AV segment." —Marco Cardazzi, Global VP of Marketing, ADI Global Distribution
GOLD: PowerHouse Alliance
"Trade shows are one of the only times each year where all of our members come together in one location alongside our vendor partners. Participating in trade shows like CEDIA Expo allows the PowerHouse Alliance to bring a local touch to our national distribution company. Trade shows are a great time for us to connect with our dealers from all regions to discuss their programs and facilities. Dealers can see new products and demos from our Tier 1 vendors across AV, networking, security, and consumer electronics, as well as our personal A2V line of high-quality TV mounts, AV racks, certified cables, custom speakers, and powered subwoofers, at every trade show." —Dennis Holzer, Executive Director
SILVER: MRI/SnapAV
"We love giving our customers and suppliers the chance to learn about the industry's latest products and network with manufacturers and integrators at the MRI Expo, the leading regional custom integrator event in the Northeast. Last year's keynote event on the future of 8K and hands-on demonstrations and training seminars from 70 leading manufacturers gave attendees immediate solutions they could use to help grow their business." —Robert Dean, MRI President