For David and Alissa Huse, operating Theater Advice is certainly a family affair. The duo has found an ideal delineation of responsibilities for their Frisco, Texas, operation that leverages both of their strengths to create a growing custom installation business. The results of their success can offer some solid lessons for other family-run operations where it can sometimes be difficult to know when to devote the proper time and energy to personal versus professional needs. 

In business for 14 years, Theater Advice has found a solid niche in the highly competitive Dallas-area market with a retail storefront, a solid slate of homebuilder clients, and an increasing focus on the motorized shade market. Indeed, the company's shade control business has become so successful it has led to a spinoff website devoted entirely to the category. 
But all that success did not come easy. When David Huse launched the company, he was the epitome of a one-man shop, handling sales, installation, marketing, finance, procurement, service, etc. Meanwhile, Alissa was pursuing her own career as the vice president of a large financial company.
"I used to work 110 hours per week," he notes. "I'm not kidding. I slept three hours per night and worked every other second of the day. That's just how I am."
Eventually (and at Alissa's suggestion), David began hiring a team for sales and installation. Slowly and reluctantly, Alissa started helping out by doing some of the payroll and accounting.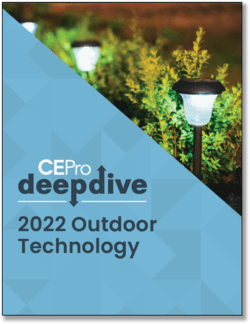 The 2023 CE Pro Outdoor Technology Deep Dive reveals unique set of impediments, including explaining pricing and interacting with outdoor-centric trades.
Get your copy now to take a "deep dive" into the trends and challenges of outdoor technology.
Download the report now!
"David was making money and was successful, but it was chaos — and I can't stand chaos," she quips. "Our life runs very efficiently and that's how I want the company to run as well. I don't want it to be Corporate America, but it's got to be somewhere in between the two things. So I just started to get more involved as much as I could."
Life Partner Becomes Business Partner
Starting in 2017, Alissa began taking on a more active role. Today, she is the full-time managing director of operations, having retired from her banking job.
"The company is to a point where it needs to be managed a little bit tighter to optimize on this growth trajectory that we have in our brains. I needed to come on board to move things in the right direction," she says.
For David, having his life partner alongside as a business partner has been a godsend.
"We would have no employees if it was up to me. It took Alissa to say, 'Do you know we need to hire people?' I had to hire four people immediately just to make me not feel completely insane. That's only as of two years ago. Since then, the growth has been exponential," says David. Today, Theater Advice has 11 employees.
"Alissa is such an integral part of what we do. People see me as the face of the company, and I think she prefers that … even though she's a lot prettier than me," chuckles David. "The reality is that she does everything it takes to run the business. She came into that role because I either wasn't doing it, wasn't doing it enough, or wasn't doing it well. I'm just a salesman when it comes down to it. I'm an old computer guy."
David says it's not coincidental that the company's growth took off when Alissa took on a greater role. It has converted his thinking of a sole entrepreneurial situation is the best path forward.
"In the end, I don't believe anybody can run a business on their own," he concludes. "You either need to hire somebody like Alissa or marry someone like her. I just got lucky. I don't want to sound goofy, but I don't believe a man can truly be what he's supposed to be without a good woman. I think you can be successful, but I think there's always some kind of gap or hole there.
"Even if you go through your whole life and make millions of dollars, I believe you would have been twice as successful. You need a partner … my partner just happens to be good at business," he says.
Keys to Successful Partnership
According to CE Pro data, 38% of integrators report they have a family member involved in the business. Among those businesses in which family members are working alongside each other, just over half (52%) are husband-and-wife partnerships. So how can spouses spend all day together at work and then all evening together handling four kids without getting frustrated? 
Alissa says the key is to keep things as separated as possible, including even the proximity of their desks at work.
"We try to keep things as separate as possible. I think in the beginning there was a little tension. I remember saying to David once, 'Talk to me like you are talking to your accountant, not your wife.' I work from the office, and David works out of the store, which is in a different location," she says.
"I also never question why he is doing something a particular way that I might disagree with, such as a conversation on the phone or an email with a client. I might offer my opinion to him about what I heard or saw in the email, but I might be a different type of consumer than the client is."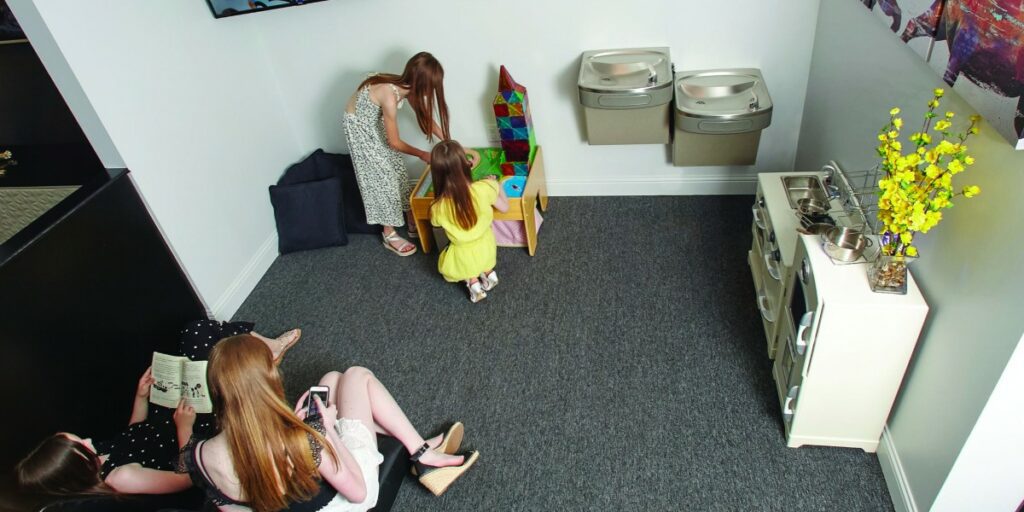 David says Alissa's different viewpoints are welcomed.
"Her outside opinions actually add to my strengths," he says. "I have always liked that." One direct example of utilizing her advice is the creation of a kids' area in the showroom.
"It's very cool … we've devoted a space for a play area," he says. "When customers come into the store with their kids, I show them the playroom and they love it. They're building structures with Magna-Tiles and Legos, and watching Netflix uninterrupted for two hours. Literally 100% of the time, the parents have to drag the kids out of there. I would never that thought about creating an area in the showroom for kids to play. Alissa did that."
Having the designated play area allows the Theater Advice team to have the complete focus of the customers during the sales presentation and demos.
Alissa adds, "If they've got a kid tugging on their pants because they're bored and they don't want to be there anymore, it's counterproductive. This way, we don't lose any sales time."
David adds, "We run the business as a family, so we look at everything in that way. How would a family like to shop? Most of our clients have kids and they are coming to the store with their kids on a Saturday. Those kids now have someplace to go."
So what about their own kids coming into the business? David and Alissa say only one of their four daughters (Carys, Arleigh, Isla and Arden) is showing any interest in the custom electronics business at this point. The family structure of the business is something that Alissa says is beneficial when talking with clients.
"They see that they are dealing with a family, not just a business. We have it up on our website prominently," she adds.
Retail Store Idea Comes to Fruition
The Huses first began discussing the idea of opening a retail storefront way back in 2012, but it didn't happen until 2017.
"We looked at a few commercial spaces to lease, but it's very difficult to enter that market. You take on a huge risk. You take on more employees and spend a lot of money," says David.
The thought process behind opening up a retail store was to help differentiate Theater Advice from the competitors, of which Huse claims there are thousands of businesses offering custom installation services in the Dallas area. Huse didn't want to necessarily capture retail foot traffic, but to attract potential clients who would see the retail store and conclude Theater Advice is a more-established business, and thus opt to work with them instead of another company.
"We got a little spooked," Alissa recalls. "We had babies at the time and we had a great life. But we knew that if we didn't do it, we would feel like we were missing out on something. It was terrifying. It was a lot of money and if it doesn't work, you're screwed. I pushed David more than I normally would to open the store."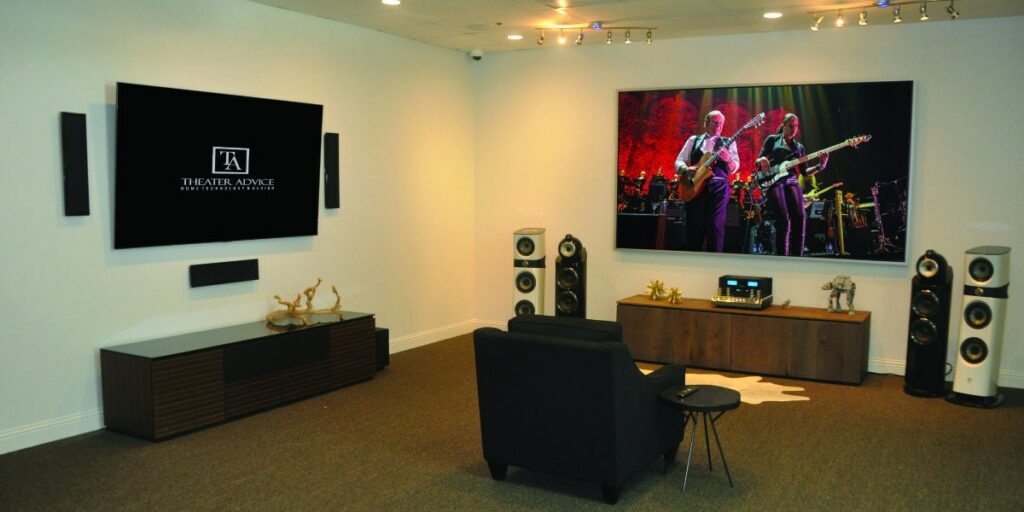 After looking at hundreds of potential locations, the Huses opened their first store … in what proved to be the "wrong spot."
"We made some rookie mistakes," admits David, including hiring several ineffective employees and most importantly, choosing a storefront on a busy high-traffic street that wasn't easy for customers to see because it was shrouded in trees and in a convoluted shopping center with restaurants and other stores.
"I don't think we ever once had somebody walk into the store who said, 'I was just next door eating a burrito and decided to stop in.' The shopping center did not have the types of stores where our clientele would go," says Alissa.
Soon, Theater Advice moved to its current 2,300-square-foot location designed not necessarily to attract walk-ins but to cater to more client appointments. It's farther outside the city, but closer to the areas where many new homes are being built around the Dallas area. 
The new location also has a larger sign and unique interior design. There are two home theater areas inside, including one $25,000 option with a 150-inch SI screen. The other theater area is actually five theaters in one, according to David, because it allows him to switch among four different sets of surround-sound speakers, as well as a pair of speakers behind an acoustically transparent screen. 
There is an upfront vignette for 2-channel audio listening outfitted with speakers from Bowers & Wilkins and DALI, along with McIntosh and Rotel components. The showroom also has an area to showcase motorized shades, plus a rack-building area. 
Truly living up to its name, the company is having great success selling home theaters and media rooms, especially during the pandemic, with about half of their sales related to home theaters.
Using the showroom for demos, David estimates 50% of those home theater clients upgrade from wanting a TV display-based theater to a projector-based room.
Ultimately, the family-friendly Huses have created a welcoming environment for customers that's translating to the bottom line. "The showroom is open and airy … it makes you feel comfortable when you walk into it," says Alissa