If you haven't noticed, CE Pro recently introduced a podcast.
The CE Pro Podcast debuted several weeks ago, and we've already had some great guests, including Tabatha O'Connor, president and CEO of CEDIA; Dan Fulmer, CEO and founder of FulTech Solutions; Hagai Feiner, founder and CEO of Access Networks; Alexa Camara, CEO of AudioControl; John Clancy, VP of residential, Crestron; Alex Capecelatro, CEO, Josh.ai; and Kyle Steele, president of Global Wave Integration.
Besides using the podcast to discuss the latest industry trends, along with industry news and current events such as tradeshows, we're introducing a new component to highlight another side to the people: Industry's Got Talent.
Industry's Got Talent is not something new for CE Pro — we've discussed the musical talents of industry members in past stories. Some of the most recent ones focused on the CE Pro All-Star Band members. These profiles were published throughout the summer months of 2019 and they led up to the CEDIA Expo 2019 show, where the band played nearly 20 songs.
Now, through the podcast, we wrote to highlight the talents and hobbies of industry folks extend beyond our common expertise of home theater, networking, lighting, security, audio and more by offering up-close interviews that will whenever possible include demonstrations of their skills.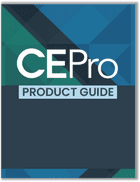 CE Pro's 2022 Product Guide showcases some of the latest and innovative solutions from manufacturers serving the custom electronics industry in a cross-section of categories.
Download the guide now!
CE Pro Podcast Spotlights Personalities
Before mentioning the guests to kick off Industry's Got Talent, we are inviting industry members with all kinds of skills that they lovingly enjoy when they aren't working to participate.
This means if you cook or create music and art; if you practice martial arts such as Kyokushin, Brazilian Jiu Jitsu, Muay Thai, judo, Jeet Kune Do, please contact us. If you are a hardcore skier, snowboarder, swimmer, golfer; if you practice yoga, or even if you are a master Lego builder — contact us, we'd love to chat with you.
Our goal is to show a different side of the custom electronics industry. We know it's filled with a wealth of personalities and interests and we want to put a spotlight on these hobbies/activities.
Kicking off Industry's Got Talent is a member of the CE Pro All-Star Band: singer/songwriter Camila Ballario of Leon Speakers. Others in the coming weeks will include Micah Sheveloff of WIRC Media, Tim Bigoness of D-Tools, Kim Lancaster of Caster Communications and more, so stay tuned and share your talent with us.