The ProSource buying group welcomed the first class of 25 attendees to the inaugural Lighting Technology Certification (LTC) Level 2 hands-on two day training at the new Lighting Technology Learning Center at the Dallas Market Center. The exclusive ProSource Certification program was announced last summer when the online Level 1 Certification went live on the proprietary ProSource University LMS platform. Hundreds have begun the training and 98 have completed the requisite coursework to qualify for the Level 2 training.
"The first live Lighting Technology Certification Level 2 training event was a huge success for attendees and our vendor partners including AiSPiRE, a WAC company; Colorbeam Lighting; DMF Lighting; Proluxe by American Lighting; Savant/USAI; and Vantage," says Andy Orozco, vice president of business development at ProSource. "We were joined by the ProSource Lighting and Shading Committee Chairman, Jonathan Wesco, President of Allegro Home Entertainment, and David Warfel and Mark Langston, both of Light Can Help You, a lighting design firm and exclusive ProSource partner for education who designed the space."
The reaction from attendees was positive.
Jesse Wolch, an installer at AVX, noted, "This training was truly eye opening. You don't know how good light feels until you experience this place. Truly, you have to see it in person to appreciate it."
"I would say that the LTC is a visual delight," says Lisa Carta, client service executive, ETC. "Mark and David literally bring light to life with their demonstrations.  Anyone who has the privilege of learning from them at the LTC will see the difference that correct lighting makes!"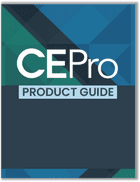 CE Pro's 2022 Product Guide showcases some of the latest and innovative solutions from manufacturers serving the custom electronics industry in a cross-section of categories.
Download the guide now!
"It's one thing to see training videos or photos of poor, good, or great lighting implementations, but seeing the Lighting Technology Center (LTC) in person was a much more thrilling and life-changing experience," adds Ted Rackley, AV & lighting specialist, Bjorn's AV & Lighting Smart Home Automation. "It really helped me and my team 'get it' in a way that we had not quite understood before experiencing the LTC. I feel much more confident now, and I am a thousand times more enthusiastic about providing the newest lighting technologies to my own clients. We fully intend to build a new lighting design space in our smart home/showroom for our customers to experience."
ProSource vendor partners also weighed in on the event.
"Attending the LTLC Level 2 Training in Dallas was a great experience for the Proluxe team! From touring the light lab to attending the breakout sessions on design, commissioning, and sales, it provided a wealth of information for dealers entering the lighting fixture market," says Jennifer Kirkpatrick, national sales manager, residential lighting, Proluxe by American Lighting.
"As a vendor, we valued getting feedback from integrators about the obstacles they're facing, as they start to sell and install lighting. Our biggest takeaway was 'Keep It Simple.' Whatever you can do to make it easier for the dealer, the better. By providing layout services, simplifying the ordering process or making the product more installer-friendly, will only make it easier for the dealer to break into the market faster. We appreciated the time and effort that ProSource put into making this training a success. We look forward to attending more trainings as they become available."
"David [Warfel], Mark [Langston], and the ProSource team did a fantastic job preparing, structuring and delivering this two-day educational session," notes Mike Teolis, president, Colorbeam. "In speaking with various attendees, it allowed them to get hands-on experience with products as well as seeing and understanding what a well-lit space looks like and the benefits to the homeowner. In addition, attendees and vendors were able to share valuable ideas and insight as together we move forward into the world of lighting."
"The first LTC Level 2 Training was well organized and the attendees were fully engaged with 100% attendance at each of the scheduled training sessions," says Dave Keller, VP sales and service at Legrand Shading and Residential Controls. "We learned a lot about the participants' businesses at our Vantage-hosted dinner and enjoyed the open discussion about what they learned during the day and appreciated the opportunity to respond to more questions about our products. Thanks to ProSource for allowing vendor sponsors to attend general training sessions as well as other company's sessions."