Now that Tom Brady has hung up his cleats for retirement, he might find solace at his own TB12 Performance & Recovery Center in Boston outfitted with the latest high-tech gear. Back in 2020 Boston-area integrator KORE used an array of Nortek Control gear last year to bring the multizone commercial installation to fruition with control, presentation and protection of audio, video and media distribution for the downtown facility.
For KORE, seamless integration assured the maximized interoperability to facilitate the installation and provide better user experiences throughout the project. The retail location where TB12 Performance & Recovery Center is located enjoys some of the busiest foot traffic in Boston.
Maximizing the visibility and leveraging this prime location required expertise from an experienced, all-star specialty team. Included in the impressive showcase they created is a 16-foot-wide by 9-foot-high video wall that is active 24/7 and faces the Boston Marathon finish line. The entire project was designed and installed by Boston-based KORE installation firm which is operated by founder Ronnie Zielinski.
The original plan called for an AV system and control via an Elan control system, but that quickly escalated to a video wall with major impact when TB12 ownership learned how a large videowall could attract attention in their high-traffic location. Powered by the Elan control system and Xantech's Video-over-IP solution, the nearly seamless 4×4 panel video wall covers the lobby's entire front-facing wall with 16 LG narrow-bezel 55-inch monitors. KORE programmed multiple options for the video wall, enabling its use as a single large display, a quad-screen formation or a center display with 12 surrounding displays.
"The ELAN control system was the ideal choice because the user interface is intuitive to use, simple to program and consistent across all controllers," said Ronnie Zielinski. "Plus, the products are backed by a team that delivers outstanding technical support and end-to-end connectivity that is so critical to these major projects.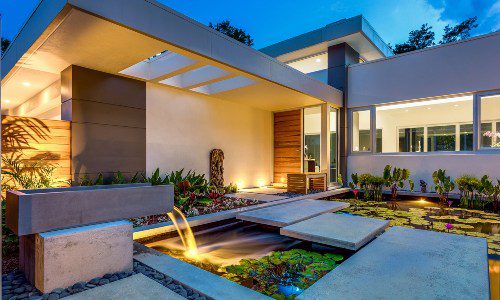 Landscape and architectural lighting create a magical and elegant ambiance for homeowners. The outdoor lighting industry has always been a phenomenal one and continues to grow in popularity. Now is the ideal time to learn more about this rapidly growing and highly profitable industry. Join our panel of esteemed lighting experts that will dive into why it's time for integrators to rethink their role in the outdoor lighting industry.
Register Now! 
"Because of this advantage, it is easy for TB12 staff to access various content sources for the video wall through the ELAN mobile app or a nearby ELAN in-wall touchscreen, providing instant access to promotional videos, marketing messages, cable TV and other content."
In addition to the AV equipment, KORE also installed a robust, enterprise-grade wireless network to ensure that every client, trainer and guest has a 100 percent reliable, fast connection for any online needs they may have while on site. The main components of the Elan automation system are a powerful Elan gSC10 System Controller and an ELAN S86A Integrated Multi-Room AV Controller. The video wall relies on 16 Xantech Video-over-IP receivers along with three accompanying transmitters. Additional products in the project include: Sonos Connect, Access Networks Controllers, Sony XBR TVs, an LG Video Wall Monitor and others.
TB12 is a comprehensive, customizable training method that maximizes the potential of athletes at any age and at any level. At TB12 Performance & Recovery Center, professional body coaches translate each client's complete biomechanics and unique goals into comprehensive, customized, sport-specific and position-specific programs that integrate revolutionary concepts in athletic preparation, recovery, nutrition and cognitive training.
"We had a major opportunity to maximize the impact of our storefront space both to draw people in and to serve our patrons," said Jeff Surette, Senior Vice President of TB12. "It had to be emblematic of the TB12 brand and simultaneously integrate a component that really popped. We wanted something as dynamic and eye-catching as possible – to tell the story of our brands for clients, customers and passersby," he continued.
TB12 felt comfortable selecting KORE and Ronnie Zielinski because he understood exactly what we wanted to accomplish and knew the level of quality and attention to detail required. Ronnie was the logical choice since he was already familiar with people involved with TB12.
Based in Massachusetts, KORE is an accomplished systems integration firm based on nearly 20 years of experience and specializing in the design, installation, and support of simple to use, high quality technology products. KORE works with architects, builders and interior designers on all sizes of residential and commercial projects for a broad client base throughout the U.S. For more information about KORE, visit www.korecontrol.com.
Full Equipment List:
Elan GSc10 Controller
Sonos Connect x 3
Elan GKP7 x 3 Keypad
Elan GTP7-W Touchpanel
Elan S86A Audio Controller
Wattbox IP Controllable Power Conditioner x 3
Omnimount Rack x 2
Xantech Video Over IP Controller
Xantech Video Over IP Transmitter x 3
Xantech Video Over IP Receiver x 16
Episode 70v Hybrid Amplifier x 4
Araknis Gigabit PoE Network Switch x 3
Axis 16 Channel Surveillance NVR
Axis M2026 Surveillance Camera x 6
Axis p3717-PLE Four Channel Multi-Directional Camera
Sophos XG125 Firewall/Router
Access Networks A510 x 7
Access Networks C120 Controller
Episode 800 Series 70v Pendant Speakers
Episode 800 Series 70v In-Ceiling Speakers
Sony XBR TV's x 5
LG Video Wall Monitor x 16
Peerless Video Wall Mount x 16
Click here to see more photos of the tech inside the TB12 Performance & Recovery Center!
If you enjoyed this article and want to receive more valuable industry content like this, click here to sign up for our digital newsletters!