Aomed Najafie of PowerhouseAV, Arlington, Va., is the top seller of Stealth Acoustics LRX-85 speakers. CE Pro had a chance to chat with Najafie to talk about how invisible loudspeakers have become such a big part of PowerhouseAV's business.
Tell us a little about PowerhouseAV.
We founded Powerhouse AV in 2015. I used to work for a big-box retailer; I was really good at my job and never got the chance to be promoted. I took some seed capital from two of my clients and opened up my own firm. We've grown ever since; I bought out the two investors and now fully own PowerhouseAV.
We do everything from smart home to motorized shades and lighting, and do some light construction as well. We're in the DC metro area and strictly focus on high-end residential and hospitality, restaurants.
How did you get started selling invisible speakers?
I like everything to look really nice. One day I went into the Louis Vuitton store to by my wife an overly expensive purse and I noticed they had sound coming from everywhere and I couldn't see anything. I went to one of my client's homes that day, and they were working with a high-end architect and interior designer. I pitched them invisible speakers.
I had hung out with Chris [Pruet, sales and social media management, Stealth Acoustics] at CEDIA Expo in Denver, he told me how invisibles were going to take over the market — and he was 100% right, it seems like everybody's using them now. They've increased our overall customer satisfaction by so much.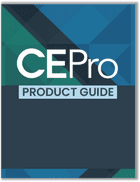 CE Pro's 2022 Product Guide showcases some of the latest and innovative solutions from manufacturers serving the custom electronics industry in a cross-section of categories.
Download the guide now!
Having [Stealth Acoustics LRX-85 invisible speakers] in a real home where people actually live in, where there's carpet, there's furniture and you have a real person giving them a testimonial. Once you show the product and they hear the client, they're doing all the sales for you.

Aomed Najafie, Powerhouse AV
Once we pitched the architect, the architect started pitching for us. Usually, the wives are just so happy. You get the best of both worlds, you get to make your spouse happy and you get high-quality, premium audio. For us, it's an increase in margin, it's an increase in revenue because we're doing more labor, it's the total package. I'd say 80% of our work is retrofit, so we have to cut, patch, and paint … the good thing is we handle everything in-house.
You're working on getting a showroom in place; how do you pitch invisible speakers currently?
My favorite thing to do … I just did a theater room for an NBA player up in McLean, Va., and he was asking if it was finished. I said, 'Let's go check it out.' I asked him what he thought of the speakers and he said, 'Are you crazy? There are no speakers in here.'
I fired up the Control4 system, played a movie for him and he was mind-blown. It was a 9.2 LRX-85 setup with B30G subwoofers, AudioControl amps and preamp … it sounded like a damn IMAX. We always start with the LRX-85 and sell from the top down. I put an Avengers movie on for him, and he couldn't believe it.
You're the top Stealth LRX-85 dealer in the country, but you say you don't truly demo the product?
When I have a really big potential client, I always use another house and have another client advocate for me. We've done such a wonderful job and have such good relationships that they allow us to use their home as a showroom.
That's the best thing, because anybody can have a space where people can come and listen, but having it in a real home where people actually live in, where there's carpet, there's furniture and you have a real person giving them a testimonial. Once you show the product and they hear the client, they're doing all the sales for you.
I always show them this house in Georgetown — the home used to belong to Thomas Jefferson — it was like a $3 million renovation and the whole home has LRX-85s (eight zones) and LRX-83s (three zones) and some surrounding applications. I go in there, I first demo the 85s and the 83s, and the client says it's always worth the extra money to get the 85s.
Is a PowerhouseAV showroom in the works?
We actually acquired a building in DC, a row house in Georgetown, so my plan is to make that into a showroom. There are some zoning things we have to get through because it's going to be a mixed-use commercial. I'm going to make it like an IKEA where you have a kitchen, living room … and I'm going to have each room designed by a different architect, and each room will have different equipment based on the design.