Wireless multiroom audio provider Sonos has filed suit against Google, claiming the company infringed on multiple patents.
In case No. 2:20-cv-00169 filed on Jan. 7 in U.S. District Court for the Central District of California, Sonos alleges that Google infringed upon five of the 750+ patents the audio company has been granted since its founding in 2002.
Specifically, the "patents in-suit" Sonos alleges that Google infringed upon are: nos. 8,588,949; 9,195,258; 9,129,959; 10,209,953; and 10,439,896.
As briefly described per the 95-page lawsuit, the patents cover prominent aspects of wireless multiroom audio products and system setup such as "how to set up a playback device on a wireless local area network, how to manage and control groups of playback devices (e.g. how to adjust group volume of playback devices and how to pair playback devices together for stereo sound), and how to synchronize the playback of audio within groups of playback devices."
---
---
The companies worked together to integrate Google's Play Music service into Sonos' platform back in 2013, which is when Google became familiar with Sonos' patented technology, it notes in the filing.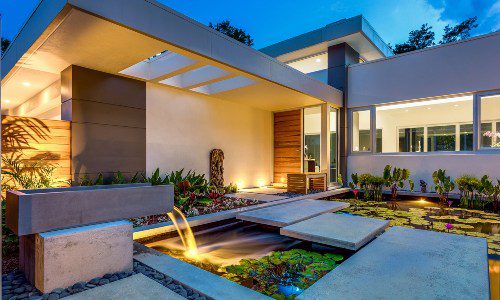 Landscape and architectural lighting create a magical and elegant ambiance for homeowners. The outdoor lighting industry has always been a phenomenal one and continues to grow in popularity. Now is the ideal time to learn more about this rapidly growing and highly profitable industry. Join our panel of esteemed lighting experts that will dive into why it's time for integrators to rethink their role in the outdoor lighting industry.
Register Now! 
Two years later in 2015 – and a decade after Sonos brought its first products to market – Google came out with its Chromecast Audio wireless multiroom device and since that time, "Google's misappropriation of Sonos's patented technology has only proliferated," Sonos claims.
Sonos says it warned Google about infringement activities back in 2016, yet the company continues to roll out products. Google's wireless multiroom audio lineup includes products such as the Google Home Mini, Google Home Max, Google Home as well as its Pixel devices that facilitate the technology, Sonos notes.
Previous Patent Infringement Lawsuits
The suit filed against Google is the latest legal action taken by Sonos to protect against infringement of its intellectual property.
The pioneering audio company, which has dominated both the mainstream consumer audio market as well as the custom integration channel (incredibly, last year it ranked no. 1 in the categories of wireless speakers, floorstanding/bookshelf speakers, soundbars, audio amplifiers, media servers, subwoofers and multiroom AV systems among the CE Pro 100 Brand Analysis), has engaged in lawsuits against multibrand audio companies Sound United and Lenbrook in recent years.
A settlement for an undisclosed amount was reached with Sound United in 2018 following a legal process that included Sonos suing over four alleged patent infringements by Sound United company Denon's HEOS wireless multiroom audio brand dating back to 2014. A jury had ruled against Denon on three of the claims in December 2017 and ordered it to pay Sonos $2 million.
Meanwhile, an ongoing legal matter between Sonos and Lenbrook involves seven patents that Sonos alleges willful infringement upon by the parent company to brands that include Bluesound, NAD Electronics and PSB Speakers plus the BluOS wireless platform and app. Lenbrook offered a pointed response to the suit, for which the parties have a March court date (you can read the full document here).
Multiroom Functionality Added 'Popular Audio Feature'
"Over the years, we have had numerous ongoing conversations with Sonos about both companies' IP [intellectual property] rights and we are disappointed that Sonos brought these lawsuits instead of continuing negotiations in good faith," a Google spokeswoman told Bloomberg Law. "We dispute these claims and will defend them vigorously."
Sonos notes in its suit that while Google's original Chromecast Audio launch did not include multiroom functionality, a software update made available soon after added the capability.
"Google clearly understood the importance of this popular audio feature," the lawsuit states, adding that media outlets such as Variety's coverage of the software update prominently included comparison's to Sonos.
Among its examples of infringement, Sonos points to language used by Google to tout the multiroom update to Chromecast Audio, in which the company "proclaimed that '[n]ow you can easily fill every room in your home – bedroom, kitchen, living room, or wherever you have a Chromecast Audio connected – with synchronous music. Multi-room lets you group Chromecast Audio devices together so you can listen to the same song on multiple speakers …"
It's something Sonos had offered for a decade through products such as its Play speakers, soundbar and subwoofer.
In a comment to The Verge regarding the lawsuit, Sonos CEO Patrick Spence says: "Google is an important partner with whom we have collaborated successfully for years, including bringing the Google Assistant to the Sonos platform last year. However, Google has been blatantly and knowingly copying our patented technology in creating its audio products. Despite our repeated and extensive efforts over the last few years, Google has not shown any willingness to work with us on a mutually beneficial solution."
If you enjoyed this article and want to receive more valuable industry content like this, click here to sign up for our digital newsletters!