Fresh off its lawsuit wins against D&M Holdings' Denon HEOS wireless multiroom audio system, Sonos, Inc. (Nasdaq: SONO) is suing again. This time the target is Lenbrook Industries Ltd. and Lenbrook America Corp., maker of the Bluesound and BluOS products and platform for wireless audio.
Sonos alleges Lenbrook infringes on seven patents, including the two patents that D&M was found in a jury trial to have willfully infringed. Two other patent-infringement claims in that case – also involved in the Lenbrook lawsuit – were settled out of court.
Sonos says it sent Lenbrook a notice of infringement on 70 patents in November 2018, including the seven in the current suit. This month, Sonos sent another notice of infringement on 45 other patents.
In the lawsuit, Sonos waxes at length about its position as "an innovator and industry leader in the field of wireless audio technology." The Santa Barbara, Calif.-based company "reinvented home audio for the digital age."
RELATED: Sonos Defeats Denon HEOS Again: Understanding the Patent Lawsuits
We know this, according to Sonos, because PC Magazine described an early product as "the iPod of digital audio." Consumer Reports praised the company because it "not only helped to invent the wireless speaker category, the company also set the bar for performance, ease of use, and flexibility." What Hi-Fi wrote, "Sonos is king, but there are pretenders …." And Digital Trends agreed: "Sonos is the king of multiroom audio."
Sonos was founded in 2002. Lenbrook launched Bluesound in 2013. Prior to that, the Ontario-based company was a Sonos distributor in Canada from 2007 to 2008, so they "had intimate knowledge of Sonos's wireless audio products and technology since at least 2007."
"Defendants' experience as a Sonos distributor was a catalyst for Defendants' decision to launch the Bluesound System in 2013 …"
— Sonos patent-infringement claim against Lenbrook
Allegedly, "Defendants' experience as a Sonos distributor was a catalyst for Defendants' decision to launch the Bluesound System in 2013 and to target the wireless audio market that Sonos created."
Plaintiff charges: "Instead of innovating to compete fairly with Sonos, however, Defendants have merely copied Sonos."
(Here's where Sonos's patent-infringement claims always get a little silly: Digital Trends said Bluesound is "aimed squarely at audio fans who like the Sonos model." Sound and Vision asked, "Is Bluesound an Audiophile Sonos Killer?" And What Hi-Fi declared, "The first genuine threat to Sonos was Bluesound." Ergo, Lenbrook willfully infringed on Sonos patents?)
Then Sonos demonstrates how Bluesound products look like their Sonos counterparts, and notes that Electronic House commented, "The Pulse ($699) is Bluesound's all-in-one speaker unit, similar to the Sonos PLAY:5 or PLAY:3."
Filing its claim (2:19-cv-5411) in the Central District Court of California, Sonos is asking for an injunction on allegedly infringing Lenbrook products, as well as an award for damages and an enhancement of damages for "willful infringement."
In response to CE Pro's request for a statement, Lenbrook said: "We understand that there was a patent infringement lawsuit filed against Lenbrook. We have not been served with the complaint. We have retained legal counsel and are in the process of investigating."
Sonos Patents-in-Suit: The Two Big Ones
The two patents-in-suit that sank D&M were 8,588,949 and 9,195,258. The crux of these patents is that conventional multiroom audio systems (pre-Sonos) had passive speakers tethered to a centralized controller, so users could not control the speakers/zones independently. (More analysis on the patents here.)
Sonos's paradigm was a network of connected, intelligent, powered speakers/amps that could communicate independently with a central controller/source and with other networked speakers.
The controllability of individual speakers (zones), along with the audio synchronization across speakers, are the inventions that made Men's Journal gush in 2015: "Sonos almost singlehandedly established the stand-alone wireless home speaker system category."
'949, entitled "Method and Apparatus for Adjusting Volume Levels in a Multi-Zone System," covers devices and methods for controlling multiple music players on a local area network:
At the core of the '949 Patent are aspects of Sonos's unconventional system architecture – a "controller" and a plurality of "independent playback devices" (e.g., "zone players") communicating over a "local area network" (LAN). Further, unlike the "pre-configured and pre-programmed controller[s]" used to control conventional "centralized," "hard-wired" multi-zone audio systems, the '949 Patent's "controller" devices were unconventionally capable of controlling any "zone player" in the system from anywhere in a user's house via the LAN, such as by dynamically "grouping the zone players" and "control[ling] the volume of each of the zone players in a zone group individually or together.
'258, entitled "System and Method for Synchronizing Operations Among a Plurality of Independently Clocked Digital Data Processing Devices," refers to synchronizing the audio across multiple devices:
[T]he '258 Patent recognized that "audio playback devices that are being developed have independent clocks, and, if they are not clocking at precisely the same rate, the audio playback provided by the various [playback] devices can get out of synchronization.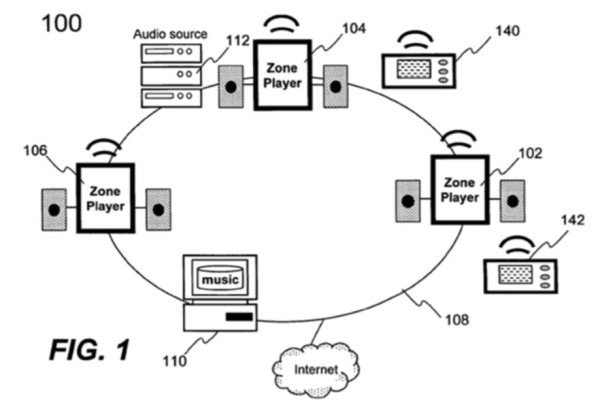 Additional Patents-in-Suit
In addition to the two patents noted above, Sonos alleges patent-infringement on two of the same claims Sonos settled with D&M.
Those are patents 8,938,312 and 9,219,959.
'959, entitled "Multi Channel Pairing in a Media System," refers to Sonos's method of grouping, consolidating and pairing speakers into different configurations without "connecting and reconnecting the speakers wire" found in traditional multiroom systems.
'312, entitled "Smart Line-In Processing," recognized problems with the current state of technology for "switching between sources of media."
According to the suit:
[T]he '312 Patent recognized that existing multi-source media systems at the time of the inventions of the '312 Patent lacked intelligent source-switching technology and therefore, were cumbersome to use from a user's perspective.
The final patent-infringement claims involve:
Patent No. 8,868,698, "Establishing a Secure Wireless Network with Minimum Human Intervention" – exactly what it sounds like.
Patent No. 9,883,234, "Systems and Methods for Networked Music Playback" – enabling streaming applications and services to stream directly to networked speakers, without the need for a central controller.
Patent No. 9,252,721, "Power Decrease Based On Packet Type" – "automatic shutdown suitable for [a distributed] system without adding extra hardware."
Sonos Responds to Article
A Sonos spokesperson reached out to CE Pro to add some "context" to this piece:
We welcome and encourage competition. We believe genuine innovation and mutual respect for intellectual property should be the basis for healthy competition as well as partnership. But simply copying without approval or appropriate compensation is detrimental. It reduces the value of invention and, in doing so, discourages the significant investment of turning new ideas and creativity into commercial realities.
As many of our inventions have become foundational for today's multi-room, smart, connected listening experiences, we have developed a fair and reasonable licensing program that allows companies to rightfully use our inventions and make them available to customers. In this case, Bluesound chose not to take up this offer.
If you enjoyed this article and want to receive more valuable industry content like this, click here to sign up for our digital newsletters!