In responding to Sonos's patent-infringement lawsuit over Lenbrook's Bluesound audio system, the defendant scoffs at Sonos's (implicit) claims of inventing multiroom wireless audio.
"Lenbrook America denies that Sonos reinvented home audio for the digital age," the defendant writes in its Oct. 14, 2019, answer to the lawsuit. "Nor did Sonos singlehandedly establish the stand-alone wireless home speaker system category."
In fact, Lenbrook's Pulse Flex speaker, launched in 2015 and allegedly copied from Sonos, evolved from Lenbrook's PSB Alpha Intro, developed by audio legend and Lenbrook employee Paul Barton in 1996.
Furthermore, the connected-audio category in general, which Sonos lays claim to, emerged some two decades before Sonos came along, Lenbrook notes.
The defendant cites several pioneers and innovators that streamed and synchronized digital audio long before Sonos: Barix (Exstreamer), Slim Devices/Squeezebox, Netstreams, Yamaha (Music Cast), Roku, and Cirrus Logic (Cobranet).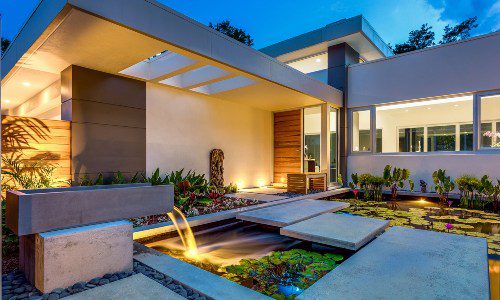 Landscape and architectural lighting create a magical and elegant ambiance for homeowners. The outdoor lighting industry has always been a phenomenal one and continues to grow in popularity. Now is the ideal time to learn more about this rapidly growing and highly profitable industry. Join our panel of esteemed lighting experts that will dive into why it's time for integrators to rethink their role in the outdoor lighting industry.
Register Now! 
Beyond that, Lenbrook says the Sonos complaint includes a "host of exaggerated allegations," like Lenbrook "somehow copied" from Sonos products based on the fact that a Lenbrook division distributed those products in Canada for 10 months in 2007.
Lenbrook requests a jury trial and the parties are expected to meet on March 13, 2020, in the U.S. District Court, California Central District.
Here are some other notable points from Lenbrook's answer to Sonos (some paragraph breaks inserted for readability):
Bluesound isn't even a competitor. Sonos itself does not name Bluesound as a competitor in its financial statements.
The complaint strains to suggest that the Bluesound high-resolution audio products somehowcompete with Sonos by including quotations from industry publications that are taken out of context and presented in a misleading manner, when Sonos itself has never described Bluesound as a competitor. Sonos's excessive claims of innovation and of Bluesound's supposed copying are puzzling because, while both companies are participants in the "connected audio market," the Bluesound products are not direct competitors of Sonos.
Sonos's public financial statements list its direct competition, but those financial statements do not list Bluesound as a competitor. Bluesound is a premium high-resolution niche market audiophile brand, competing in an entirely different sector of the digital audio market than the sector in which Sonos competes. Sonos primarily competes with other less expensive, more broadly available, and more widely recognized retail audio brands such as Apple, Amazon, Google, Samsung/Harman, BOSE and Sony. Contrary to Sonos's allegations, media outlets and the press have always acknowledged the differences, stating that Bluesound is highly differentiated from such mass market products.
Besides, Bluesound is a niche product from a small company.
Sonos's unnecessary and overreaching allegations concerning Bluesound in its complaint are especially puzzling because they are being made against a much smaller company, with a correspondingly much smaller customer base and sales.
Lenbrook was first and different with high-resolution audio.
Lenbrook America further affirmatively states that the award-winning Bluesound high resolution audio products were independently developed and do not infringe Sonos's patents.
Lenbrook Industries was the first company to launch a commercially successful family of multiroom and wireless solutions that are fully capable of managing the highest resolution audioplatforms. As stated, Lenbrook Industries' brands PSB Speakers (loudspeakers) and NAD Electronics (amplifiers/electronics) had been in the audio business for almost three decades before Sonos entered the business, and had been long recognized as market leaders in their niche. The Bluesound technology and brand were developed as the natural evolution of those predecessor, premium, niche brands.
Sonos patents are invalid.
Lenbrook America further states the Bluesound products do not infringe the asserted patents, nor are the patents valid. As one example, the validity of Sonos's U.S. Patent (the "'258 patent") on synchronization could be challenged based on, among other evidence, patents owned by Philips (U.S. Patent No. 7,269, 338 ("Janevski")) and a computer systems company (Dell) (U.S. Patent No. 5,642,171), and the expert testimony cited by Sonos's expert Roman Chertov in Sonos's recent Inter Partes Review challenges of two synchronization patents owned by Implicit LLC (IPR 2018-00766, challenging the validity of US Patent No. 7,391,791; and IPR 2018-00767, challenging the validity of U.S. Patent No. 8,942,252).
The '258 patent could also be challenged based on other prior art, including, as further discussed below, the Barix Exstreamer invention, which included synchronization capability and was offered for sale and demonstrated at multiple shows in the United States in 2002 and 2003, at least one of which was attended by Sonos representatives, but which Sonos did not disclose to the patent examiner during the course of the '258 patent prosecution.
By Sonos's standards, Sonos itself is a copycat. Everybody breaks down related/competitive products.
In the audio industry, products evolve as the market and consumer demands change. Indeed, Sonos's chief product officer, Nick Millington, testified in the Sonos v. D&M Holdings litigation that, in or about 2003-2006, Sonos had a practice, like others in the industry, of looking at what other technologies were being used by competitors and tearing down competitive products.
Thus, Sonos's first commercial products, such as the ZP 100 introduced in or about 2005, were developed during a time when Sonos/Rincon (the predecessor name for Sonos) had a standard practice of breaking down and studying other companies' audio products. Sonos's ZP 100 and the replacement ZP 120 product included a two-chip architecture similar to that used in the Barix Exstreamer for data networking and decoding of audio streams, even though a single-chip solution for data networking and audio decoding was feasible and available as early as 1999.
In fact, after Bluesound was launched using a single-chip NXP architecture, Sonos eventually adopted a single-chip architecture with an NXP processor for its Sonos One and later products.
Sonos did not invent the product-family photo.
Another of Sonos's unnecessary and unfounded allegations was that the Bluesound marketing style imitated Sonos's "family photo" marketing style. In fact, such family views have been used by companies in the audio space long before Sonos….
Moreover, Lenbrook Industries' brands PSB and NAD have themselves been publishing "family" photos of their product lines for years, including the following examples: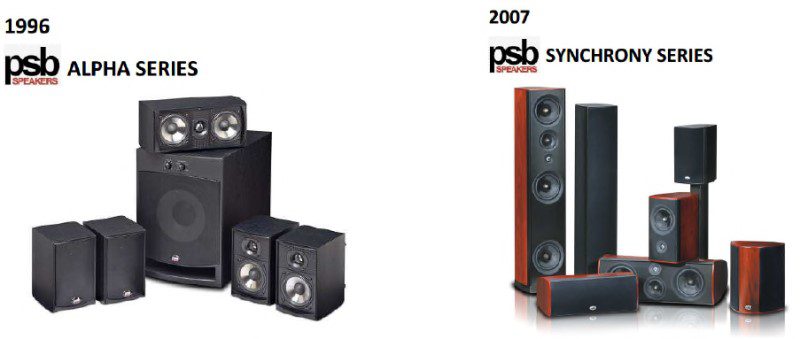 Therefore, to the extent Bluesound continued the PSB and NAD practice of using a "family" photo to market its Bluesound product line, it is not copying the "look and feel" of the Sonos product line, but merely continuing to adopt a common industry and internal marketing convention.
Lenbrook was already a leader in the category before Sonos came along.
Lenbrook America affirmatively states that, by 2004 [when Sonos debuted], Lenbrook Industries' divisions NAD Electronics and PSB Speakers had been involved in the consumer audio business for over 30 years. NAD and PSB products were sold in the United States through Lenbrook America. Lenbrook Industries, through PSB, in partnership with well-known speaker designer Paul Barton, developed expertise in loudspeaker design, acoustics and know-how, and became well known for offering and selling premium consumer loudspeakers, home theater speakers and subwoofers (passive and active), custom installation speakers (in wall and in ceiling), outdoor/universal speakers, soundbars (passive and active), and premium headphones.
Similarly, by 2004, Lenbrook Industries, through NAD, had developed a wide variety of amplifiers (both analog and digital) and a variety of music sourcing products (both analog and digital).Thus, Lenbrook Industries had become a recognized leader in specialty consumer audio, with many products that were highly regarded by audio critic reviews from around the world. Further, as a result of NAD's and PSB's experience, particularly in the growing custom installation market, Lenbrook Industries Lenbrook Industries was already aware of consumer interest in multi-room audio, music file sharing, and early streaming of digital music files. Thus, NAD had begun developing multi-room audio amplifier solutions (e.g., the Netcap networked audio device) over 20 years ago, in the late 1990's and early 2000's.
Thus, on or about the time that Sonos joined the consumer audio business, NAD demonstrated the Netcap IP connected device at the CEDIA home technology industry show in September 2004. Lenbrook Industries through NAD and PSB continued its development of multiroom audio solutions after 2004, and in 2013, introduced Bluesound as a brand of high-resolution wireless audio devices.
Nobody 'copied' Sonos's speaker-box design.
Lenbrook America affirmatively states that a more accurate analysis of the audio market, along with a recognition of the mechanical details of loudspeaker construction, would show that loudspeakers in general, and particularly all in one speakers in the connected audio space, have followed a basic construction pattern so that there are many basic similarities in physical shape among different brands of speakers. It is thus inaccurate for a more recent entrant like Sonos to allege that Bluesound or any other brand to have copied speaker box design.
Sonos's product family is industry norm, not special.
The fact that the Bluesound product family includes a small, portable-sized speaker, a mid-sized speaker suitable for small rooms, a larger speaker for larger rooms and more demanding audio requirements, and a sound bar for home theater integration, does not prove copying, but rather that Bluesound is seeking to provide a set of products that meet consumer needs. Many speaker manufacturers, including Lenbrook Industries' PSB brand beginning in the 1980's, have promoted similar "families" of products that seek to meet the same consumer needs.
Speaker products don't look alike, in any case.
With respect to the PLAY:1 and PULSE FLEX, Sonos provides an image showing the two products side-by-side, from the front. This shows only that the products, when viewed from the front, are similarly proportioned in terms of height and width. However, their differences become apparent when viewed from other angles.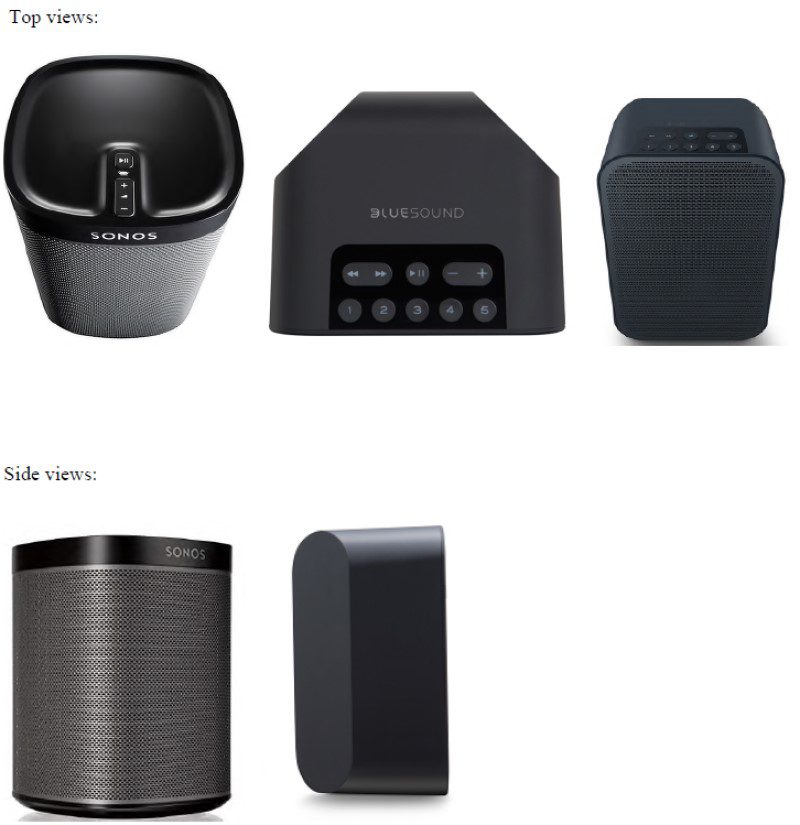 Sonos abruptly quashed patent/licensing discussions with Lenbrook.
Lenbrook America admits that Lenbrook Industries received a letter dated November 1, 2018 from George Lee of Lee, Sullivan, Shea, & Smith LLP. Lenbrook Industries responded by contacting George Lee through the undersigned counsel, indicated that it is not aware of any infringement, but was willing to review Sonos's claims, requesting a copy of the licensing agreement referred to in the November 1, 2018 letter and related royalty schedule.
After the parties entered into a non-disclosure agreement on December 13, 2018, Sonos provided a claim comparison to some of its patents, but did not provide a standard licensing agreement or royalty schedule. Lenbrook Industries' and Lenbrook America's counsel continued to discuss a potential license with Sonos's counsel, with the parties agreeing to extend the non-disclosure agreement (which Lenbrook Industries and Lenbrook America signed on May 1, 2019, but Sonos ultimately did not). The parties then agreed to schedule a meeting to review Sonos's claims analysis and licensing program in May and later in June or early July 2019.
On the evening of Friday, June 7, counsel for Sonos sent a letter purporting to terminate the non-disclosure agreement, and then later that evening sent the letter referred to in paragraph 14 of the Complaint, identifying additional Sonos patents. However, Sonos's counsel and the undersigned counsel continued to discuss scheduling a meeting todiscuss a license, until June 13, 2019, when Sonos's counsel stated that Sonos was no longer willing to meet. The Complaint was filed one week later, on June 20, 2019.
Sonos Patents in Suit
For most of the patents in question, Lenbrook alleges 1) the technology claimed does not provide significant advantages over prior art, 2) Bluesound does not incorporate Sonos's patented technology, and 3) Lenbrook does not market "the features that the alleged technology enables."
These answers are applied to the following patents:
U.S. Patent No. 8,588,949 (group volume controls)
Anticipated at least by Niles SV-4 speaker section/volume control system and UPnP.
U.S. Patent No. 9,219,959 (multi-channel pairing)
U.S. Patent No. 8,868,698 (simplifying secure network setup)
U.S. Patent No. 9,883,234 (methods for networked music playback)
U.S. Patent No. 8,938,312 (smart line-in processing)
U.S. Patent No. 9,252,721 (power decrease based on packet type)
U.S. Patent No. 9, 195,258 (synchronizing music playback)
Anticipated at least by Barix Exstreamer:
[T]wo years before Sonos filed its application for the '258 patent, Barix AG of Switzerland offered for sale and demonstrated in the United States the synchronization capability of its Barix Exstreamer invention, which was an audio decoder that could synchronize audio signals to other Exstreamer devices in a network to provide synchronized audio playback of an audio stream. At least one of Barix's Exstreamer demonstrations was attended by a Sonos representative.
If you enjoyed this article and want to receive more valuable industry content like this, click here to sign up for our digital newsletters!