Forty-two years ago home automation was a mere speck on the technology radar. TVs were still black and white, music systems analog, and it certainly would have been unimaginable that in the not-too-distant future people would be communicating via Internet much less using it to connect with and control devices in the home.
But decades before even early adopters and hobbyists were tinkering with home technology on their workbenches, Mountain Heritage Systems, a CE Pro 100 dealer, opened for business in the northwest mountains of North Carolina — a rural area where people were happy to live unplugged and technology-free.
But company founder George Ware had a vision — one that would take MHS on a journey of self-discovery and an unrelenting commitment to his community.
The ProSource buying group integrator garnered nearly $5 million in revenues last year, capitalizing on its strength in the retrofit market and as a full-service provider of home theater, distributed A/V, home automation, security and more.
VIEW MORE IMAGES IN THE GALLERY
It's even figured out the often puzzling piece of earning recurring revenue through maintenance and service contracts for its loyal customer base. But to understand how this bustling business continues to excel today, it's also important to know the impact of twists and turns along the way.
Per the state of the electronics industry at the time, MHS' initial technology design and installation team four decades ago consisted of two people and applied no focus to anything even remotely related to audio, video, control or lighting. Instead, Ware molded the company portfolio and business model around the current market conditions and development of business and industry in the surrounding neighborhoods.
During this early period of MHS' lifecycle, the biggest community need stemmed largely from the many ski resorts that were being built in the Blue Ridge Mountains regions of North Carolina. Huge, industrial- size controls were required to drive the ski lifts and ensure the safety of employees and guests.
Ware already had years of electrical contracting work experience, having designed and installed complex control systems for water and sewer pumping stations, so the shift to electrical contracting work for these ski resorts was relatively smooth and made good business sense.
"At that time, we were deploying controls for the ski lifts and safety features for the cabling systems and aerial poles," says MHS director of sales Charley Dearmin, who joined the company in the early '90s. "We quickly became a prominent electrical contractor for that industry."
Booming Business Begins With Ski Poles & Golf Clubs
"We are constantly morphing our product portfolio and skill set to do what's needed in the community, and our diversity is what makes us unique."
— Charley Dearmin, MHS
MHS' dominance in the electrical contracting business didn't mean that Ware and his team weren't willing to adapt and explore new avenues of revenue. In fact, it was just the opposite.
"From the very beginning, George's priority has been to meet the ever-changing demands of his customers," Dearmin continues. "We are constantly morphing our product portfolio and skill set to do what's needed in the community, and our diversity is what makes us unique. Today we offer such a wide scope of products and are able to do both high-voltage and low-voltage work for big industrial plants as well as and all size or price ranges of existing and new homes."
The community-focused mission continued to lead MHS down many paths. As the development of private golfing communities began to take off, MHS responded by getting into the security and lighting control business. Controllable gates at the entrances of the golf communities were particularly popular, so MHS offered FAAC Gate Systems.
Ademco and Moose marked its foray into comprehensive alarm systems. As for lighting control, it was all analog back then, and the initial lighting control systems were installed using General Electric relay controls.
"It was the most innovative and state-of-the-art system of that time," Ware says.
When panelized lighting systems began to emerge, MHS quickly adopted the technology, starting with systems from Lite- Touch and later turning to Lutron, Vantage and others.
Customer Service Level Stays Consistent
As MHS' customer base grew, so did the need for a retail destination where those customers — many of whom are residents of the ski and golf communities where MHS had established itself as a premier contractor — could buy products. In 1977, MHS opened a retail lighting and home appliance showroom that remained operational for nearly 20 years.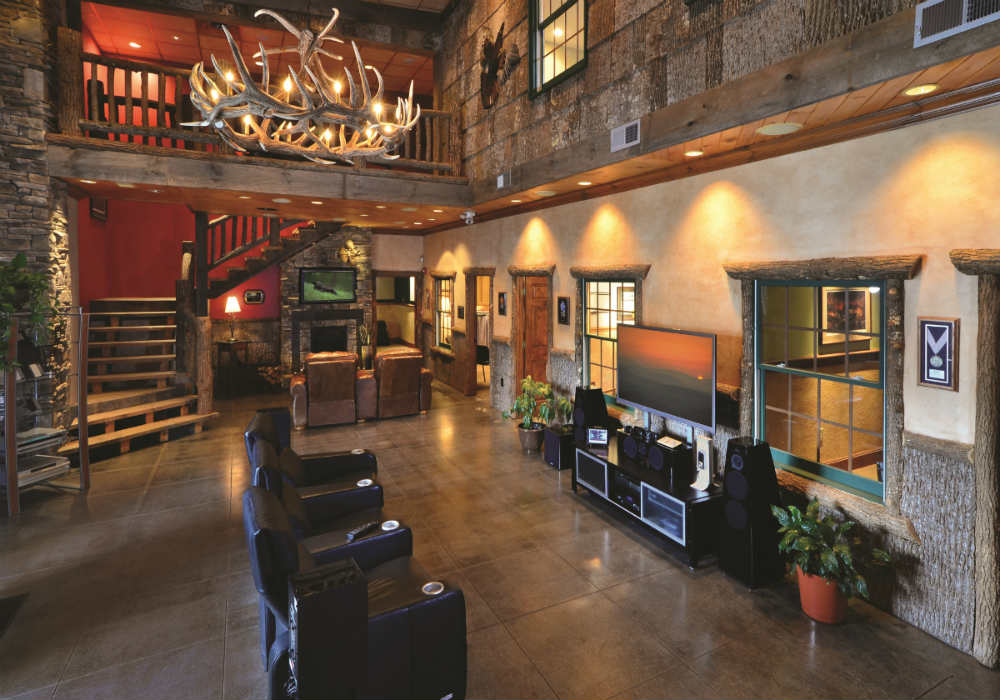 "We pride ourselves in still having the same address and phone number — and landline without an automated phone system — as we did back then," says Dearmin. When you call our office, you still talk to a person, you still get personal attention, and we have someone on call 24/7 for our customers."
This is about the only part of MHS that hasn't changed. This level of customer service works as well today as it did 40+ years ago.
Shift From Commercial to Residential
During this time, Ware continued to check the pulse of the industry. "It was very clear that our greatest potential lie in the custom residential and commercial low voltage security and entertainment market," he says. "In 1994, as high-voltage lighting and electrical supply was winding down, we were aggressively adding personnel with backgrounds in computers, networking, audio engineering, and PLC programming."
With new focus and the personnel to meet the technical demands of the time, MHS was ready to turn to the next chapter. In this time of MHS' journey, the residential security sector of the business was going gangbusters.
"Nobody in our area at the time was offering it, and we started to expand our geographical range into Charlotte and Asheville," Dearmin says.
The area was also starting to draw seasonal residents due to its temperate climate and natural beauty. More private golf communities were popping up — all of which would benefit from motorized gate and access controls, door locks, video surveillance, and monitored security systems.
MHS was well prepared to supply each and every element, as well as monitoring contracts. "The recurring revenue gave us stability and got us through the slow times," notes Dearmin. It also gave the company the financial leverage to continue to diversify its offerings even further.
Home Audio Gets Real
Soon after making a name for itself as an alarm provider, MHS in the early 1990s started dabbling in home audio. That took off too, starting with Sonance architectural speakers, a brand the company still carries today, as well as Klipsch and Yamaha. A natural progression was video, so media rooms and home theaters entered the MHS vernacular.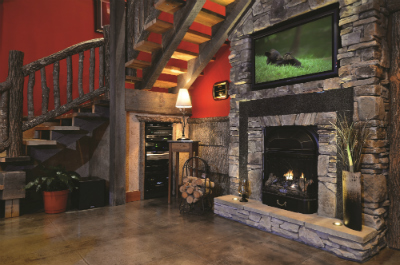 No longer selling standalone products for mainly commercial clients, but complete systems for the booming residential market, MHS undertook a major overhaul of its retail space, and also brought on home automation systems from Elan, AMX, and Phast.
The progression from a retail establishment to an appointments-encouraged showroom allowed MHS to showcase its high-end integration chops and helped it attract yet another market: luxury custom homes. It also provides MHS with a venue to validate its commitment to staying abreast with industry trends and offering the highest quality equipment.
After several iterations, the showroom now features in a home theater comprised of JBL Synthesis audio, Digital Projection projector, Auralex acoustical treatments, and Lutron lighting and shading.
In other areas guests can experience Crestron audio distribution and Sonance speakers, Linear eMerge access control, Luma CCTV, and Elk Products security, plus see various TV installations.
Rewards of Retrofits & Rescues
MHS' position was now firmly planted in the residential sector as a provider of technology to homes of all price ranges and sizes. It's this diversity of service that has become the company's claim to fame. "There's never a job we turn down, no matter how big or small," says Dearmin.
MHS will even do a simple TV replacement (see below). On any given day, the company can have 30+ jobs in the hopper. How does it maintain such a diverse log of projects? Lots of licenses: unlimited electrical license and alarm license in three states, plumbing and HVAC licenses, and UL listed as a fire alarm installation company.
"With retrofit, on the other hand, you're typically in and out in two weeks, you have a happy customer, fewer people are involved, and you get paid quicker."
— Charley Dearmin, MHS
Still, there's always a specialty, and for MHS that's retrofits and takeover jobs. Some home systems integrators avoid these projects. MHS, however, finds satisfaction and financial reward in tackling them. They do so with a skilled 30-person team and rock-solid project management policies and procedures in place.
Why the penchant for projects that "no one else wants or can do?" Dearmin explains: "When you're involved in new construction (not that MHS shies away from it), there are so many ways and opportunities to lose money as the project can drag on from eight months to more than two years."
Timelines get bumped, budgets get overdrawn, balls are dropped along the way. "With retrofit, on the other hand, you're typically in and out in two weeks, you have a happy customer, fewer people are involved, and you get paid quicker. It's the same thing when we do rescue jobs."
Granted, many of the retrofit projects on the MHS docket are those involving an update for an existing customer. Having installed home systems since the early '90s, MHS has a solid base of 1,500 existing customers in need of new hardware to replace the old. Update jobs are even more lucrative, says Dearmin.
"We already are familiar with the home and the systems because we have maintained them for several years. Based on our past experience, we usually know how much money they are willing to spend on certain amenities."
Maintaining Close Customer Contact
Part of MHS' retrofit success can be attributed to its preventative maintenance program. It keeps the company in constant contact with its customers; not to mention provides a solid source of recurring revenue. In addition to alarm monitoring, MHS offers biannual maintenance checks of customers' home tech equipment.
"We're not in a high crime area, but things still happen like trees falling through windows, furnaces going out, and since many of our customers are seasonal, they like knowing that someone is there respond to any problems while their home is vacant," Dearmin says.
MHS charges around $350 a year for two maintenance checks. A separate charge of $450 to $600 a year is applied if the client requests biannual maintenance of their backup generator. "We'll make sure the system is running optimally, and change the filters and oil when necessary," Dearmin says.
Rooted in Tradition but Ready for Changes
Throughout its long history, MHS has gone through numerous transformations. Change is never easy, but for MHS it's been the "secret" of their success. For example, in response to the rash of school shootings, MHS recently outfitted schools in the area with security and surveillance systems, and "in a fashion that was financially feasible," adds Dearmin.
By continually diversifying, doing what's right for its community, and maintaining close interactions with clients, MHS has endured the test of time.
If you enjoyed this article and want to receive more valuable industry content like this, click here to sign up for our digital newsletters!