With the proliferation of streaming media options these days, it's more difficult every day for consumers to manage all their content sources. For integrators, unless the confusion can be sorted out, it can become a stumbling block that hinders their clients' satisfaction with a multiroom audio and video system installation.
For Steve Weber, president and CEO of Liaison Home Automation, the befuddling situation for customers is a sales opportunity to delve into customers' wants and needs and act as a "content concierge" so to speak, using DISH's aptly named Concierge Service program as the linchpin.
"We talk to them about distributed video versus local control, and we ask them about their sources and what they are going to watch," he says.
"That discussion often leads them to ask for our recommendations on cable services and the fees. Sometimes they will remark, 'I hate paying all these fees' and ask us for an alternative. We explain the differences between satellite versus cable TV, and spell out the ways to stream media without paying for a set-top box behind every TV. It's really about educating them on what's happening and us staying on top of what's happening because it is constantly changing."
Unfortunately, that turmoil also means that Liaison Home Automation can't promise customers there won't be more upheaval as media services constantly add and drop channels.
"I can show them what is being offered as content right now, but I can't guarantee that's going to be the same next week or next year because it changes so much. I use Netflix as a great example. Netflix used to be the 'content king.' Then, all of a sudden Disney, Amazon Prime, and all these other providers realized that if they control the content, they control the customer. So, they took back that content from Netflix and created their own streaming service," says Weber.
"It is constantly changing. We try to keep up with in the best we can, but I tell my clients that I cannot guarantee your cable provider is going to have the same content in the future. However, what I can tell them is that if they have multiple streaming services in place, it gives them more options," he describes.
Liaison Home Automation has offices in Decatur, Ill., Denver, Aspen, Chicago, and Nashville. So, the company's clientele is a diverse demographic with different streaming content needs based on their geographic location. The one constant is DISH's Concierge Service, which Liaison has been offering for the past five years.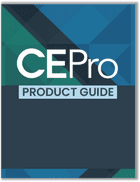 CE Pro's 2022 Product Guide showcases some of the latest and innovative solutions from manufacturers serving the custom electronics industry in a cross-section of categories.
Download the guide now!
"It is really convenient. The Concierge Service is great because we don't have to worry about conducting financial checks for clients that a lot of the cable companies require. We just call the DISH Concierge Service and set it up. In some cases, they have done the installation with just a few days' notice. We sell the equipment to the client versus them having to rent it from the cable company. The clients know that if there is an issue with their media service we will take care of them," says Weber.
Liaison has seamlessly integrated the DISH solution with several control systems, including Crestron, Control4, Savant, and Josh.ai voice control.
The "icing on the cake" for Weber from the DISH Concierge Program is the potential to earn recurring monthly revenue (RMR) from the service.
"There is a set amount we earn from DISH for bringing on a new client, but it's just icing on the cake. The primary driver for offering DISH to our clients is customer satisfaction," remarks Weber.
Responding to Channel Changes
One part of the DISH Concierge Service that is especially important to Weber is how proactive the company is when there is an issue. Liaison had a customer who is a huge St. Louis Cardinals baseball fan. The major attraction to the DISH service was access to the MLB package so the family could watch the games, but alas, DISH (Nasdaq: DISH) dropped the MLB package. The customer was not happy and wanted to drop the service.
"We don't like to see that happen, but we understand it's going to happen with all the challenges between content creators and the service providers. We called DISH and it was no problem. They lived up to the word and canceled it because it's a month-to-month agreement," he recalls.
One sales hurdle that Liaison faces consistently is that customers lump all the satellite service providers together, not distinguishing between DISH and DirecTV.
"We let our customers know how well-run DISH is as a company and how much easier they are to deal with than a cable company. They understand the struggles of dealing with the cable companies, but we have to tell them that not all satellite TV companies are the same. DISH sees the 'big picture' in terms of being much more than just a satellite provide, but also a mobile carrier and network provider. I try to differentiate the services and point out that having access to the Concierge Service gives us more reliability," he explains.
Weber also comments that the DISH Fiber program that targets MDUs with a package of network connectivity and entertainment channels is a "great program… we just haven't sold one yet." Liaison does not install systems for a lot of apartment buildings and when Weber has encountered a potential MDU client, he says it tends to be owned by a conglomerate so the decisionmaker is not local.
"DISH Fiber is an awesome deal, we just don't have the right networks for it locally," he adds.