LG Electronics has announced initial pricing and availability of its 2021 OLED TV lineup, featuring 4K models running from $1,300 to $6,000 and Signature 77- and 88-inch 8K sets checking in at $20K and $30K, respectively.
The art-inspired LG OLED evo G1 "Gallery" series and LG OLED C1 series highlighted earlier this year during Digital CES 2021 are available now at LG.com and at LG-authorized retailers nationwide in April, the company says.
The dozen OLED models start at 48 diagonal inches in screen size to the new top-of-the-4K-line 83-inch C1 Series model ($5,999, available in May).
LG's 2021 OLED TVs encompass the G1, C1 and A1 series. The latter features the new OLED evo technology, which LG claims delivers, "better brightness and punchy images with amazing clarity, detail and realism," than previous-generation OLED. "The art-inspired LG OLED evo G1 TVs have an unbelievably thin bezel with included wall mounting leaving virtually no gap from screen to wall."
For design-minded customers, beyond the slim profile, LG is also offering a sleek stand for the G1 Gallery models.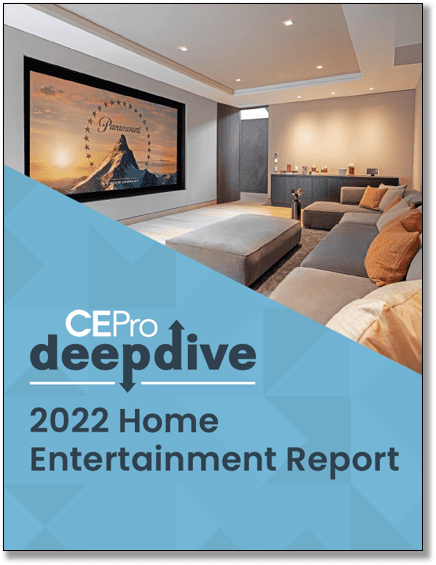 The home entertainment category is especially susceptible to the supply chain crisis because there are so many individual components required. Despite that ongoing problem, the once-forgotten "home theater" category continued its strong comeback in 2021 likely driven by the ongoing house-bound public due to the COVID-19 pandemic.
Download your copy today!
All 2021 LG OLED TVs incorporate webOS 6.0, the latest version of LG's smart TV platform featuring built-in Google Assistant, Amazon Alexa and offering access to popular streaming apps as well as LG Channels, the company's free premium content streaming service.
Additionally, the lineup includes support for Dolby Vision IQ, Dolby Atmos, HDR10 PRO and Filmmaker Mode, so consumers can enjoy the latest immersive AV formats and content in their home theaters and media rooms.
The G1 and C1 series feature LG's latest-generation α (Alpha) 9 Gen 4 AI processor, which the company says uses deep-learning algorithms to detect scenes and genres to optimize content imagery.
LG OLED 2021 Series Sizes & Availability
G1 Gallery Series OLEDs are offered in 55-, 65- and 77-inch class sizes at $2,199, $2,999 and $4,499, with March availability for the 65- and 77-inch sets and the third model in April.
C1 Series OLED TVs start at 48 inches and go to 55, 65, 77 and 83 inches, at $1,499, $1,799, $2,499, $3,799 and $5,999. The largest is due out in May; the smallest in April; and the middle sizes ship this month.
A1 Series products run 48, 55, 65 and 77 inches at $1,299, $1,599, $2,199 and $3,199. The 48- and 77-inch sets will be available in June, the other two in April.
For well-heeled videophiles looking for the latest cutting-edge technology, LG also announced pricing of its 8K Signature OLEDs, both currently available. The ZX Series OLEDs are offered at 88 inches ($29,999 OLED88ZXPUA) and 77 inches ($19,999 OLED77XPUA)