Rather than confuse its clients by presenting them with a dizzying array of technologies available for an outstanding media room experience, dealer/installation firm Gramophone first hones in on the problem areas of the space as often, a client's biggest beef has to do with the room environment, not the sound or the video. Be it antiquated furnishings, poor lighting or a stark color scheme, the surrounding design and structural elements can taint the entertainment outcome.
A request for "a warm and inviting family-oriented space," therefore, became the foundation on which Gramophone built its comprehensive plan to radically redo the owners' dated basement in Westminster, Maryland. In addition to a theater room and media room, the space would comprise a wet bar, gaming zone, high-tech gym, and guest room.
The first order of business was providing the family with a reliable, stable Wi-Fi network and layered lighting. Once these elements are nailed down, the rest falls into place, according to Gramophone.
"Along with a good design flow, it's what makes the experience of automation and home entertainment enjoyable and unique." To help define the various venues without constricting the flow, Gramophone added beautifully stained ceiling beams.
The overarching design would contribute to more than just the aesthetic appeal of the space; it would enable the chosen AV system to perform optimally. For example, Gramophone's in-house designers created a proper home for a short-throw projection system, featuring a 100-inch screen and 4K Hisense projector, mounted above and tucked inside a Salamander Designs Short Throw cabinet.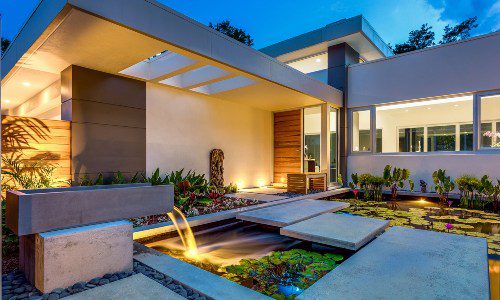 Landscape and architectural lighting create a magical and elegant ambiance for homeowners. The outdoor lighting industry has always been a phenomenal one and continues to grow in popularity. Now is the ideal time to learn more about this rapidly growing and highly profitable industry. Join our panel of esteemed lighting experts that will dive into why it's time for integrators to rethink their role in the outdoor lighting industry.
Register Now! 
It was a budget-friendly solution that afforded the use of a large fixed screen that resembles a flat-panel TV and produces striking pictures. Complementing the theater screen and projector are a Marantz AV receiver, GoldenEar surround-sound package, multiple zones of distributed audio, and Control4 automation and lighting control of high-quality fixtures.
A benefit of the short-throw system particularly appealing to the family is the option to enjoy bright, crisp, vivid pictures whether the room lights are on or off. Additionally, because the theater didn't need to be closed off to keep out the light, it naturally maintains the open layout and design flow the family wanted.
Gramophone removed as much of a wall near the bottom of the stairs as possible, adding a structural beam and column to carry the load from the main floor and installing new stained and black metal handrails. Even though Gramophone wasn't able to remove the wall entirely, it turned out to be one of the client's favorite design features.
Other big hits with the family are Gramophone's execution of LED-lit shelves, hidden wire management behind faux shiplap paneling, and a cozy reading nook, the integrator reports. By building the AV and automation technologies around room design, Gramophone delivered a fun, high-performance, easy-to-use multi-functional entertainment destination the whole family can enjoy. 
If you enjoyed this article and want to receive more valuable industry content like this, click here to sign up for our digital newsletters!