A few years ago, it would have been almost unthinkable — unless cost were no object — to reliably transmit 4K signals long distances. Luckily, today we have products like the new AV Access 4KEX70-eARC Extender Kit, which accomplishes these tasks simply and cost-effectively.
The AV signal transmission kit comes with everything integrators will need to send 4K with HDR, as well as multichannel audio that includes Dolby Atmos.
Integrators can use the 4KEX70-eARC Extender Kit for residential applications, such as adding zones to an AV system, and for commercial installations.
Taking a closer look at the new AV Access solution, we tried the kit in a home theater and in a secondary residential location that employs a LED TV and soundbar.
4KEX70-eARC Extender Kit Features
The newly available AV signal transmission kit ships with a receiver, a transmitter, a power adapter, an IR emitter; an IR receiver, and mounting hardware.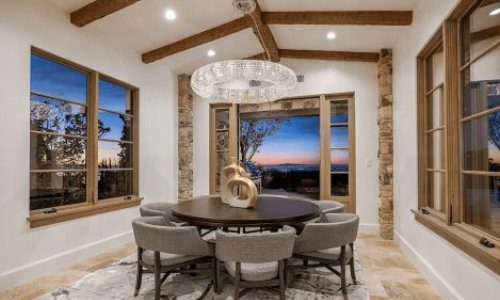 As a custom integrator, lighting is in demand. Effective communication, education and showcasing the value proposition of LED light fixtures in conjunction with integrative control systems are the keys to overcoming challenges and closing sales in this specialized market. Join us as we discuss the future of digital lighting and control with David Warfel from Light Can Help You and Patrick Laidlaw and Mark Moody from AiSPIRE.
Register Now! 
AV Access says that its HDMI 2.0b compliant solution supports 4K at 60Hz, HDCP 2.3 content encryption, static HDR formats such as HDR10, and Dolby Vision dynamic HDR content.
On the audio side of the AV equation, the company points out that the 4KEX70-eARC Extender Kit supports HDMI eARC (enhanced audio return channel), PCM 192kHz sample rates up to 7.1 channels, and object-based immersive audio that includes Dolby Atmos.
Other functions the kit provides include the ability to support bi-directional IR pass-through and one-way PoC from the transmitter to the receiver. Additionally, the kit supports CEC pass-through, and it also incorporates built-in surge/lighting protection to help ensure the products' longevity.
Setting up the kit in a home theater that includes an Onkyo AV receiver that supports a range of signals and content, and a 4K compatible Epson 6050 projector, took just a few minutes to install.
Connecting a 4K Roku stick to the transmitter and a 50-foot Cat-5e cable, all that was needed was to run the long category cable to the kit's receiver. A 3-meter HDMI 2.0 Metra AV cable was run from the receiver to the projector, and the power adapter was connected to the receiver. I would like to point out that AV Access states the kit adopts one-way PoC and the power adapter should be connected to the Transmitter. Once the receiver is charged though the cable between transmitter and receiver; or it can connect two power adapters to both of transmitter/receiver respectively to make the power supply more stable.
With the kit powered up, it took a few seconds for the 4KEX70-eARC Extender Kit to lock in and that was the entire setup. Later, the kit was connected to a 50-inch Sony KD-X85J 4K HDR LED TV and Sonos Ray soundbar.
Mimicking the experience of the full home theater, projection-based system, the kit integrated into the Sony-based system quickly. Like the other installation, it too was ready to go within a minute using the same 50-foot Ethernet cable to connect the transmitter and receiver.
Performance and Final Thoughts
Before getting into greater detail about the 4KEX70-eARC Extender Kit, let's be clear about how it works: It works great as a signal transmission solution where long-distance AV signal transmission is required.
It's just about as turnkey as anyone could expect from a system that is really complex in terms of technology, and not only is it easy to set up, it works reliably with no waiting time for signals or any other possible latency issues that could distract from its performance. As a bonus, it also works flawlessly with the eARC provision of the HDMI format, including the transmission of multichannel audio and control signals. Verifying the eARC performance of the 4KEX70-eARC Extender Kit in both the Epson- and Sony-based systems I did not encounter any issues with the eARC functionality of the kit, which I think should make it easy for integrators to streamline their multiroom AV installations.
With the projection system, we had no problem controlling the Roku stick that was connected to the transmitter, and watching content that included both 1080p and 4K with HDR also presented no problems.
Looking to see if we could detect any latency or any type of video signal compression with the projection system proved uneventful. There was no noticeable sort of issues with video signals of any kind. Moreover, the colors also looked rich and the overall image brightness was good too.
More news from CE Pro: 5 Reasons to Choose Two-Piece Projection for the Outdoors
On the LED TV-based system we looked for similar latency and compression artifact issues, and once again struck out. UltraHD 4K looked great, 1080p looked great; and the colors, image brightness, and image depth were all really good.
Like the projection system, there were not any visible artifacts such as compression blocking or lip-sync issues due to latency.
Additionally, the audio, including the various surround sound formats sounded vivid and full.
Reiterating what was said earlier about the AV Access 4KEX70-eARC Extender Kit, it just works. It sets up quickly, it sets up easily, and it reliably transmits 4K with HDR and multichannel audio as far as 230 feet (70 meters) without having to jump through hoops for a pretty reasonable amount of money.
Integrators looking for a competitively priced, turnkey AV signal transmission solution that just plain works, take a look at the new AV Access 4KEX70-eARC Extender Kit.
If you enjoyed this article and want to receive more valuable industry content like this, click here to sign up for our digital newsletters!