Sonos Now Integrates for Real; iPort, Lutron, Crestron Launch New Controls
After years of shunning integration with third-party home automation systems, Sonos has created an API for integration and named its first partners: Control4, Crestron, Deutsche Telekom's QIVICON, iPort, Lutron, and Savant. Plus: How Crestron does it differently.
Julie Jacobson
·
August 30, 2016
It's official. Sonos now integrates with third-party home automation systems. Of course, smart-home systems have integrated with Sonos for at least a decade, but now they have the love and support of the manufacturer itself.
Control4, Crestron, Deutsche Telekom's QIVICON, iPort, Lutron and Savant are Sonos's first sanctioned partners.
Paul Williams, VP Solutions for Control4 (Nasdaq: CTRL) tells CE Pro the home automation company has been working with Sonos on the new API for quite some time and an official driver will ship within 30 days.
Control4 and the other partners (not Deutsche Telekom) will be showcasing the driver at CEDIA 2016 in a couple of weeks, but the integrations will look pretty much like they always have.
You can't do anything special with the home-control systems that you couldn't do before -- just the same old transports, lists of favorites to select and feedback for "now playing." For almost everything else, you still have to go back to the Sonos app itself. Crestron is the exception (below).
Control4, Savant and QIVICON (Deutsche Telekom's smart-home platform) already integrated with Sonos. Crestron, on the other hand, has been by-the-book, refusing to offer native Sonos support without the blessing of Sonos itself.
What will happen with all the other integrations out there? Rumors have been spreading that Sonos would change its software to disable those integrations – which largely occur through the open UPnP standard -- but it isn't clear if that will be the case.
A Sonos spokesperson tells CE Pro:
Sonos has a long track record of being as inclusive and agnostic as possible while also being uncompromising on experience – it is un-Sonos like to deliberately give people a bad experience.

We've never had a partner program or endorsed integrations until now, so right now nothing that is out there is supported. Creating endorsed integrations is intended to provide the best possible customer experiences.
Whatever that means. I'm guessing the current non-partners might have some trouble, but that's just me talking.
UPDATE: When asked if existing un-supported integrations would keep working, the spokesperson told us:
Correct, we currently have no plans to deliberately impact existing solutions that are not supported, but the key is that they're currently not supported.
Lutron and iPort Integration
Lutron and iPort are integrating with Sonos for the first time.
You can't do anything special with the home-control systems that you couldn't do before -- just the same old transports, lists of favorites to select and feedback for "now playing."
At CEDIA, Lutron will show Sonos integration with all of its lighting-control and automation products, including Caséta, RadioRA 2 and HomeWorks QS.
In addition, Lutron will introduce a $49 Pico Remote for Audio, a simple wireless remote like the ones used to control Lutron's motorized shades and lighting systems. The new Audio remote can be used with Sonos to play, pause, skip songs, and adjust volume.
Consumers can also use any Lutron keypad and app to incorporate Sonos into customized lighting scenes.
Lutron's geofencing feature allows scheduling of immersive sound and lighting scenes to have speakers and lights automatically turn on/off once an owner is within a set distance of home.
You know … to get the house in the mood before you arrive home.
Also new to Sonos is iPort, the division of Dana Innovations that makes iPad mounts and controls.
At CEDIA, iPort will launch the xPress Audio Keypad, which talks directly to Sonos over the home's Wi-Fi network. Unlike Lutron and the others, iPort does not require a hub for controlling Sonos.
The $100 Decora-style Keypad is wireless, so it can sit right next to same-style light switches on the wall. The xPress Magnetic Wall Adapters allow users to grab a Keypad off the wall for use as a hand-held remote.
Dana Innovations CEO Ari Supran tells CE Pro that the device goes to sleep when it's not in use: "When one pushes a button it connects to the Wi-Fi network and establishes a connection with Sonos and delivers its command directly to Sonos."
Crestron 'Wins' Sonos Integration
Crestron is doing its Sonos integration different from the others. From within the Crestron environment, users have full access to the Sonos app itself.
"It's a 100-percent pure Sonos experience from Crestron touchpanels," Crestron CTO Fred Bargetzi tells CE Pro.
While the other Sonos partners can deliver just the fundamental Sonos controls, Crestron will allow users to browse song lists, create presets and do everything else Sonos itself can do.
"It is Sonos," says Bargetzi, who adds that Crestron is the only partner with this level of integration at this time. "When you run the Sonos app, you're getting every single source."
But it's more than just an app within an app, Bargetzi explains: "We wanted to make a seamless experience to jump over to the Sonos app and jump back again to Crestron."
For example, Crestron implements deep links so that any given Crestron touchpanel automatically controls the affiliated player.
While Crestron does not have a booth this year at CEDIA, the company will have a room within the Sonos booth with full-time personnel on hand.
---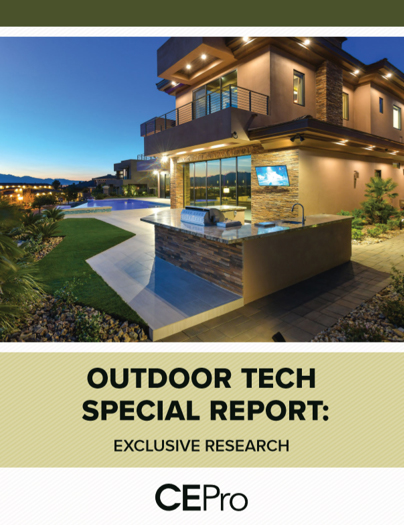 Find Out Why 63% of Integrators Expect Outdoor Business to Grow - CE Pro Download
The outdoor technology market is growing – both the demand from customers and the array of products available. According to our recent CE Pro survey, integrators are taking advantage of this opportunity to grow their businesses. Get your copy of the survey today.
---
About the Author
---
Julie Jacobson is founding editor of CE Pro, the leading media brand for the home-technology channel. She has covered the smart-home industry since 1994, long before there was much of an Internet, let alone an Internet of things. Currently she studies, speaks, writes and rabble-rouses in the areas of home automation, security, networked A/V, wellness-related technology, biophilic design, and the business of home technology. Julie majored in Economics at the University of Michigan, spent a year abroad at Cambridge University, and earned an MBA from the University of Texas at Austin. She is a recipient of the annual CTA TechHome Leadership Award, and a CEDIA Fellows honoree. A washed-up Ultimate Frisbee player, Julie currently resides in San Antonio, Texas and sometimes St. Paul, Minn. Follow on Twitter: @juliejacobson Email Julie at julie.jacobson@emeraldexpo.com
Follow Julie on social media:
Twitter · LinkedIn · Google+
Julie also participates in these groups:
LinkedIn · Google+
Control & Automation
Product Briefs: AudioResearch, Kwikset; Play-Fi, AirPlay2; Lenbrook Joins D-Tools i3
Control4, SnapAV CEO Interviews: Analyzing the Home Automation Merger
10 #SoCustom Solutions to Inspire Your BEST Project Awards Entries
Amazon Alexa Guard Sound-Detection Turns Echo into Smart Security System
Intuitive Interface Is Key to Lighting, Energy Storage/Management Systems
View more on Control & Automation
Take Our Latest Quiz
How Well Do You Understand Ethernet Cables and Connectors?
Bose