Sonos Joins First Home-Technology Buying Group Ever - Azione
Sonos, an iconic brand that is both loved and loathed by home-technology pros, has joined its first industry buying group, Azione Unlimited, claiming it is "committed to building stronger relationships with the channel."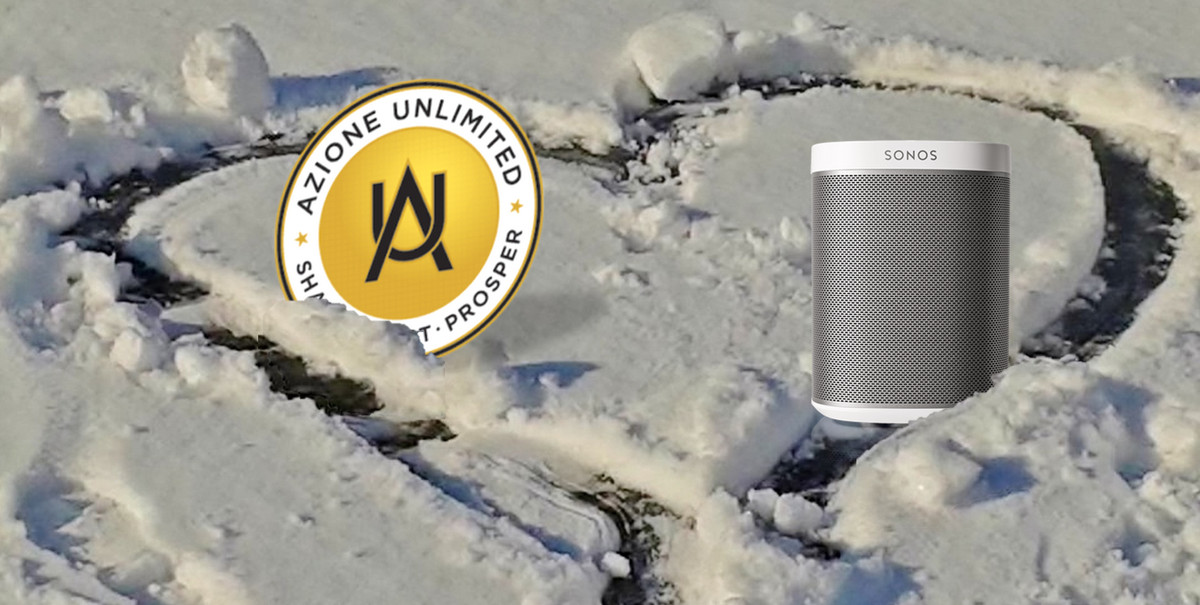 Julie Jacobson
·
March 13, 2018
Sonos, the popular DIY wireless-audio brand, has joined a home-technology channel buying group for the first time ever. Azione Unlimited is the lucky group to win the affections of this evasive vendor, which -- legend has it -- always turned down buying groups in the past because of an unwillingness to relinquish additional margins.
For their part -- again according to popular lore -- the buying groups refused to welcome Sonos for its brand cachet alone. They demanded the same contributions of the DIY beast as every other vendor partner. Seems Sonos finally relented.
Azione represents roughly 200 dealers, with aggregate sales of more than $626 million per year. If the member makeup is anything like the population of CE Pro 100 dealers (2018), then roughly 76 percent of them already specify Sonos products.
Related: Sonos Doesn't Hate Home-Automation Channel; They Just Don't Communicate Well
"Joining Azione Unlimited is our first official association with a buying group within the CEDIA space," says Andrew Vloyanetes, head of sales in a statement issued today. "It's an important first step for us."
"[T]his is one more step in our commitment to the professional residential installer."
— Andrew Vloyanetes, Sonos
Sonos may be the one vendor in the home-technology channel that elicits just as much passion from its advocates as it does its detractors. While many dealers owe their survival to the product line, which saved more than a few of them during the housing crash a few years ago, many others thrash the company for its seemingly dismissive attitude towards the pro channel.
"They steal our customers," say the aggrieved dealers. "They break our integrations."
But when dealers say, "Sonos doesn't care about our channel," they are flat-out wrong. The company still owes a good chunk of business to specialty A/V retailers and custom installers. They just don't do a very good job of showing it.
Sonos is 'Committed' to the Channel
All that is about to change if you believe Vloyanetes.
"We are committed to building stronger relationships with the channel and this is one more step in our commitment to the professional residential installer," he says in the statement. "Sonos will be actively attending and participating in the Azione events, engaging with Azione dealers in new ways, and soliciting feedback from Azione partners throughout the year."
"[T]hey have the vision and resources the industry needs to support the ever-evolving audio category."
— Richard Glikes, Azione
For his part, Azione president Richard Glikes issued a subdued statement on the partnership, belying what must be complete and unmitigated glee for bagging this iconic brand.
"Not only are they one of the most sought-after brands," he says, "they have the vision and resources the industry needs to support the ever-evolving audio category."
There is no reason that every Azione dealer wouldn't relish this new relationship. It means better margin on Sonos product and presumably some sway in the direction of the company vis-a-vis the channel.
Not all Azione vendors, however, might share in the joy. On the one hand, the partnership could attract new dealers into the buying group -- Glikes' ultimate goal is to have 250 dealers -- but on the other hand Sonos competes with some of the 60 vendors in the group who have catered to the custom channel since forever. Those vendors might not be super-excited.
---
7 Clever Ways to Hide Home Technology - CE Pro Download
Most technology products are not that visually appealing. Black boxes and tangled wires do not add to the character of a high-end smart home project. Luckily, our integrator readers have a number of clever solutions so these components don't have to be visible in your next project.
---
About the Author
---
Julie Jacobson, recipient of the 2014 CEA TechHome Leadership Award, is co-founder of EH Publishing, producer of CE Pro, Electronic House, Commercial Integrator, Security Sales and other leading technology publications. She currently spends most of her time writing for CE Pro in the areas of home automation, security, networked A/V and the business of home systems integration. Julie majored in Economics at the University of Michigan, spent a year abroad at Cambridge University, earned an MBA from the University of Texas at Austin, and has never taken a journalism class in her life. She's a washed-up Ultimate Frisbee player currently residing in Carlsbad, Calif. Email Julie at jjacobson@ehpub.com
Follow Julie on social media:
Twitter · LinkedIn · Google+
Julie also participates in these groups:
LinkedIn · Google+
Speakers
SnapAV Acquires Volutone, Adding 7 Distributor Locations
Product Briefs: Atlona, Josh.ai; Luxul Self Healing; Naim adds AirPlay 2; PS Audio OS; SnapAV
Wounded U.S. Army Captain Nick Vogt Receives Custom ELAN Smart Home
Rockustics OneSub and DubSub Give Outdoor Audio a Bass Boost
Home-Technology Industry Braces for Tariff War: Are You Prepared?
View more on Speakers
Take Our Latest Quizzes
How Well Do You Understand Ethernet Cables and Connectors?
Quiz: Is Your Company Performance Above or Below Average?
How Much Do You Know About Cell Phone Signal Boosters?
How Efficient Is Your Service Department? Take the Quiz
5G and the Need for Cellphone Signal Boosters—Do You Know Enough?